Happy Monday!
Today I have some exciting things on the blog!
For one, you can probably tell that I have had a recent blog make over. Aubrey from
The Kinch Life
was kind enough to re-do my blog and she did an amazing job. I really wanted to personalize and snaz up the place. Mission accomplished! If you are looking for a blog overhaul, contact my girl. She will hook you up!    My blog works out too, by the way. Just look at her! 
Well, since my hubs and I have decorating on the brain, we are out and about looking for the best deals! I never knew I could get so inspired and motivated. I have been talking about moving for sometime. My job has relocated, but nothing we can't manage. So for now, we are planning on staying in the city we are in currently. I do start the commute in a few weeks, so we will see, but for now staying put sounds great to me. We are, however, looking to expand our space. One bedroom just isn't cutting it anymore. We would like another room for an office and a place for me to be all bloggified and inspired and stuff. 
So, in the spirit of
breaking the bank
spending some cash on some new digs, I thought I'd do the research for you. If you are like me, you have expensive taste. It's not that I am snobbish or anything, I just want the best. Sometimes the best will cost you a couple things, like an arm and a leg. No biggie, we don't really need those. Humor me. I have compared a couple of stores and found some items that won't bust your budget britches.
I have separated my research into compartments of a home or apartment.
Entryway
Now, the entryway is an important space for organization, storage, and appeal. This is the first place that really shows your personality. 
Here I have compared two stores. Pottery Barn and Target. Each of these are great for just about anything, but PB can get a teeny bit pricey. So to spare yourself a heart attack when you get your credit card bill, take heed of this information.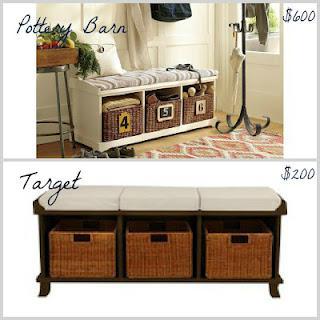 The storage bench above is around $600, but the similar one below will cost you about $200. You do the math. You can find either bench
here
and here.
Living Room
The living room is an important space for lounging, entertaining, just about everything. For most people, this room includes chairs, sofas, coffee tables, entertainment centers, etc. For the sake of this post, I will focus on accessories. No matter what the bones of the room is, accessories make a room. There are some amazing accessories at stores like Anthropology, but honestly, their prices are a little steep. You can get the same look at a much cheaper price. 
These geometric rugs have the same pattern, and one is slightly cheaper than the other.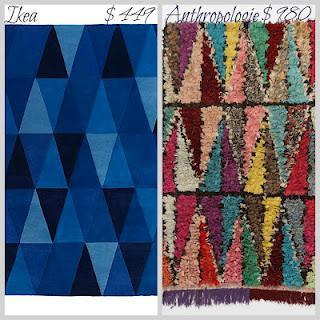 Okay, so one is a lot cheaper. The pattern is the same and the one from Ikea is over $500 cheaper. It's a no-brainer. You can find both rugs here and here.
Bedroom
It's Summer which means it's time for floral prints. I don't typically change my duvet according to season, but if you have the itch to change it up, here are two options you will love. The Pottery Barn bedding is floral with muted earthy tones. The Target bedding is similar and at a much cheaper price.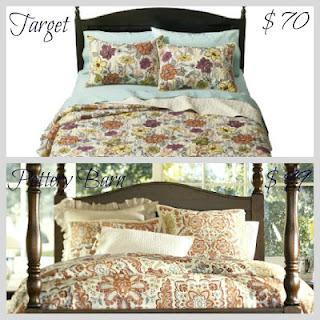 You can find both of these bedding sets here and here. 
 So what'cha think?
Check out different stores before making your purchases. You want to be perfectly prepared when thinking of decor and accessories. It may seem tempting to spend more, but think of all you will be saving in the lifetime.
Are you decorating your home soon?