Er, no 'Ta da!' tonight, sweet Planetarians. I
really
wanted to
announce The Big Reveal of my Etsy shop
to you but alas, it hasn't transpired. The Affairs of State on Planet Baby have diverted my attention elsewhere. But I've been working like a navvy all the same. At the moment, I'm uploading the photos of my goodies to Flickr so I can edit and upload them to my Etsy shop. Then comes the hard part - writing descriptions, choosing the prices and finding out the postage. Eek! As so many of you have shown such interest in my planning, I thought I'd give you a brief heads-up on the preparations I've undertaken to date.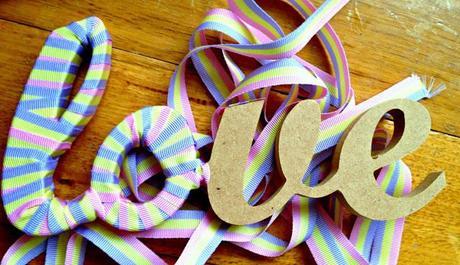 Choosing my shop name
This came to me in a flash, just like this blog's name did. Ooh, I'm *bursting* to tell you but I'll bite my lip. Patience
is
a virtue, after all.
I've chosen a name which is broad enough to cover anything I want to make whilst also hopefully conveying the 'feel-good' factor. 
I'd love to create a little community around it like we have here. Fingers crossed. Or thumbs pressed, as the Germans say.
Designing my logo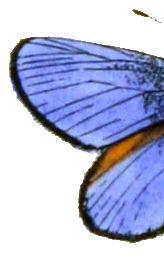 Another snippet of it
Being on a shoestring budget, I've done all the legwork myself. I'm sure it won't surprise you to see some blue included. Oh, and another friend which frequents this space.
I've also used a handwriting font very similar to my own. That's perfect as using my handwriting to create the wire words is my biggest selling point, I think.
Ultimately, when I have the time and the money, I plan to get 
Moo
 to make business cards, mini cards and stickers for me. For now, I've settled on the cheaper option of making my own cards using Microsoft PowerPoint. I copied the design multiple times onto an A4 sheet, printed it in color and cut it using my guillotine. I'm pleased with my design and they contain all my info. They're a bit more thinner than I'd like at 200 gsm but will suffice for now.
Deciding on my products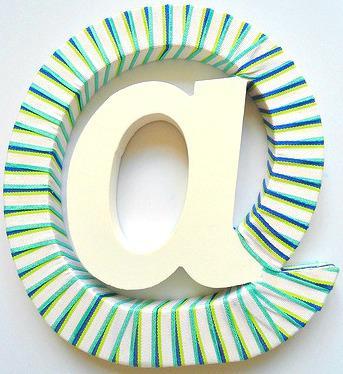 I'm fond of this one
As sweet Sarah can attest, my initial list of things I wanted to stock was a whopper! My brain was just overflowing with ideas I wanted to bring to life. I guess that's what happens when 30 odd years of pent-up creativity are unleashed ☺. Sarah listened to my ideas most patiently before gently suggesting that maybe I should concentrate on 5 of my 12 products to begin with. "Start small and then build up" was her wise advice.
I've followed her counsel.
Well mostly, that is. I stuck with the 5 products but then a couple of days of furious crafting this week saw the number of items to complete blow out to about 50! I'm crazy, I know.
I saw sense this afternoon and stashed most of the wire words away as works-in-progress. Trying to cover them all in my Liberty fabric for launch time would delay it for days.
I spent a few hours trimming all the frayed edges - a necessary but tiresome task. My new rotary cutter cuts the Liberty fabric crisply but as it's so fine, it frays easily. I need to find a fixative to stop the fraying so I can eliminate this step.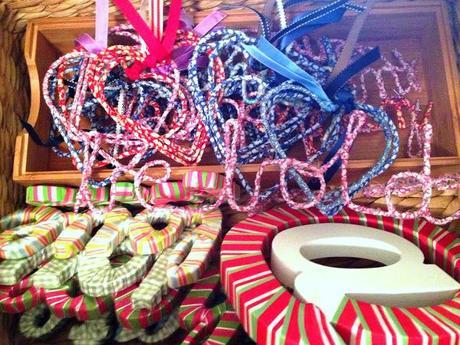 Now I have about 40 pretties ready to list. Here's a sneak peek!
Writing my Etsy 'About' profile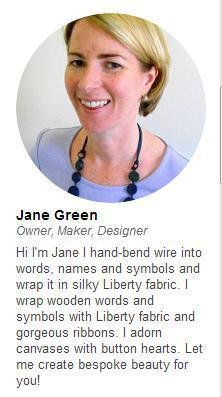 This proved tremendously time consuming. I'm sure I have more tweaking to do but I'm content with it now. Explaining what inspires me to create really got my mental cogs turning. Putting words to feelings isn't always easy to do, I discovered.
Writing my policies
This was tedious but necessary. Lovely 
Ness
 has been very helpful in reviewing my draft versions. And my kind fellow legal eagle Iris is also running her eyes over them. I'm so lucky to have these two supporters.
And now to bed! My photos are still uploading to Flickr, some 3 hours later. very slow. Hopefully tomorrow I'll be able to edit and upload them to my shop. Provided, of course, that India and Sam are able to entertain themselves sufficiently to permit me to do so. Hmm, that might be a *slightly large* proviso!
Tell me, does anything surprise you here? Any tips for me? I'd love to hear. And thanks for your abiding patience ☺.