This weekend marked my 37th year of life and I'm officially old and tired. Saturday, I celebrated my 37th birthday with friends and family who made my day very special. I am very thankful for the people that have been placed in my life. Whether they know it or not they do make a difference and I truly love them all. I feel worn out and it just hit me I'm no longer a spring chicken, I feel more like a winter goose. I also realized that if I dated someone whose 27 years old, my new name would be cougar!!!!!
For the past couple of years, I've celebrated my birthday away from home. Unfortunately, due to limited vacation time, I couldn't travel this past week to celebrate my day. This in no way prevented me from having a great time. So this year I chose to do 2 things that I love to do shop and spend time with my family and friends.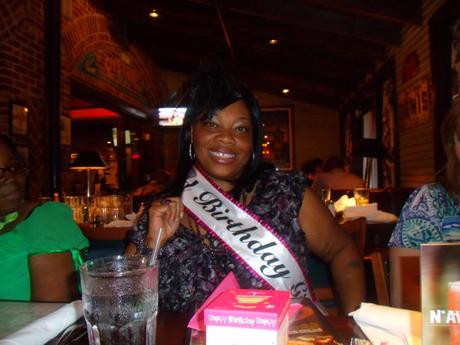 My choice of wardrobe was not as fabulous as I wanted it to be. I carefully planned an outfit to wear Saturday, but I did not plan for it to be one of the hottest days of the year; 98 degrees to be exact. Upon putting on the planned outfit, I realized that although it was sleeveless, it was too hot for me to wear. The material and the layers of ruffles made me instantly feel like I was about to spontaneously combust. I embarked on a frantic throw clothes out the closet mission in an effort to find something cute yet cool. I finally settled for this cute DKNY floral print dress that was very cool and comfortable. The dress was actually a size to big so I decided to wear a belt with it to gather the waist slightly. Instead of a birthday hat, I opted for this cool feathered headband, cuter than any birthday hat I've ever seen.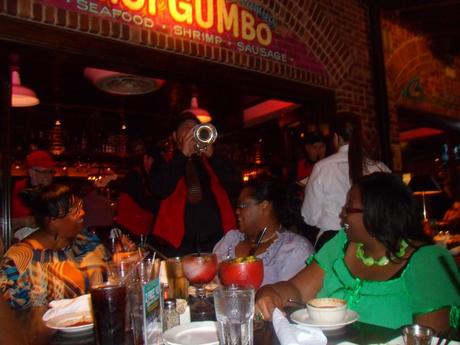 My birthday serenade
I chose a restaurant in suburban Westmont called Pappadeaux Seafood Kitchen to host my dinner, I loved the ambience of the restaurant and the food was delicious, especially the fried alligator and the Shrimp Creole with Cheese Grits. Not to mention, the drink Swamp Thing, one of the best mixed drinks I've ever had! The only downside is they don't accept reservations so I had to get there at 6:00pm to get a table by 8:00pm for 10 guests, but I don't mind waiting for good food! The patio area was absolutely gorgeous with a waterfall as its focal point. I had the time of my life with my friends and family, I smiled so much until my cheeks ached. I received some awesome gifts and last but not least a lot of  love ♥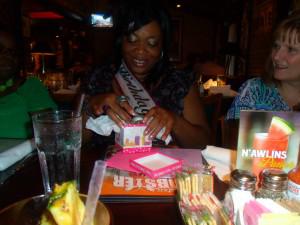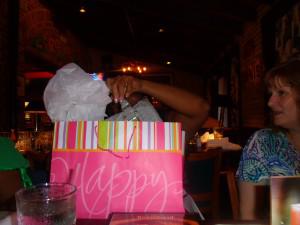 Today, I completed my weekend at Chicago Premium Outlets where my mom and I lost our mind in Kate Spade. They have the cutest purses and accessories and with a 40% off sale it was a dream come true for me. I was good today, I put my shades on and hauled ass out of there! I received 2 purses as birthday gifts and actually decided to buy things I needed instead of things I wanted. On another note, I will probably dream about the Kate Spade train case I seen today