I want to write a post about my experiences museum-ing in Washington, D.C., this summer – particularly as I've done it entirely with two little kids in tow.  I have a few things to say about that!
But I've been trying first to determine which one, of all of the really wonderful museums I've visited, is my favorite.  It's not easy to decide!
The kids are pretty clear on how THEY feel:  My three-year-old daughter, Mae, likes the Freer Gallery best.  She thinks the giant samurai statues are cool.  I think this is mainly because she was scared of them the first time we went there.  She's very proud that she overcame that!  She also really likes the buddha and bodhisattva statues (as do I.  As I noted in this post!)
Henry, my five-year-old, loves the Natural History Museum.  He really loves skeletons.  We're seriously starting to think he might grow up to be a doctor – or perhaps an anthropologist or a forensic scientist or something like that.  He just finds the inner workings of things fascinating – the inner framework of living things.  From dinosaur skeletons to human ones, and everything in between, the Natural History Museum is pretty much heaven for him.
For me:  I thought I'd narrowed my choice down to the National Gallery of Art – specifically the East Building (the modern collection.)  I like the collection, but what really put me over the top was the building itself.  The space is amazing. I love just being present in it.
My pictures don't do it justice, but here are a few anyway.
(That's my daughter, Mae, in the pics.  She serves to give a sense of the size and breadth of the galleries and the atrium.):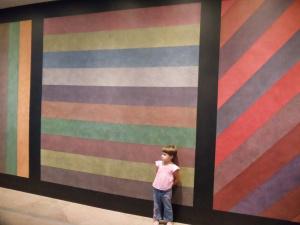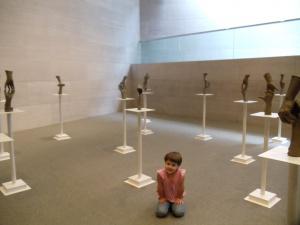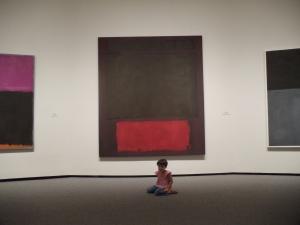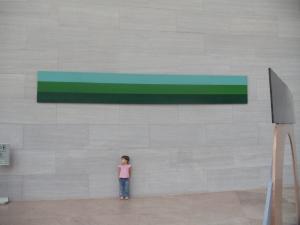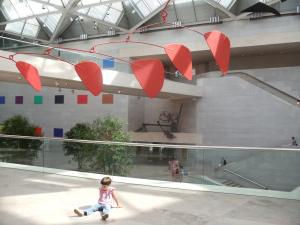 I like the West Building of the National Gallery of Art a lot too…but the East Building is just such a nice place to situate myself.  So airy and open…such a wonderful "house" for the works.
But just when I thought I'd decided the NGA East Building was IT, I went (a few days ago) to the National Portrait Gallery.
The kids and I have been talking a lot about Thomas Jefferson and George Washington and Abraham Lincoln in an attempt to understand the memorials at the Mall.  We decided to go and find their portraits.
The Portrait Gallery was beautiful (I have yet to visit a museum here in DC that isn't impressive.)  But what was particularly notable that day was the American Art Museum, which shares a building with the Portrait Gallery.  They're kind of side-by-side, so it's easy to wander between the two – even when you don't mean to.
Accidental detours can produce some pretty interesting experiences though.  We (the kids and I) were searching for the presidential portraits section of the Portrait Gallery when we turned a corner and walked right in to this: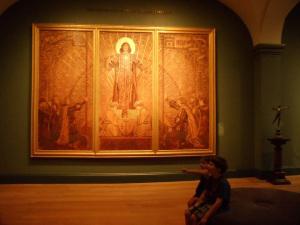 You can gauge the size by the kids!  The lighting came out pretty true-to-life, too; it was striking.
I personally was most impressed when we found ourselves suddenly face-to-face with this: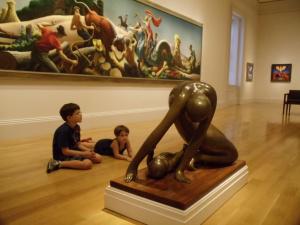 (I mean the Thomas Hart Benton painting on the wall.  Not that this sculpture isn't really interesting!  I just didn't realize this Benton work was here.  That was a nice surprise.)
We liked this a lot: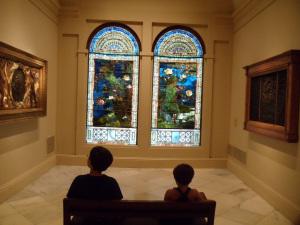 And this too: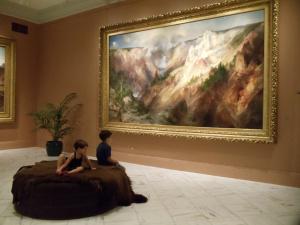 And let me just stress that these are things we saw by accident!  (We were TRYING to stay in the Portrait Gallery!)
I'm going back tomorrow to see the rest of the American Art Museum.  I can't wait!!  I have a strong suspicion this may eclipse the National Gallery of Art for me.  From what I can tell by a quick perusal of the website, I'm going to see many things I like tomorrow.
We did finally find the presidential portraits section that day.  Mae was pretty excited to find Abe Lincoln: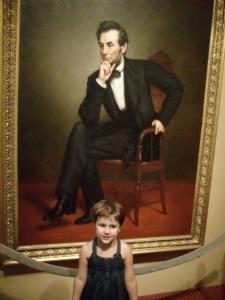 Her favorite piece of portraiture (and mine as well, I think) was this portrait statue of Gertrude Stein – depicted as a Buddha.  Really interesting.
(Sorry about Mae blocking it a bit; the shot I got without her in it came out blurry.  My camera is NOT GOOD!):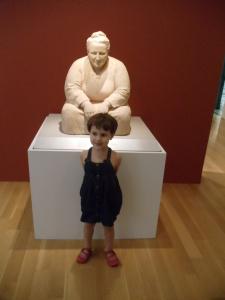 We went briefly into the contemporary art section of the American Art Museum.
This "information superhighway" was interesting: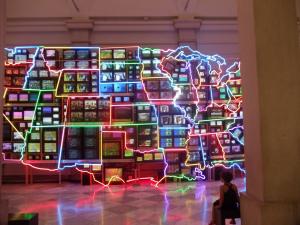 So was this sculpture (by an artist whose name I should know, because I distinctly remember studying about this series when I was an Art History undergrad.  But I can't remember!!  I'll have to look that up and edit it in.  Sorry about that.):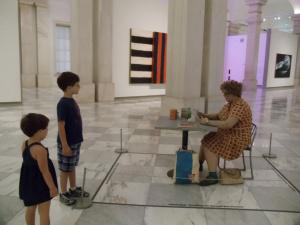 We wound up the trip with a late lunch/early dinner at the museum cafe – which was lovely.  I'd like to sit under this ceiling on a rainy day!: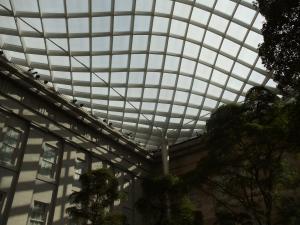 I wish I'd visited the American Art Museum earlier in the summer (instead of waiting until the week before I leave town!)  But at least I have tomorrow to go through it more thoroughly.
(Did I mention that I can't wait?!!)