My Food Journey includes food reviews, restaurant reviews, and a little more in terms of my personal opinion. My personal opinion on food includes its taste, presentation, preparation, packing (in the case of delivery or takeaway), freshness, etc. And when I talk about a restaurant, it includes its accessibility, decor, hospitality, service, etc. I generally like to highlight if the place is good for family, friends, or is a particular age group specific. I know it helps others a lot. In fact, when we are visiting a new place within our city or in any other city during vacation or for other reasons, we try to find out such information online so as to ascertain about a restaurant or hotel. That is where sincere reviews, opinions, and suggestions become handy. I would be sharing a brief of each restaurant with its post link in case details required.
My Food Journey starts with Fengshuii Restaurant that gives you an experience of a perfect art of oriental dining. I was there at their MG Road outlet in July 2016. In fact, the journey was on for so many years. But probably it is the first review on my blog. As a matter of fact, I feel, the number of reviews are just 10% of the number of restaurants visited in actual. My next visit was at Warehouse Cafe in Sector 29, Gurgaon. It is a lively and vibrant place for casual dining. Peninsular Kitchen in Vasant Kunj promises a real coastal treat. Cafe Public Connection in Connaught Place, in my opinion, is a nice Sheesha Nagri. Now, let us talk a little about health here. It is about Zoe Nutrition Food. It is a delivery only place. China Garden was not a good experience.
My Food Journey
Sagar Ratna is my all time favorite when it comes to South Indian food in Delhi-NCR. My Food Journey takes me to Goa. I would like to mention a very good restaurant in South Goa. It is Pam's at Baywatch Resort. Barcelos in Gurgaon is another ideal place for casual dining. I can never forget The Spice Room in Gurgaon. Though it is not a very big outlet but is a nice place for a family in terms of tasty food, good ambiance, and superb hospitality. Essence in Park Plaza Zirakpur was a great experience. It was good to be a part of Pizza Express on their 50th anniversary. If you want a good lounge and pub, House of Commons is a nice place. Chaayos is a good place for Chai, Nashta, and more. Drama Upside Down Bar is closed now.
My Food Journey continues with an excellent army theme restaurant. It is 38 Barracks. The Addams House in Gurgaon is another fabulous grand place with superb food. In fact, Dublin Square also falls in the similar category. Hard Rock Cafe's Be Edgy Go Veggie campaign was fabulous. Swagath Restaurant in DLF Mall of India was probably my first restaurant in Noida. Biryani Blues in Connaught Place is okay for Biryanis. Jungle Jumboree in Connaught Place is one of the best buffet places. Another visit to Chandigarh adds Zodiac in my kitty. Soon after I had to visit Bangalore. I was staying at The Gateway Hotel. Northern Gate Restaurant is within the hotel. For 18+ I can say, taste is the king here. Jungle Jumboree in Rajouri Garden is a fabulous design.
My Food Journey Continues
World Art Dining Cook House is a grand experience. It looks like a 5-star hotel's live kitchen experience. Mr. Brown in Indirapuram is a beautiful bakery with an excellent product range and utmost cleanliness. SodaBottleOpenerWala in Cyberhub brings a legacy of Parsi and Irani food & culture. That closes my food journey for 2016. 2017 starts on a good note. IOMP, India On My Plate is good for a number of reasons. If you are looking around Janak Puri a budget-friendly quick bites outlet, Wah Ji Wah is the one for you. The food at Chawla's2 is fabulous. Pind Baluchi in Mahagun Metro Mall, Vaishali also was a good treat. The Rolling Joint is a very small outlet with no seating but good options for quick bites.
This is not the end of my food journey. It continues and will. Next to come in my list is Blues in Connaught Place. It is a nice pub. Tourist Janpath is quite engaging, innovative, and refreshing place. OCB or Office Canteen Bar is another innovative place with fabulous food concept. For health conscious foodies, Pita Pit is a nice option. And if you want authentic Gujarati food, Rajasthali in Connaught Place is the right place. Another visit to another outlet of Chaayos for their winter collection was equally enjoyable as the first one. Indus Flavour in GTB Nagar is a tight place. But if you are on a tight budget with a craving for right food, go for it. Tafree Cafe is a nice place. If you are a pure veggie then you must The Reset.
My food journey
The next station of my food journey is Zizo. There is a patriotic restaurant that serves street food and other dishes of various parts of India. That is Imly in Rajendra Place. If you are fond of Bollywood, Filmy Flavours in Sector 63, Noida is a  nice place to explore. EMB or Excuse Me Boss promises an ultimate dine-in experience. International Barbecue Festival at Cafe Knosh was fabulous. Cafe Dalal Street runs on a different concept for liquor. A lot of innovation is happening in the food industry. Oven Story brings an altogether different concept of Pizza. A Grill Company in Noida brings different flavors of India for you. Let us go back to Zirakpur, Park Plaza once again for a while. We are talking about two fabulous restaurants there. Those are Zaranj and Free Spirit. Both are excellent and have entirely an altogether different concept.
My Food Journey takes me back to one of the legendary restaurant, Lodi The Garden. I love this place a lot. It seems to be welcoming all the time. Bikanervala at Sector 29 is a very popular place. Prantha Junction in Lodhi Colony is a real gem. Moon of Taj in Lajpat Nagar's Central Market is again an innovative concept of Taiwanese Sweets combining with Indian culture. Gastronomica is a fabulous place for food and Sheesha. It is always good to visit Leela Ambience Convention Hotel for excellent food. Laat Saab is a place that make you feel royal. On the other hand, Madaari Lounge in Model Town is a very different concept. There is a good place in Hauz Khas for arranging parties and gatherings with good food options. It is Junction. Ardor 2.1 again is a nice experience.
My Food Journey continues
Hudson Chopsticks in GTB Nagar offers authentic Chinese food. If you have not been to Pitstop Brewpub in Gurgaon, you must visit for a great experience not only in food but about everything. In fact, you might get a chance to meet Sachin Tendulkar. The same thing goes true for Smaaash in Noida. As a matter of fact, you will have a great gaming experience at both these places. Mighty Small is not small in reality. You will get to know only once you visit this mighty place. Cafe Southall is a magnificent setup. 19 Flavours Biryani at Golf Course in Gurgaon is a lot beyond just Biryanis. To get real french bakery items you must visit LoperaIndia. Visiting Vizag after almost a decade didn't lessen my love for this place. Oceanic Pavillion in WelcomHotel Grand Bay was a fabulous experience.
The same love story is true for The Square in Novotel. My Food Journey brings me back to Chaayos once again for their summer menu. Curry Tree comes out to be a good food at bad place outlet. Once again I visit SodaBottleOpenerWala for a Persian feast. But this time it is their Noida outlet. AnnaMaya in Andaz at Aerocity is a different world with lovely story. You will have to understand the story well behind the superb food you get here. Another visit to Leela Ambience Convention Hotel takes me to Dilli 32 for a great dining experience with live music. Bento Cafe is good for Japanese and Chinese food lovers. Masala Factory is a worth trying delivery outlet. Ching Shihh in Sector 34, Noida is a nice place for exclusive Chinese food and environment.
My Food Journey
The Barbeque Company is the next station of my food journey. Vapour Bar Exchange is full of richness. The magnificent experience and California Coffee makes California Boulevard my all time favorite. United Coffee House Rewind was a bad taste and equally bad experience. The circle again comes back to health. This time it is The Diet Kitchen. Another paradise for veg foodies is The Masala Trail. In fact, it is a special place to visit. MOB Brewpub in Connaught Place sets a new benchmark in the dining experience. Chai Point appears to be a nice and budget friendly point for a variety of teas and quick bites. Flying Kukkad brings excellent food. Behrouz Biryani is different from regular Biryanis and good to try. Similarly, Greek Food and Beyond is really beyond regular stuff in the market.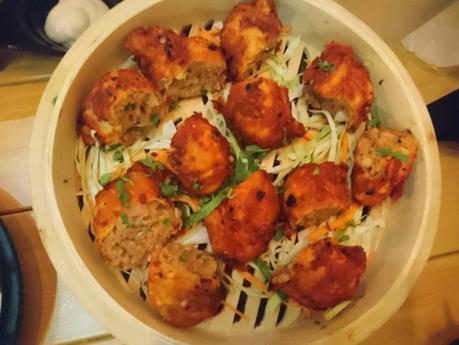 Majlis-e-Mughal is a sincere effort to retain authentic Mughal dishes. So far my food journey is quite excellent. AMPM Cafe in Rajouri Garden, again, was a refreshing and energizing experience. If you are looking out for one of the best buffet places, Band Baaja Baaraat is a good option. Chutney by Noodal Point is a new outlet in Rajouri Garden Market. Singla's in Tilak Nagar is sweets, snacks, and food outlet with dine-in and delivery options.