Designing your little one's first bedroom is such an exciting time, I had an absolute blast seeing all of mine and Adams ideas come together for Ethans bedroom when we did it. There are so many great ideas and piece of inspiration out there these days, especially on websites like Pinterest- which I was glued to at the time that we designed Ethans nursery. 
But once you've got all the essentials like the wallpaper, the cot and everything else such as the flooring (carpeted flooring works very well for childrens bedrooms and places like Carpetright have an excellent choice of family-friendly choices) in and ready, what about the little touches? The things you won't absolutely have to have for your little ones room, but are so worth having if you are able to make the pennies and the room space stretch..
Here, I share my top 5 non-essential, but oh-so-worth-it nursery recommendations..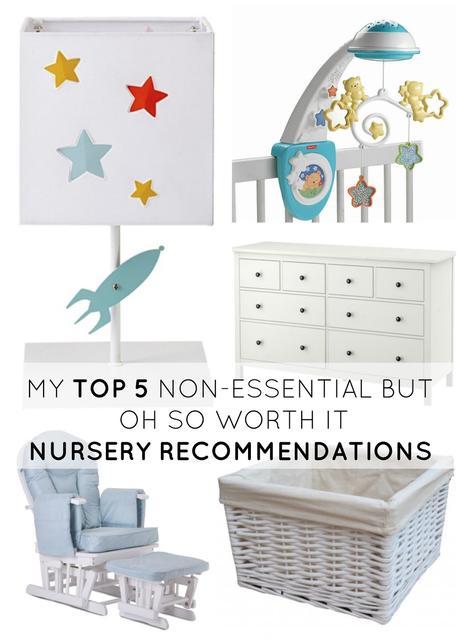 1. A cosy lamp - When we initially decorated Ethan's bedroom, we had a floor lamp in there, that though sadly didn't last very long (it was pretty old and we'd got it pretty damn cheap) made the whole room feel incredibly cosy. I absolutely loved having a lamp in E's room, every evening when getting him ready for bed and reading him his bedtime stories. I'd switch it on and it would just create a much more calmer, cosier atmosphere than having the harsh ceiling light on. As I said, that particular one didn't last very long and so we're currently using the ceiling light (which does not create a very calm feel at all!). We are currently on the hunt for a new lamp as I really do think it's something worth having!
2. A great cot mobile - If you can afford a cot mobile for your little ones cot than I absolutely recommend researching for a good one and purchasing it. We still use ours, even though Ethan is now two years old. The one we have and love is the Starlight cot mobile from Fisher Price - it works amazingly for us, the music plays for around 15-20 minutes and then automatically shuts off and little stars project on to the ceiling -  it sends Ethan off to sleep everytime and was a bit of a hero in our house when we went through a bit of a bad phase with Ethan not wanting to go to sleep in his own bed a while back. It might not work for everyone, but we absolutely love having a cot mobile in his room!
3. A big chest of drawers that can also act as a changing unit/table - Clearly if you're going to consider using a chest of drawers as a changing unit/table with a changing mat on the top, then please please please do make sure that you never leave your child unattended at any age and that the mat isn't one that's going to slip off. I can't give you safety tips or be held responsible for any accidents, but I will say that we use our chest of drawers (the IKEA hemnes chest of drawers - though in grey-brown rather than white, I couldn't see the grey-brown option on their site when I looked just now, so perhaps they've stopped doing it in that colour?) as a changing table too and it works out really well for us. The hemnes drawers are amazing - they offer so much space for clothes and we use drawer separators with it, so really get the most out of the space inside. If you want a safer option for a changing table, than it's really worth having a look into alternatives. I love having a dedicated space to change Ethan's nappy which is at a great level for my height (especially so because of my back condition!). 
4. A comfortable nursery chair - A nursery chair can take up a bit of space in the room but oh my do I think it's worth having one! I would hate to be without the chair we have in Ethans room, it's brilliant to be able to sit in there and watch him whilst he plays with his toys and for reading bedtime stories to him at night. It was brilliant for night feeds too when he was younger! We brought ours from IKEA, but I am really liking the sort of styes of chairs of the one I've pictured above at the moment. I'm really growing towards a potential blue and white theme at the moment, probably because I know baby number two is also going to be a boy and because I'm thinking forward to when we re-decorate E's room into more of a 'big boy' bedroom. If you have space for a chair in your little one's room - I think it is seriously worth having one!
5. Baskets -  You're probably wondering if there will ever be a home-decor related post that write where I don't mention my love and slight obsession with baskets! And there may well be in the future, but I'm sorry it just won't be today. ;) I like to think of baskets as a bit of a nursery essential.. now clearly they're not - but for a basket obsessive like me, they really do help to make a nursery feel that much more like a nursery! And anyway - they're amazing for storage.. you can store literally anything in them. Things like blankets, toys, clothes even dirty washing if you wanted to! They're absolutely worth having in my slightly love-of-baskets biased opinion ;)
If you've already decorated your little ones nursery, what would you say is your top non-essential but oh so worth having nursery recommendation?


 
 FACEBOOK  | TWITTER | INSTAGRAM