People often associate the Cayman Islands with nice beaches and relaxing vacations. Little do they know, it is also home to some of the best restaurants one can find in the Caribbean. Having lived in Grand Cayman for a few years, I am fortunate enough to have tried almost every food place there is to explore over there
. H
ere are my top ten recommended affordable food stops to anyone who wishes to visit and
 spend some time in this beautiful island and 
gastronomic paradise
10. George Town Yacht Club is located within the Barcadere Marina and is more popularly knows as GTYC to locals. What better way to enjoy the tropical weather than by dining at GTYC's open air restaurant and bar. The menu options are affordable and range from salads, sandwiches, pizza, pasta, various grilled meats and seafood.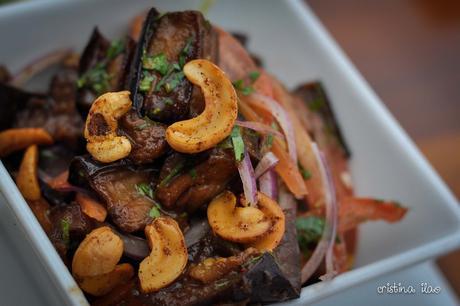 George Town Yacht Club - Eggplant and Cashew Salad
9. Going to the Caribbean is not complete without trying the popular jerk chicken. Although I know of several places which offer this dish,
Breezes by the Bay
is a good option as it is nicely located at the seafront in the middle of town and is easily accessible to cruise ship passengers. They have an open area where diners can enjoy both the tropical weather and the Caribbean flavors all at the same time.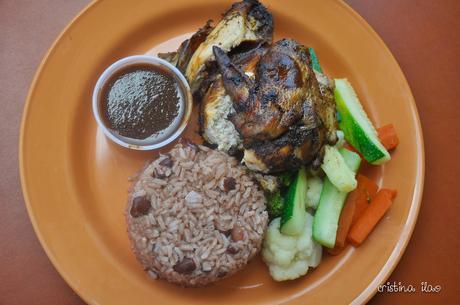 Breezes by the Bay - Jerk Chicken
8. If European colonial inspired cuisine is what you're looking for, then this is where you should go. Icoa offers healthy options from breakfast to dinner. It also has an afternoon tea menu that includes tasty tea sandwiches, scones and assorted mini desserts.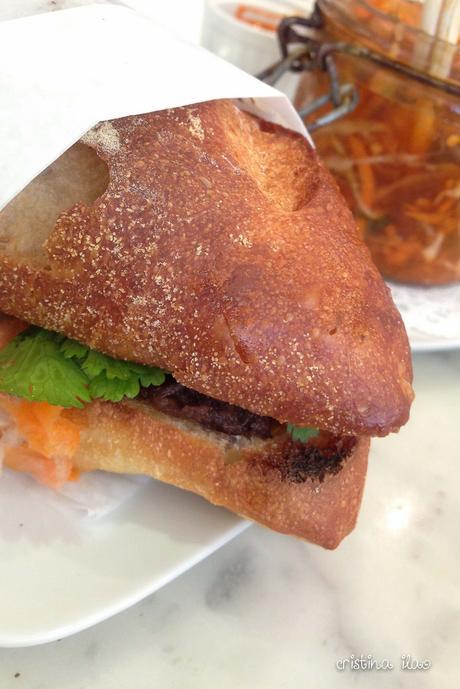 Icoa - Pulled Pork Sandwich
7.
Cimboco is popular for 
offering modern Caribbean cuisine
 at a location just across the street from Seven Mile beach. The cafe's menu includes a wide range of options for any picky diner. The breakfast menu alone has more than ten main items including unique choices such as the Breakfast Pizza and the Cayman Omelet. My personal favourites are the Fire Cracker Pasta and the BBQ Jerk Chicken Pizza.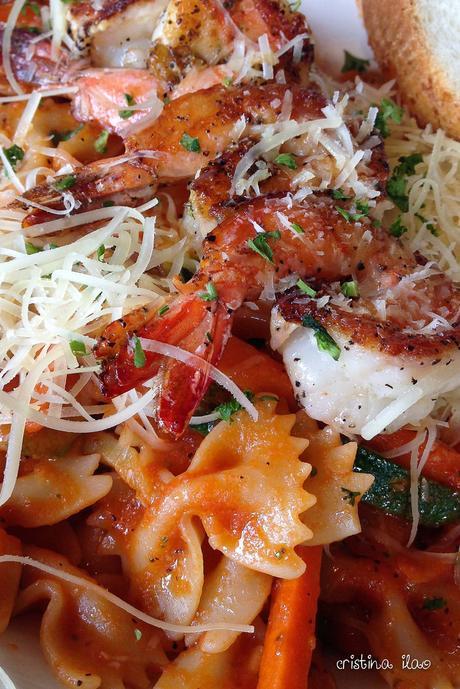 Cimboco - Fire Cracker Pasta
6. I go to XQ's Bar and Grill for my pizza and pasta fix. Their affordable wood-fired pizzas come with freshly made dough and home made tomato sauce. They even create mini pizzas as part of their kids menu. I like their Spaghetti Bolognese and the Caribbean Wood Fired Pizza which they top with grilled chicken, BBQ sauce, pineapples, bacon and green peppers.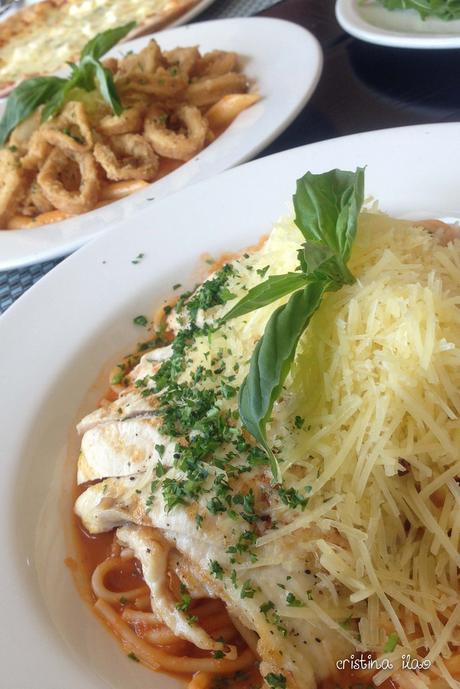 XQ's - Spaghetti Bolognese topped with Chicken Breast
5. Affordable Asian food, a 
casual setting and rock and roll music playing in the background are some
 things you can expect from Wok n Roll. Wok n Roll has a special Pinoy menu which includes Adobo, Crispy Pata and my favorite Sinigang among others. This delights Filipino residents who make up one of the largest foreign populations in the Cayman Islands.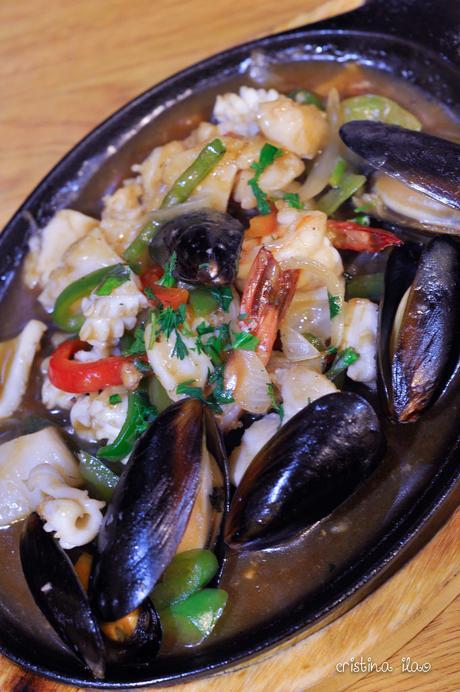 Wok n Roll - Seafood Sisig
4. Situated within Camana Bay, Waterfront offers both casual indoor and outdoor seating for the urban diner. In this establishment, one can relax and enjoy the breeze while savouring a pleasant meal under the towering palm trees. They have a selection of smoothies mixed with favorite chocolate brands such as M&M's, Mars and Milky Way. Mizu, Waterfront's sister establishment is just right behind it if you prefer Asian cuisine instead.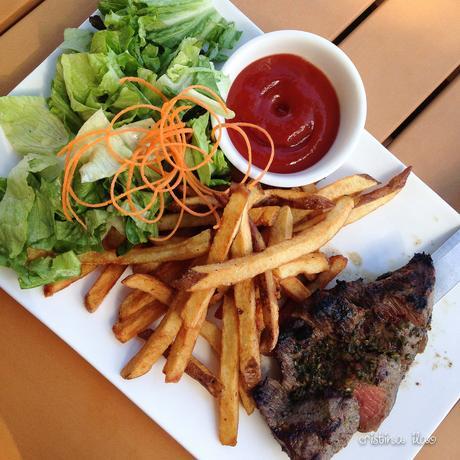 Waterfront - Flat Iron Steak
3. I didn't even like Japanese food until I tried the Perfect 10. This is 
Yoshi Sushi
's most popular sushi roll filled with crab, avocado and mango, and topped with salmon, spicy mayo and unagi sauce.
 This place can get really busy during dinner time so I strongly suggest booking in advance especially on a Friday night. As an alternative, you may call ahead and place your order for pick-up at a later time.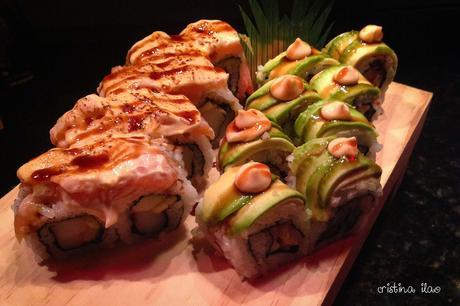 Yoshi Sushi - Perfect 10 Roll and Caterpillar Roll
2. You may be surprised to learn that a Thai restaurant is best known for Sticky Toffee Pudding, undoubtedly the most popular and best dessert in Cayman. However, as you might expect, one trip to Thai Orchid is enough to satisfy your cravings for more traditional exotic Thai cuisine. All dishes are prepared by authentic Thai
 chefs and served by cheerful Thai hosts.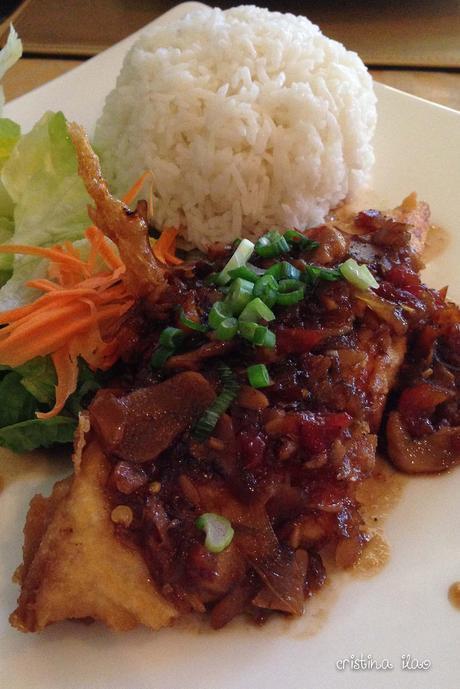 Thai Orchid - Pla Tod La Prik
1. The Brasserie Restaurant has a classy ambiance and a regularly changing menu that offers a taste of the island's fresh local produce. The Brasserie has its own deep-sea fishing vessel and a backyard garden of greens where some of the ingredients are sourced. 
Away from the Seven Mile beach restaurant row but definitely worth a visit, this restaurant is my favorite on the island.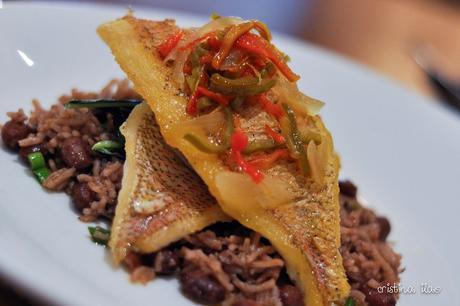 The Brasserie - Fresh Catch of the Day
The next time you come and visit the Cayman Islands, get ready to have fun not just under the sun but inside these lovely food stops as well!