Hello friends! We are still missing 90% of our furniture from storage. It has been a crazy few weeks and we've made some fun memories living in a basically unfurnished house (:
Coming back to Florida, I've recently been re-united with a ton of things my parents were keeping for me while we traveled around with the Army. They had everything from family heirlooms to my childhood Bibles - and also, my old fabric stash! I was in Fashion Design in college and I used to love sewing. Every time I would find inexpensive fabric that I liked, I would purchase it and keep it for a future project. Well, once sewing turned in to "work" (college assignments, sewing exams, etc) I began to sew less and less as a hobby because I got so burnt out! I ended college with a mass amount of fabric that was never used.
Now that we are settling into our first home and Rilynn and I are getting in to a daily schedule, I've been excited to find new things to work on during her nap times! One thing I would really like to do is sew some things for her to use. I think it would be so special for her to have a few items that I made instead of purchased for her. I have so many dear and talented friends who have inspired me!!!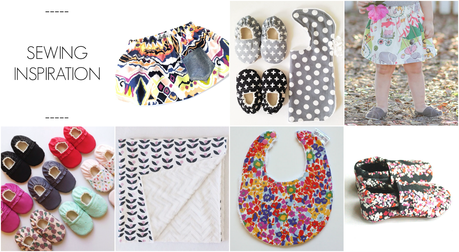 skirt // cross booties // dot bib // circus skirt // booties // blanket // watercolor bib // bohemian booties
Over the coming weeks I want to try out a few things with hopes that I can create some gifts to give to Rilynn for her first birthday later this year. I have a ton of neutral fabrics, but I wanted to know if anyone had suggestions of where to purchase fun prints or other beautiful sewing supplies? I know local stores are pretty limited (i.e., Michaels, JoAnns, Hobby Lobby, etc), so any help would be greatly appreciated!
Have any of you moms picked up new hobbies as your little ones get on schedules and you have some free time?