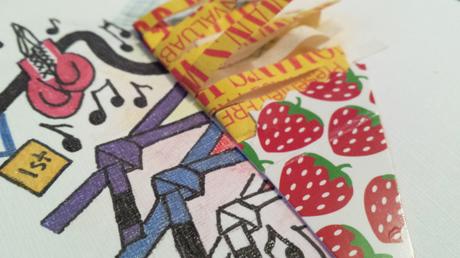 I know that I'm a dreamer…I dream big all the time…we all do right?..it is what gets us up and going – gives us a purpose, a direction…a path.
I've realised that I have a natural connection with passionate people – ones that live their loves, train, teach or work in their dreams. Although, these people are not within the creative industry – and that is what makes this project so exciting for me…because I believe creativity exists in all of us. 
I have had the opportunity to 'interview' these guest 'non-artists' and I have mailed them a blank heart art canvas to half-create and return. Then I have finished the other half and posted below! The results are interesting…and I can't wait for you to discover the first half-a-heart creator in my new series called 'Whole-Hearted'. GIve it up for Jolie, Company Director at Prestige Temps, BJJ Gold Medal world Champion in Brazilian jiu jitsu and SuperStar DJ.
Thanks for taking some time out of your hectic schedule to share with us. I know you are a positive thinker and do-er. Can you share your earliest positive memory with us? When I was growing up, my parents had a children's wear shop called 'Jolie children's wear'. My mom made all of the clothes in the shop. She's a very talented lady who got her city and guilds at the London College of fashion. We spent a lot of time at the shop, and during school holidays my dad used to take me on his deliveries to London. We often went to Bethnal Green Market to deliver an order of clothes that my mom had made. Opposite the clothes stall was a reggae music stall that used to play so many good tracks. These days made me really happy and it sewed the seed for the person who I have become today. I'm really proud of my parents and what they have achieved. Later in life when I went to the Notting hill carnival, I was always surprised at how many reggae songs I knew, and I put that down to always hearing them at Bethnal Green market. My parents had a really great Motown record collection, and I know that's what set the tone for becoming a DJ. My dad was really sporty when he was younger. He was a diver for Redbridge and could do all sorts of summersaults. I told the kids in the street we lived in that my dad could do back flips. None of them believed me, so I got my dad out of the house and asked him if he would show them. One after the other, he did back flip after back flip after back flip. The kids were all astounded. He was by far the koolest dad ever for doing that.
What is a typical day for you? Every day is a Friday! I say that often as I love every day. I don't really have a typical day as they are all so varied. I fill them with work, training, teaching, music, cooking and writing. I wake up early, do some work as I work from home. I'll go to the gym, meet some clients or interview for new staff, cook some lovely food, write in my blog and train or teach in the evenings.
Ok. You have a day off work…what do you do? These are few and far between! Just recently I had a couple of days off and I spent most of it watching films snuggled up on the sofa. I'd been lacking in energy and felt like my body needed it. It's something I do now, listen to what my body is telling me. I used to burn the candle at both ends and would end up making myself ill. I have active days off too where I meet up with friends or family, go for a meal or visit places in London. I love London; it has a special place in my heart. I live just far enough out, but close enough to get to easily.
What 3 things could you not live without? Food. I'm miserable when I'm hungry. Music. It's guaranteed to lift your mood. Skype. It's important when your parents live in Spain.
If you had any advice for someone wanting to set up their own company, or get into a BJJ or DJing what would it be?
If someone was to set up their own company, the advice I would give is to make sure it's a true passion. You will spend all of your waking days working and thinking about the company so it needs to be something you truly love, and then it won't feel like work. Also, get a really good accountant ;) If someone was to get into Brazilian Jiu Jitsu, my advice to them is just train, be consistent, be humble in victory, gracious in defeat. Dream big, because even at the age of 37 years old, you can become a world champion. Most of all enjoy the journey.   If someone was to get in to djing, my advice to them is to play as many gigs as they can to get experience. If you can't get the gigs, put on your own parties. You can't always rely on promoters giving you work. Get a radio show, make podcasts and tell everyone about your mixes. Enjoy it, it's one of the best things in the world to have this skill.
Could you share the last one or two people/websites/artists/events that inspire you? I'm a real foodie. I enjoy cooking and creating my own recipes. A couple of years ago someone introduced me to Paleo cooking. I really love theses websites www.Paleogrubs.com  www.paleomg.com 
What memorable thing did your mum/dad used to say to you while you were growing up? My parents never pushed me in to doing anything, they very much let me find my own way in life. They never really gave me any advice as such; they just showed me that if you work hard, you can achieve good things. My mom did say that as a girl I would have to work that little bit harder to be noticed, especially as I have a soft voice and I'm small in stature. Hard work never hurt anyone and I'm glad I have such good influences in my life.
Can you tell us what inspired you to create your half-a-heart? My half a heart represents some of my achievements. The bottom part of the heart has the three Brazilian jiu jitsu belts that I've had and have now. At the top is my kickboxing black belt with the 2nd dan stripes on the belt. Also the boxing gloves. There is my world championship gold medal, and music notes surround it all, as music is a huge part of my life and it's all around me every day.
Join me and Follow Jolie!
For my DJing www.djjolie.com is
If you're interested in my jiu jitsu journey and my own Paleo inspired food www.paleoideasforfood.blogspot.co.uk
I also teach kickboxing and you can find out about the classes here www.kineticmartialarts.co.uk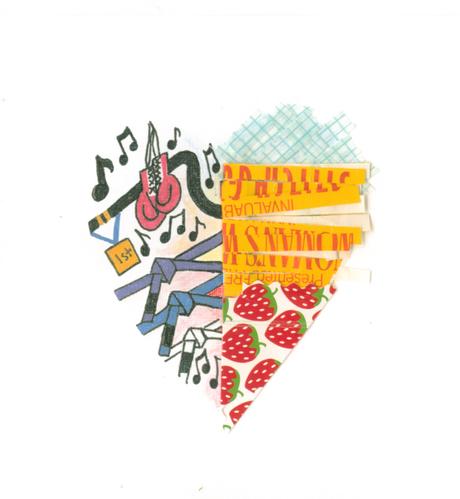 My half-a-heart collage is inspired by a mutual love of strawberries, and summer time – a reflection of Jolie's positive outlook and up-beat personality which everyone falls in love with when they meet her.