Following are the key highlights of Prime Minister Narendra Modi's address to the nation on the new year 2017 eve.
In a few hours, 125 crore Indians will be welcoming the new year 2017. With new hope, new energy, and new dreams.
Post Diwali, the whole country is in the process of purification. And such huge tasks require patience, discipline, and resolve. In fact, it is a process of shaping the future of the nation. And, as a matter of fact, everyone is participating in this historic journey.
When you start suffocating in a bad environment, the only way out is to struggle to come out of it. In India, the distortions of badness crept in with time. So much so that the whole country is helpless against the biggest evils like corruption, black money, and counterfeit notes. All this has become so rampant in country's social fabric. It is high time to fight against it and kill it forever.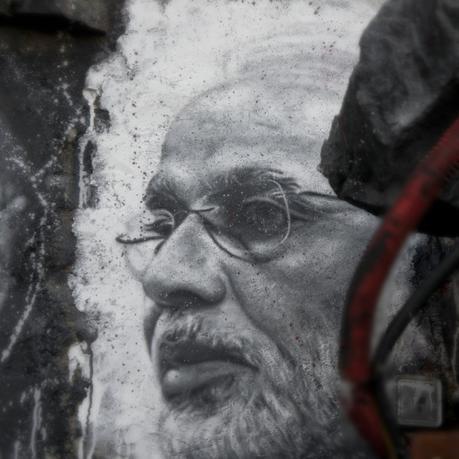 Photo by
Abode of Chaos

As a matter of fact, every person of the country has become habitual of surrendering to the evils and corruption of society. But eventually everyone, in fact, wants to break these barriers.
New Year 2017 Key Highlights
The country has always shown its intrinsic power during the external aggressions of 1962, 1965, 1971, and Kargil. The time has come to unite again to fight a war against internal evils.
It is time to resolute honesty and defeats dishonesty on all fronts.
This is a historic event for India when both the people and the government are willing to be on the same side in this battle against evil. It is time to bear pain and sorrow, and support each other. In this historic time to fight against corruption and black money, we need to walk shoulder to shoulder.
Narendra Modi, on the eve of the new year 2017 says, "There is no precedent globally, to what India has done. Nations similar to us do not have the amount of currency that we had. Over the last ten to twelve years, 500 and 1000 rupee currency notes were used less for legitimate transactions, and more for a parallel economy. The excess of cash was fueling inflation and black-marketing. It was denying the poor, their due.  Lack of cash causes difficulty, but an excess of cash is even more troublesome. Our aim is to achieve a balance. Economists agree that when cash is outside the formal economy, it is a cause of worry.When it joins the mainstream, it is an opportunity for development."
He further says, "I am sure, if great sons of India like Jayaprakash Narayan, Lal Bahadur Shastri, Ram Manohar Lohia, and Kamaraj had been present today, they would have applauded the patience, discipline, and resolve of our countrymen."
New Year 2017 Key Highlights
The gratifying instances that have been there in the past few weeks will take weeks to list them. Above all, it is a proud moment for any country when the people join the mainstream abiding by the law and intend to help the Government in serving the deserving and poor. In my opinion, it is very important to identify the real deserving than the people bearing the fake label of 'poor'.
It is strange and tragic that only 24 lakh people in India accept that their annual income is more than 10 lakh rupees. Both the sides are full with corrupt and dishonest. As a matter of fact, it is the prime duty of government to bring the wrong people on right track. But more important is to identify the wrongdoers in government machinery and set them right immediately.
The complete text of prime minister Narendra Modi's new year 2017 address to the nation can be read here.
Photo by Abode of Chaos