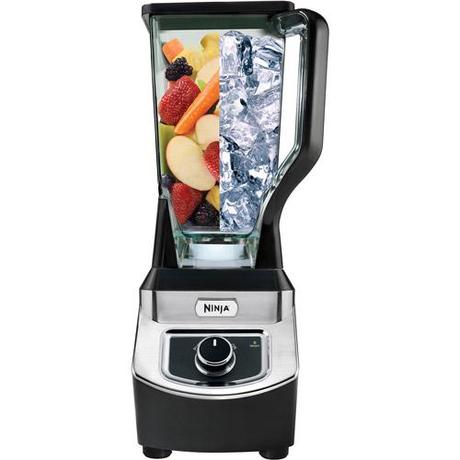 This baby has 1000-watts of power and can easily crush ice into snow in seconds, unlike traditional blenders that only have the blades at the very bottom the ninja's has 6 razor sharp blades that run from top to bottom having no problem blending vegetables to frozen fruits without leaving any random chunks.
The Ninja Blender pitcher is lightweight, BPA-free and dishwasher safe, which makes for an easy clean up. Not only is the ninja blender powerful it is completely safe as well. The safety features include not having the ability to blend UNLESS the lid is secured down onto the pitcher. The lid also has a locking mechanism and you must press the "release" button to remove the lid. This feature will definitely prevent you from destroying your kitchen with a splattered mess. The cylinder blade is also removable, but if you don't have a dishwasher be careful cleaning it because again the blades are extremely sharp.
The ninja blender does more than make smoothies, it can churn milk into butter, make ice cream, turn peanuts into peanut butter, mix dough and a variety of dishes. Check these recipes using The Ninja Blender http://www.ninjakitchen.com/recipes.shtml .
Overall, I highly recommend this product. It will truly make a difference in your kitchen.