No. More. Office. Cubicle.
I didn't even think twice about the decision. The opportunity came out of leftfield and I seized it with both hands, running hard and fast until I reached the point of no return. I knew it was time to quit that tiny gray box and when that time came, it felt right... and completely surreal.
So I've done it. I've quit the life of the city commuter, fled my government cubicle in a remote corner of the Sydney CBD, and I'm finally living the dream.
My dream.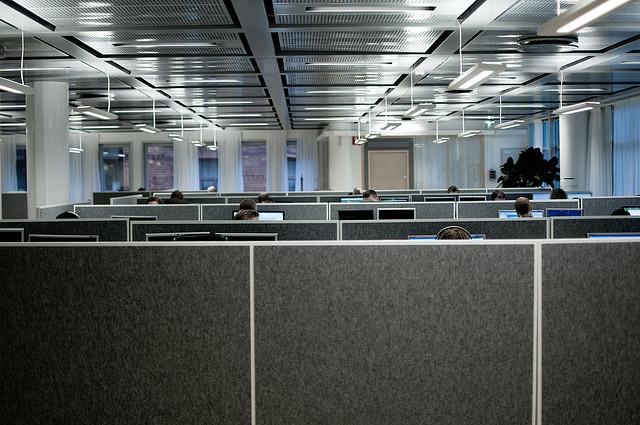 Photo credit: Flickr Creative Commons (Michael Lokner)
Craving change
I never wanted to be that pin-striped guy who works in the city from dawn to dusk. The kind of guy who leaves home in the early morning, bleary-eyed and in a state of 'just-climbed-out-of-bed' shock. I never felt comfortable donning a suit and tie, participating in the daily pow-wows, lengthy team meetings, liquid lunches and late nights in the office.
I don't like working in cities and I prefer time with my family rather than with my job.
We're not all built the same way and I simply crave a different life. One with location independence. One where I can work on my terms, not theirs. One where I can work until I get the job done, irrespective of how and where.
I left my blue-chip corporate job in the UK in 2003 confident that I'd finally quit the world of office workers and routine 9-5's. I was set on the path to adventure and travel, leaving behind the 50-hour work weeks, motorway commutes and wasted time away from family that I could never hope to get back.
It was never going to be that easy.
Before long, I was back in the office, this time working for government and in a slightly different shade of gray office box. For the next eight years, I would change my location, alter the view out the window and improve the lifestyle at the weekend, but I couldn't break away from the traditional office role no matter how hard I tried.
It was all too ordinary.
When the planets alig
n
Family and lifestyle are so important to me, not money or career path.
Every minute I spend away from my wife and son, every minute I spend away from this Northern Beaches way of life we've fought tooth and nail to build around us, is a minute lost and a moment gone forever.
I couldn't live with that.
I soon realised it wasn't about work-life balance, but about work
and
lifestyle - and being passionate about both on my own terms. I wanted flexibility, a role that allowed me to be closer to home, less micro-management and more freedom, a job that built on the interesting things I did in my free time - blogging, social media, building communities and writing for love (and money).
Then I met
Alison Michalk
.
An innovator and true believer in reforming the way we work, Alison runs a global company comprised of location independent professionals who work in towns, rural communities, by the beach, in the country, whatever, wherever. She also works remotely and has successfully grown a business that is built on the very things I believe in and write about here - flexibility, innovative work practices, an emphasis on work and lifestyle passions, working smarter not harder, working away from crowded cities.
We shared similar visions and ideals about how we wanted to work, where we wanted to work, and with whom. On that regular working day in that average Sydney cafe, Alison was searching for someone to help run her company and I was searching for a drastic change to my working world.
The rest, as they say, is history.
I joined
Q

uiip
as its Operations Director in early April. A global leader in community management, social media moderation, and content creation services, Quiip is an innovative, exciting and fun place to work.
I now operate out of my home on the Northern Beaches, with no more Sydney commute. I hear the dull roar of the traffic in the morning and I selfishly smile. I'm done with all that.
Occasionally, I take the ferry from Palm Beach to Quiip's Central Coast office. I work remotely using a range of online platforms. I manage the day-to-day business and I work with a group of highly talented and intelligent young people. I'm enthused and invigorated by my work environment, I continue to write, and I'll continue to travel. I plan exotic retreats for our employees in far-flung destinations and I sit in front of my laptop wondering if this is all just a dream.
Lessons learned
I learned several things from the past four years of soul-searching and trying to figure a way out of the office cubicle.
I learned that I couldn't stand being a city worker and I needed to break free. 
I learned that if you want change, it'll happen, but not without hard work and a bucketload of patience. 
I learned to network like crazy and use social media as a means to navigate my potential new career.
I learned that there are plenty of other people like me who believe that career is useful, but having a certain way of life close to family and home is more so.
I learned that this change was never about the money, it couldn't be - this was about doing something I loved and escaping that office cubicle.
I learned that my writing remains important to me and this major life change had to allow for that - I'll continue to freelance, blog, and develop relationships with brands and other bloggers (Canada, here I come!).

And the most important thing I learned?
I learned that I went in search of a life less ordinary but I wasn't living it. Not entirely.
And now I think that I am.
Have you taken a risk to achieve happiness and have seen it pay off? Are you seeking a big change in your life? Did location independence or a significant career change work for you?

Sign up for regular email updates. It's easy and free.