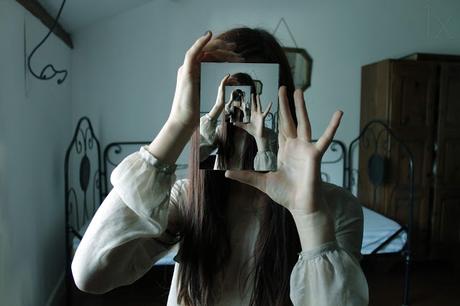 Image Source: 1x.com. Introspection by Giulia Marangoni. Image used only for editorial representation. Copyrights of the image lie with the original artist only. 
Right now, everything matters and nothing does. The whys, the whos, the whens, and the whats. It will hurt. You will feel winded. And if you don't, I'd be amazed. Every nerve in your body will be alive and kicking. They will feel everything and nothing; the ones that don't need attention and the ones that cry out loud. You will be numb, and you won't do anything about either of them. They will stew, just like you.
In that big head of yours, a thousand thoughts will plan a marathon and forget to take off. One might do, and you'd feel as if your head will explode. Your stomach will hurt and so will your throat for that lack of gumption, and the missing voice and words.
You'd look over a ledge and want to take the plunge, yet, give it up for another day. Walking away, you will imagine how you would look splattered all over the pavement, the colors of your insides splashed all over. But no one will know what these colors feel or say. Today, it will seem like too much.
You will head out on that impromptu trip. Wandering, floating a lake or in a river, admiring the green foliage will fail to make you feel. But feel you will. Hurt you will. Like every inch of your body crying out in pain, your brain failing to understand the signals or rather, simply choosing to ignore them. It will leave you confused, weathered, battered and beaten. You will still wake up, brush your teeth, bathe, dress up and step out for work.
You will paste that smile, join in the laughter, eat a hearty yet tasteless meal and think about that jump from the ledge, the one that is postponed for another day.
Anger will surge through you, making you spill hot tears, bleeding you dry. You will wet the sheets, look pale and purge any vestige of ill. It won't cure you, but it might hurt less for a day.
Overwhelming as it is, if your train your impulses to stay away from that ledge, it will be fine. If you can distract yourself with anything like a dead leaf floating in the breeze, you'd be fine.
If you have made it through for so long, you will make it through today. It will get better; not today, not tomorrow but someday. And remember, all of this is okay. You will heal in as much time you need.