Spoilers ahead...
There are no goons chasing the hero, no conspiracies, no human devils, and no accidents in Maniratnam's 'OK Kanmani'. That's perhaps how most of our lives are, well.. most of the time. Dulquer (Adhi) and Nithya (Tara) are free spirited. They seem to like each other at first sight. For similarities abound between them – both sophisticated, young, good-looking and liberal. They turn from strangers to two people who share a common world-view. A world view that sees the futility of the institution of marriage. Marriage, as the charming conversation between them in the Church goes, is an endless cycle of pointlessness from two people sharing a common roof, to finding their babies poop over them, to getting them married eventually – as a submission to the vicious cultural cycle.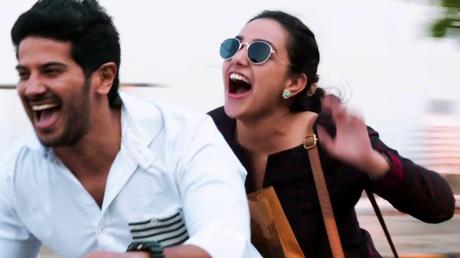 'naetru enbadhu indru illai, naalai ninaippe oh thollai..'
But what's interesting is that their world view isn't an act of rebellion against the society. They are not revolutionaries trying to make a case against the institution of marriage. In the scene where Dulquer asks Nithya to ride with him in the bike for a cup of coffee, she is slightly surprised and pauses for a moment before deciding to ride with him. Being young and sophisticated doesn't make her any more liberal than her gender instincts limits her to be. In a sense, they are just two young people who are tethered not to the society but to the self. Looking to have fun without being weighed down by institutional commitments; disenchanted with the idea of marriage, for its futility and more realistically for being an impediment to personal aspirations. 
Nithya is endearing. Her enthusiasm and jubilance seem to be perpetually on steroids. As Maniratnam said in one of his recent interviews "…she is somebody who has a mind of her own". She is nonchalant when Dulquer says that she is no.16 in his girlfriend roll; apologetic to the point of screaming cuteness when she gives a running commentary of where she is in the elevator when she stands up Dulquer for Coffee. She is snarky when she asks Dulquer if he can come with her to Paris, in response to his request for her to come to the US. There are a lot of teasing moments between Nithya and Dulquer, which happens in a world of their own, with only the local trains and buses of Mumbai eavesdropping on them most of the time. 
The roles are reversed between the lead pairs from Alipayuthey to OK Kanmani. Madhavan was the tormentor of romance in Alaipayuthey, Nithya takes the baton in OK Kanmani. She torments Dulquer by being casual about his brother's unexpected appearance at their place, and calls him 'Manja maakan' when he doesn't know to lie to his brother and anni (sister-in-law) when they ask for directions to their place. And she plays with his pulse by taking him to a hospital full of ladies who are expecting. 
Leela Samson's tongue-in-cheek wit on several scenes is timed perfectly. When Prakash Raj refuses to entertain the idea of living-in, Leela Samson casually says that 'he is old-fashioned' without really participating in the conversation. Prakash Raj and Leela Samson pair, in a sense, embody a model of marriage that lights hope on the institution for Dulquer-Nithya. In one of the most beautiful conversations in the film, Prakash Raj asks Nithya if she would choose her career over Dulquer. And she says "I would have chosen my career had you asked me a week back. Now I want both. Koncham peraasaikaari ayiten…" This conversation is revealing because it shows how experiences can make priorities malleable and ideologies meaningless.
For all the liberalism Nithya and Dulquer seem to embody, they are still products of their cultural environment. So when it comes to taking a final call on their relationship, they decide to walk into that cycle they once detested. This is where the movie fails to make a convincing case for marriage or for their decision. Nithya-Dulquer could still have maintained their relationship without having to get married. They don't need a marriage certificate to take care of each other or grow old together. Can not love and commitment coexist without submission to an institution? This cobweb of charm, romance, hope and jubilation without much complexities is what makes OK Kanmani both overwhelming and underwhelming at the same time.