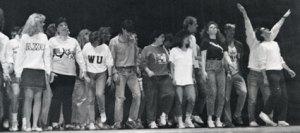 The Class of 1988
Last weekend, my college class celebrated its 25th reunion.  I'd had the events marked on my calendar for a year.  I registered early.  I made a contribution to the class gift.  But in the end, mostly I didn't go. David was in New York and my date—the incredible woman who became my best friend nearly on sight and who has remained in that slot ever since—was down with a nasty case of bronchitis.  So I freaked out and then mostly didn't go.
I let fear and old wounds and social anxiety get the best of me, and truth be told, by the time the weekend rolled around, I didn't want to go at all.  But because I didn't want my daughters to think I was a total baby and because I wanted to set an example for them of not letting stupid and self-imposed social drama get the best of me,  I mustered up my courage, put on some lip gloss, and went to the pre-reunion event in Portland for a couple of hours.  Even so, my daughters and their nanny drove me there because I likely would have turned around and gone home if I'd had to drive myself.
In the end, it was fine.  In fact, it was perfectly pleasant.  I had the chance to talk to some old friends. I got to laugh with people who I haven't seen in years.  I had about 50 three-minute conversations, all of them very nice.  I left thinking about what an admirable and upstanding group of folks was gathered in that room, but I passed on the rest of the weekend.
Even so, the demarcation of 25 years of "formal" adulthood wormed itself into my consciousness over the past couple of weeks.  It's not just that I feel nostalgic for those days of having nothing to do but learn the world's great ideas and then mull them over in the company of smart and big-hearted friends, though I do.  And it's not just that it reminds me that my children are now much closer than I am to the age I was when I met those good folks, though it does.
But it also brought home to me what a gift it was to have been there in the first place.  I showed up at Willamette University wholly unprepared.  Oh, I had earned good grades in high school and had navigated the social scene well enough.  I had been awarded a few scholarships and done well on the SAT.  My parents had bought me matching bedding and towels and a cute goose-necked reading lamp.  It wasn't that, really.  I was accomplished and prepared in all the surface ways—but in fact—I just wasn't very curious when I settled in on  that campus 29 years ago.  I thought knowledge was something to be mastered, to be bludgeoned for my own purposes.  I had the arrogance of the young and ambitious to see philosophy and literature and even chemistry and calculus as nothing more than my own stepping stones—to be memorized, checked off, and forgotten.
Somewhere in those four years, things changed.  It all became more fluid.  With each passing course, there were more questions and more diversions.  One idea opened the door to the next.  Conversations that arose in American Politics continued on into Art History.  The days blurred into long and sleepless explorations and arguments and existential opening.  Of course, all that high-mindedness was seasoned with floats made from champagne and orange sherbet, weekend-long parties called things like "Swamp" and plenty of ill-considered outfits made up of bright-colored stirrup pants and shiny faux leather ballet flats.
But really—for better or worse—those few years changed everything.  From this vantage, it is hard to remember being so brittle and certain about how things worked, but I sure can remember what it felt like when certainty started to slip.  It was both thrilling and terrifying.  Though I felt like the universe was expanding before my eyes, there were times I just wanted to go home to Springfield where I knew the world's boundaries by heart.
Some sad things have happened in the intervening years.  One of my dearest professors died suddenly over the Sunday paper.  My community from those years has been rent by divorce and busy lives and big personalities.  But one of the things I came to realize this week is that it doesn't matter.  Those hurts and tragedies and changes in relationships are bound to happen.  But somehow, I had forgotten to appreciate the rest of it—the gift of curiosity and lateral thinking, the thrill of new connections and friendships based on ideas.  The gift of being awake to multiple possible answers, to many points of view.  So if that's the legacy of those years, I am glad to have reconnected—reunified—with it.  And I'll let myself off the hook for being a baby and sitting out most of the festivities.  As dear as all those people are, four hours in a ballroom wouldn't have done those gifts justice anyway. I'll look forward to catching up with them at the 30th.