About a month ago I was privileged to try the one that I consider as the best facial experience that I had so far, Dr. CRB's Designer Rx Facial. I do my best to have a facial at least once a month. It's my way to pamper my skin and give the love it deserves. Facial helps me get rid of pimple marks, blackheads, whiteheads, and other skin impurities. As we grow older, especially us women, we need to take extra care of our skin. Aging starts at early 20s. It's when you will see fine lines and wrinkles around the eye area and other parts of the face. Normally when you go to a facial center, you will choose what treatment you would like to get. Dr. CRB also offers those treatments but they this certain Designer Rx facial is a customized facial depending on what your skin really needs. More about this as we go along in this post.
Before we start, let met tour you around the clinic first. Their clinic is located at 16th Floor, Trade and Financial Tower in Taguig. Oh! and just a reminder, the building is strict with "no shorts, no slippers" policy so don't wear those when you visit the clinic.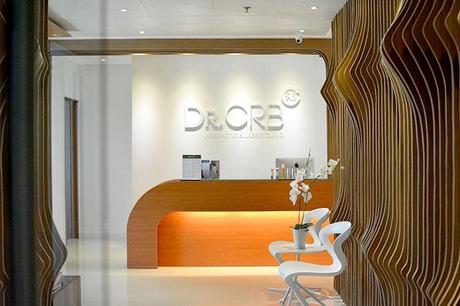 Dr. CRB Aesthetic and Laser Clinic – Reception Area
When you enter the clinic, you'll pass a short pathway with these nicely designed walls. They told me that these are inspired with the natural curves of a woman / human body. Amazing!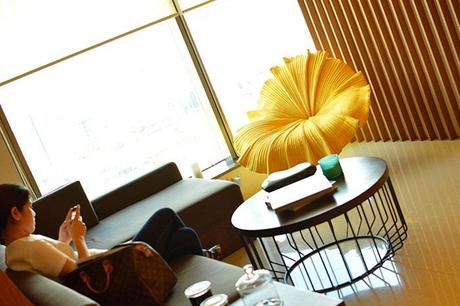 Here is the lobby or waiting area. It's a very cozy corner and you'll have a nice view of the city.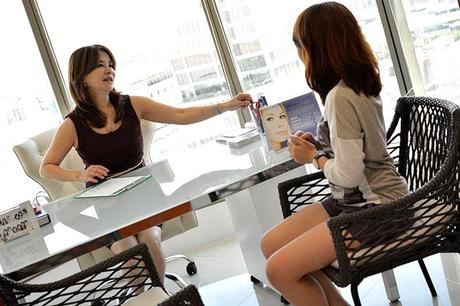 Dra. Che Bernad in her office. I was so lucky to have the chance to consult Dra. regarding my skin condition. She's not always in the clinic because their main clinic is in Cebu and she flies all the way to Manila at least once to twice a week to visit or if she has appointments here. I was admire her dedication to her career. She's very beautiful and I really like her skin. I am having hormonal imbalance the past few months due to my not-so-good lifestyle and it affects my skin so badly. She gave me tips and what to do so I can get my skin back to its normal condition.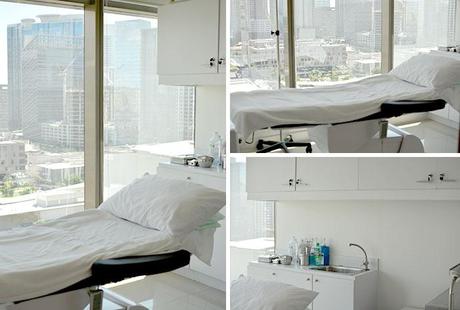 Next to her office is their Surgery / Operating Room where they do operations like liposuction. It's very spacious and again, with this super nice view beyond the glass walls.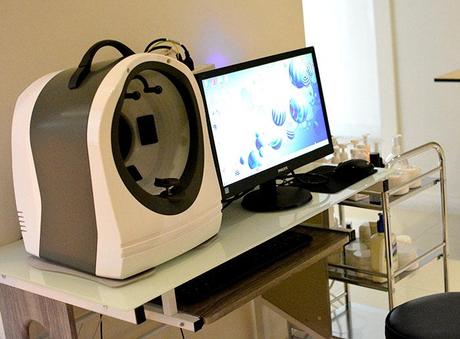 This is their Facial Analyzer. Before you hop in to any of their facial services, you can have you skin analyzed here so you will know everything about your skin. It's very helpful, I promise. You will also learn a lot about your own skin and what to do to make it better.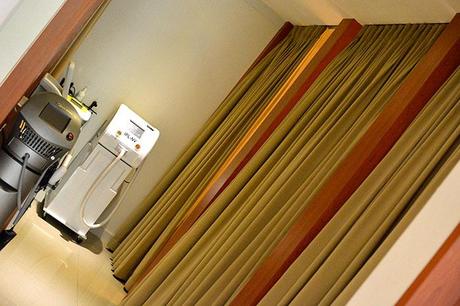 Here they have 3 Treatment Rooms for Facial or Derma services.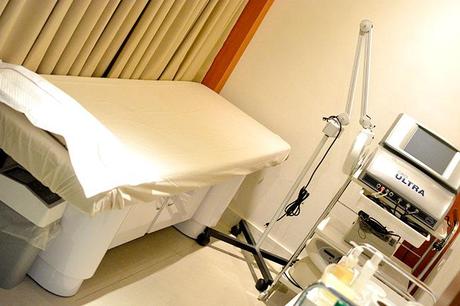 This is the third room where they did my Designer Rx Facial. It's not as spacious as the other rooms but it's still comfortable to have your treatment done here. I would suggest they can put a basket or free the bottom cabinet of the bet for the client's belongings.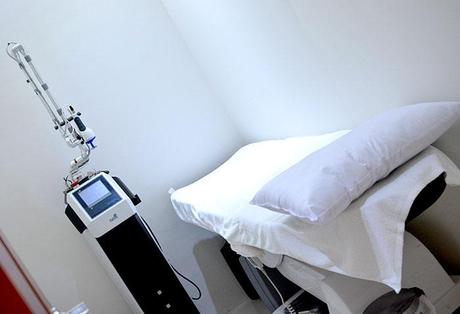 The last room is their Laser Room. All laser treatments are done here. They have a different lighting set up for this room.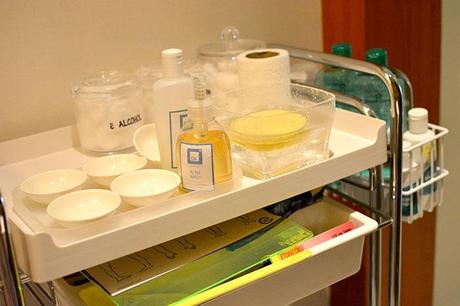 After the Facial Analysis (please watch the video below), all the products that will be used are prepared.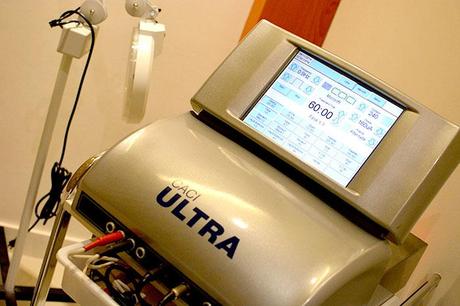 Machine for Ultrasonic Peeling. Instead of the common pricking, peeling, and removal of blackheads and whiteheads, they do Ultrasonic Peeling. It's painless and more recommended. I hate pricking during facials. I think I only done it once and I never liked it.
Please watch the video below for the clinic tour, facial analysis, and Designer Rx Facial procedure. Some parts of the audio during the facial analysis were broken due to the blocking of microphone in the camera while taking the video. Apologies for that guys.

Let me share my facial analysis results last month. My skin has improved a lot already and I'm excited to visit the clinic again to check my skin's progress.
My Bio Age: 24 but my Skin Age: 28 Ohh my right? My skin is four years older! No no no!
Wrinkle: Thin wrinkles start to form because of the decrease of skin elasticity caused by lack of sebum and moisture and inactive skin revival. It is necessary to protect skin from UV-ray which is a cause to languidness and to stimulate activation of epidermis cells, and to use functional cosmetics to increase elasticity of dermis. Facial Massage is more helpful.
Pores: Pores are a little large, but close to normal size. (Thank goodness!). It is necessary to use pore-care products and astringents to treat enlarged pores properly. It is desirable to do cleansing pack once or twice a week.
Sebum: The secretion of sebum is considerable little. Unless oily element is supplemented consistently and properly, there is a possibility that your skin can be severely dry. Please enhance the luster of the skin by use of facial massage and pack, prevent thin wrinkles from forming around eyes which are particularly dry by use of specialized products. It is highly recommended to use lukewarm water rather than hot water which can make sebum easily washed off. Frequent washing is not desirable.
Pigmentation: Skin color is dark generally and discoloration and freckles are considerable much seen. It is essential to do deep cleansing or peeling for skin revival and activation and to use UV-ray blocking products and regular nutrition pack 2-3 times a week and to use specialized functional whitening cosmetics and to stimulate skin metabolism high nutrition supplement.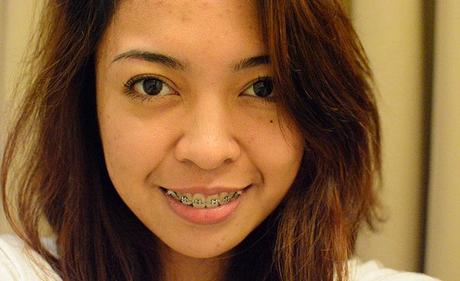 After the treatment, my skin feels super smooth and soft! My blemishes are lightened and I so love my skin! The nurse said I can see the full results after a day. I'll be visiting them again soon for my next session. I am so happy to have tried this amazing facial treatment. Everything is customized to what my skin needs. I have combination to oily skin. They put different products on areas like e.g. my T-zone is for oil control products while the rest of the face for moisturizing. Treatment took me more than an hour I guess and it's all worth it. I also received an Acne Spot Treatment, one of their best sellers, and I can't wait to review it really soon!
Have you ever had facial before? It's recommended for your skin at least once a month if you're not used to it yet.
What's your best facial experience so far?