I love a good drop of wine, and I am more partial to red but I do like a nice glass of white, maybe a Rosé or say a Semillon. So it was with great surprise that I was sent six lovely bottles of wine for review by Wine Selectors.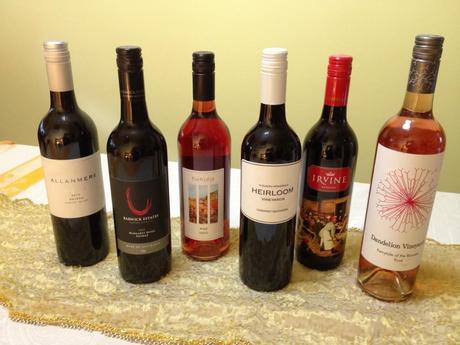 My selection from Wine Selectors
I was under the impression that I would be sent a mix by someone at the company, however this was not to be. I was able to choose the ones that I would review via Wine Selectors wonderful website. The site allows the customer to narrow their search via region, price, red wine, white wine, mixed cases and so on. It was great as this allowed me to really hone in on what I would like and create a good mix of wines.
The other fantastic thing about this service is that you can do it all from your home and via the computer. No need to leave home or fuss with kids, getting dressed or fighting for a car space at the shops. As a busy mother this puts a smile on my face, anything to make my life easier. I just love shopping online.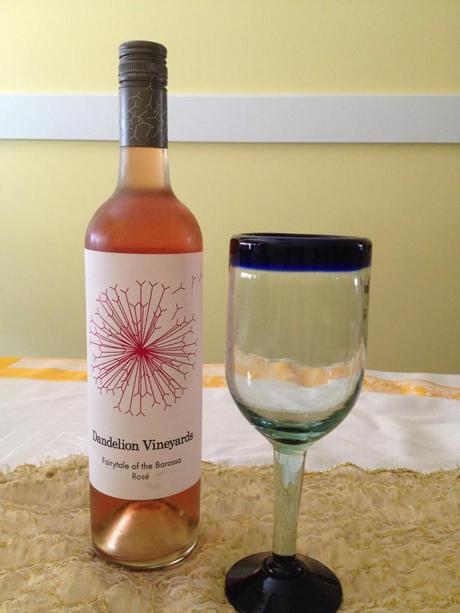 Preparing for Melbourne Cup with Fairytale of the Barossa Rosé 2011
So what did I select in my virtual basket? The list is below:
Heirloom Vineyards Cabernet Sauvignon 2004
Irvine Reserve Stonewell Merlot 2000
Dandelion Vineyards – Fairytale of the Barossa Rosé 2011  (Originally wanted two bottles but think they sold out and could only get one)
Eco Ridge Rosé 2010
Barwick Estates Black Label Shiraz 2009
Allanmere Reserve Shiraz 2010
The ones listed in bold we have tried and they have been superb so far. Fairytale of the Barossa Rosé 2011 was a nice light wine that was lovely on a hot day and perfect for Melbourne Cup as it was a hot and steamy type of day. It was very refreshing and helped take the edge of not getting the winner of the cup, although we were lucky to get second place. Allanmere Reserve Shiraz 2010, is just so tasty and has an amazing fruity quality, it is very smooth and a joy to drink. This Shiraz will not last long in this house and not sure if there is any left due the hubby helping himself to some glasses of it last night. Eco Ridge Rosé 2010, has a lot more body to it compared to the other Rosé, it is still a refreshing drop that I was very pleased with on a hot day.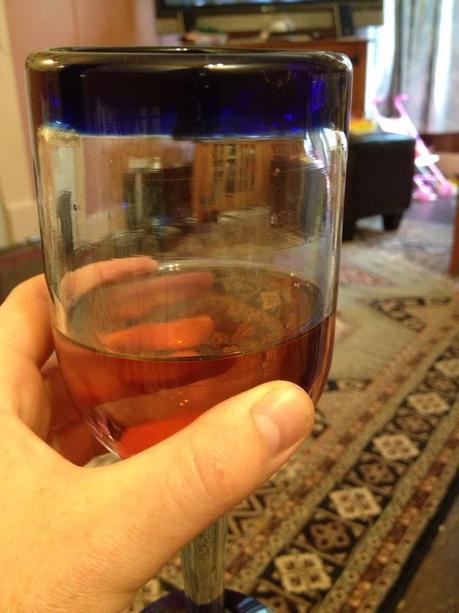 Having a glass of Fairytale of the Barossa Rosé 2011 on Melbourne Cup Day.
Wine Selectors has an option to become a member and get regular deliveries of the wine of your choice. You go through a great selection process to figure out what you would like. If you pick red wine for example you are then faced with what would you like to pay for each bottle, then once decided a case of those sorts of wines throughout Australia is organised and will be delivered to you. You don't need to get a case, you could order a half a dozen instead of the full case. It is up to you. Purchasing membership is a great gift idea for Christmas and it would be a trouble free gift, as stated, no going to the shops and you get it all delivered and to the persons house. Very convenient if you ask me.  I would love it if someone got me membership to Wine Selectors, having wine for dinner parties, special occasions, and all the in between would be very helpful.
I must say it has been a very pleasant experience on the Wine Selectors website and the delivery came to my door so did not have to leave the house. All I can say is cheers Wine Selectors and thanks for the maginificent wine, much appreciated.
Disclaimer: This is a Sponsored Post.  Wine Selectors were kind enough to allow me to sample their wine. All comments are from a mummy that has tested out the products and given a real account of what it was like.