HOLLYWOOD—It all began a few weeks ago when the trending topic on Twitter was Rebecca Black. Who is Rebecca Black? The pretty teenage girl was the trending topic for at least a week with the pop song titled "Friday." The original video, as of press time, has more than 65 million views. The video is about a girl getting ready for school. She sings about when the bus arrives, and she must choose a seat. A catchy tune, but you wonder whether it's a parody. The more you listen to it, you realize it's not. The video has so many dislikes that it comes second only to Justin Bieber with his song "Baby." Her parents, both veterinarians, paid $2,000 to Ark Music Factory record label for the pre-written song and the production of the accompanying video. Black is an eighth-grader from Anaheim Hills, Calif. Somehow this pretty teenager, who reminds us of former "American Idol" contestant Katie Stevens, has managed to attract the attention of Lady Gaga and Simon Cowell.
Speaking of Simon Cowell, I received an e-mail from his camp last week alerting me to his auditions for his new show "The X Factor." The show, which is very popular in the U.K., was created by Cowell and is making its way to the U.S. Unlike "American Idol," the show has no age limitations and contestants can be as young as 12 years old. No wonder he wants to meet Rebecca Black. The "X Factor" is also like "Idol" since the contestants face harsh criticism from a panel of judges in the music industry. The winner of "X Factor" will get a $5 million record deal with Sony Music. The first audition was held on March 28 in Los Angeles. If you think you have what it takes, check out the website at fox.com.thexfactor/registration. The show will air later this year.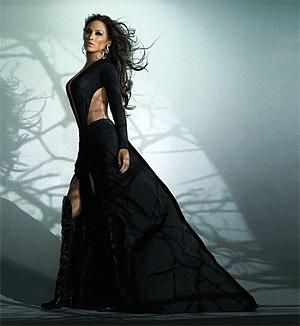 Jennifer Lopez, photo courtesy of Facebook
While some people still miss Simon Cowell on "Idol," the show is surviving with new judges Steven Tyler and Jennifer Lopez. What can I say about Steven Tyler? Well, you never know what he's going to do. He can jump on the stage and hug a contestant, or say something completely inappropriate that has to be bleeped out. Just don't push Steven to the point of no return; he seems capable of trashing the set, no pun intended. Now, J-Lo, on the other hand, had her fading career resurrected with "Idol." She is everywhere these days with a hit single and lucrative beauty deals. Her single "On the Floor" has been criticized by many, comparing it to a cleverly revamped, fast-beat Brazilian "Lambada." According to published reports, Nigel Lythgoe, the executive producer of "Idol," has said that both Lopez and Tyler will perform on the show this season. Lythgoe says, "Tyler's performance will feature his band, Aerosmith."
Oh, the power of "American Idol." J-Lo's hubby Marc Anthony is also getting his own regular TV gig. It seems that Marc Anthony will reprise the role of Detective Nick Renata in Season 3 of TNT's "Hawthorne," which premieres in June with Jada Pinkett Smith. The show will air when "American Idol" is off, so no fighting over the remote.
Rose's Scoop: If you're a fan of "The Office," you will love Scranton, Pa. That's where the show was set. Once in Scranton, you'll have to make a stop at "Coopers Restaurant," the place is like a museum. The ladies restroom has Elvis all over, and the men's room has the Beatles. You'll even see a picture of former President Bill Clinton, who stopped in while campaigning for president.