I haven't done an OOTD (outfit of the day) post in a while! 
Dressing myself is still a huge struggle most days.   I still have 25 pounds to lose in order to fit into my pre-preg clothes so I am trying to make do with a few of the maternity items that still fit and some of the stretchy, loose pieces from my wardrobe.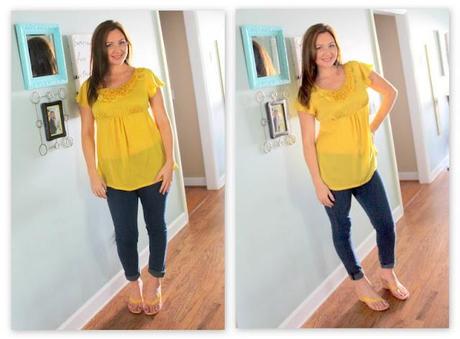 This outfit is a combination of both maternity and regular sizes. The bright yellow top was given to me by my friend April (thank you!!!).   It's Liz Lange maternity but I never had a chance to wear it when I was expecting so I'm glad to get use of it now! The skinny jeans are thrifted.   They have an elastic waist so I can wear them through any stage my body happens to be in. Shoes are from my hubby..given to me for mother's day...he has fab taste. They are mustard yellow with a multi colored straw heel.
You can't tell it so much in the picture above, but I found some awesome, coral pink lipstick in my cabinet that I forgot I had. I'm so glad I found it because it's the perfect summer color! Lorelei had her shots yesterday so I had lots of down time, holding her in my big chair. Hence this picture: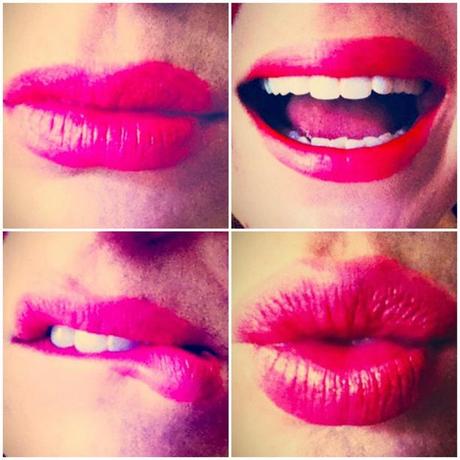 Whenever I get home from being out and about, the very first thing I do is change into comfy clothes and put my hair up. Which is exactly what I did yesterday, but I left my lipstick on :) It was just too fun to wipe off!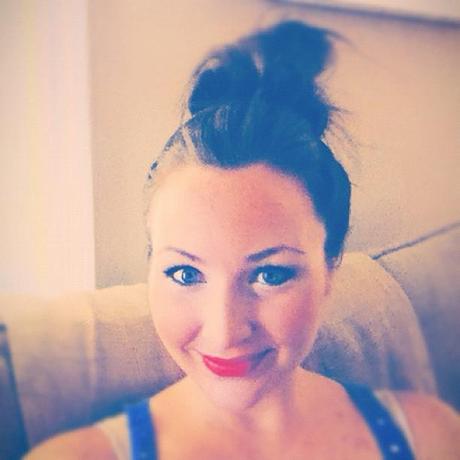 Here are a couple other OOTD's from the last week: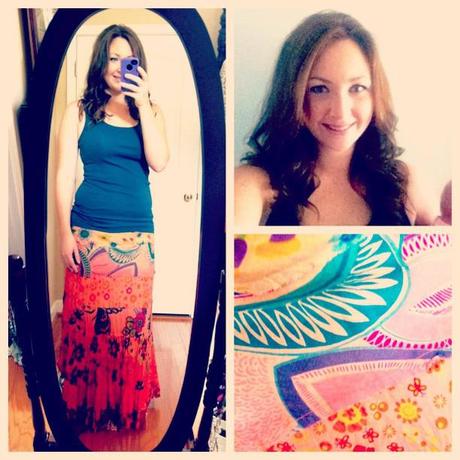 Maxi skirt from a consignment shop and a teal Target brand tank (I LOVE these tanks..I think I have one in almost every color!!!)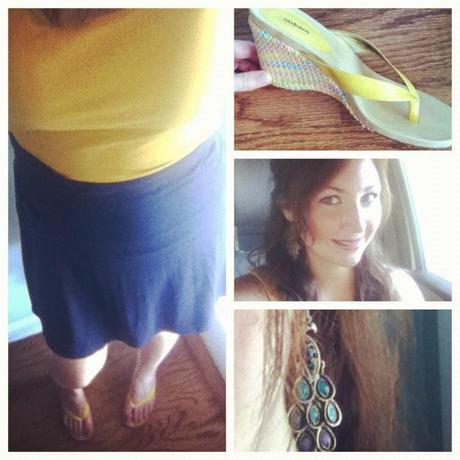 Navy and Mustard yellow. Old Navy maternity skirt, yellow Target tank, gifted peacock earrings and my yellow shoes from the hub!
Today, however, I will definitely not be doing any OOTD pictures. I am under the weather...stupid cold. But I am trying not to let it get the best of me. Lot's of liquids and down time. Hopefully all of you will be wearing some cute outfits for me. Happy Wednesday everyone!!!