Attention: This is my first ever car review and for a person like me who's not into cars this is a tough task. But since a few kind people made the start to my year awesome and never like before I shall leave no stone unturned to please them. So here goes a post, pictures and even an on-the-drive video review of the car. What's more I have put in the feedback of 7 of my friends whom I took along. Hence, effectively, this is an 8 people review all rolled in one. Pics and video links below.
Frankly speaking I'm not much into cars. Words like horse power, bps, quadrajet, etc go way above my head. I ask and am interested in the simplest question. Yes, it's a question every Indian or rather every human being with a tight pocket would ask, "Kitna deti hai". Once I have got that then the other easily visible and more practical things come into picture like space, comfort, style, colour, amenities, etc. I leave all the details under the bonnet right there. Hence if you're looking for the inner technical details and finer aspects I'm sorry I may disappoint you. I shall make an attempt but I can't promise you wonders. So here is my review of the to-be-launched Tata India Vista D90 ZX.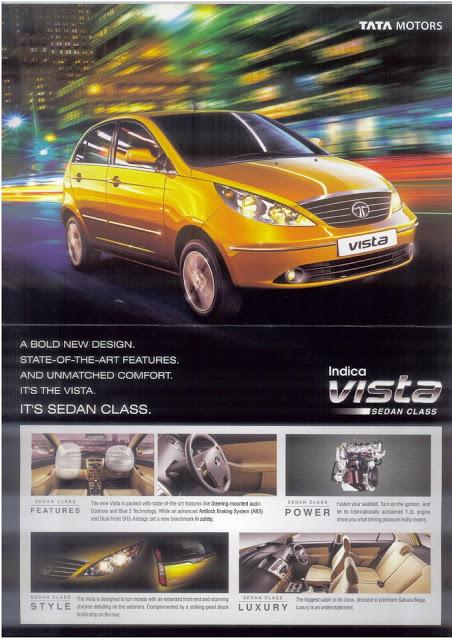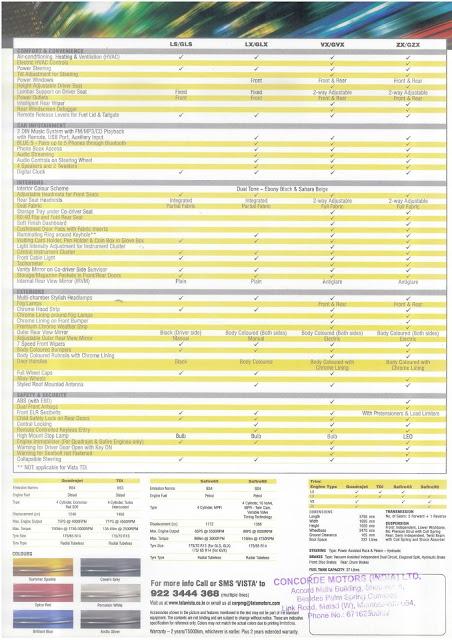 The Engine – The beast inside. The Vista D90 is Tata Motors' latest offering in the B+ Hatchback segment. Equipped with a 90bhp quadrajet engine and with features like the top of the line Manza it gives a feeling as though the Manza has come closer home. Even though it's a diesel car it never gives you a bad feeling. With a maximum power of 90PS at 4000 rpm it works just right with lovely acceleration, smoothness and absolutely no sign of sluggishness. With a ground clearance of 165 mm and a turning radius of 5 meters you will smoothly sail over even the most unleveled speed breaker and cut through traffic. I have tried it on open roads and peak hour traffic and everytime it never let me down. Just a slight touch on the accelerator and it roared. Giving a mileage of about 15kmpl on city roads to about 22kmpl and a tank capacity of 44L this car promises not to burn a hole in your pocket. In case you have forgotten it's a diesel, which means even more savings. 
The Appearance – The sexy lady In very simple words, the Vista is a head turner. The car with its sharp looks and bold lines stands tall. The body color bumpers with sleek headlights and taillights add to the looks. Adding a bit of contrast the roof is black in color. With an extended front end and stunning chrome detailing on the exteriors complemented with a  pearl black finish strip on the rear this sexy lady definitely grabs a lot of eyeballs. The eight-spoked factory fitted alloy wheels if nothing else keeps the eyeballs rolling further.
Other than the Spice Red color which I got, the Vista comes in 5 more variants – Summer Sparkle (yellow), Cavern Grey, Porcelain White, Brilliant Blue and Arctic Silver. You may choose one which suits your style. But in my opinion the Spice Red is the best out there. Pics and video links below.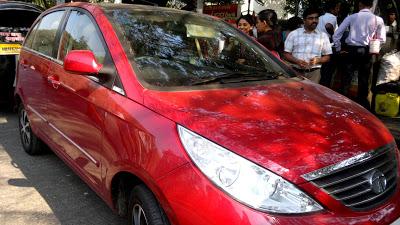 The Comfort – Caresses you like a baby A plush dual-tone interior with ample space was my first impression of the car. The wide, Sahara Beige coloured fabric covered seats make sure you're well seated. With ample room in the car both for the driver and the co-passengers one can actually have a party in it. Though the seating capacity is only for 5 passengers (4+1) I actually fitted 6 people in it. None of them complained of any shortage of space. The adjustable back seats can be flipped (60:40) adding to more room. 
The boot of the car also has sufficient volume to a dead body in (kidding). It is deep and more than sufficient for travel.
A few nice things thrown in are charging point in the rear seat, a storage box below the co-driver's seat and height adjustable driver's seat. The lumbar support for the driver ensues that long drives are minus the back aches. The doors have a nice touch of cushion which adds to the look and feel. The steering wheel is adjustable. You can keep it the traditional way of lower it giving you a racing car feel. Did I forget to mention the stereo-mounted audio controls? Yes, I did. You can make calls, change radio stations, tracks or increase/decrease the volume all without an effort.
As mentioned earlier this car has immense leg room. I actually had to pull the seat in front to reach the pedals. This is a great plus for the 6 foot and above people as it accommodates you with ease.  The AC is powerful too. It can get the temperature down by 5 degrees C in 5 minutes on full blast. Keep it on for some more time and you're in Kashmir. I'm sure you don't want to get there atleast when Bombay is having its own real winter for once.
The Features – As good as it gets A big plus over its previous versions is the instrument cluster (the speedometer, rpm, fuel indicator and various other indicators) has moved to the right (behind the steering wheel) from the center.   The advantage here is this lets the driver see such information easily and without cranking his/her neck. Pics and video links below.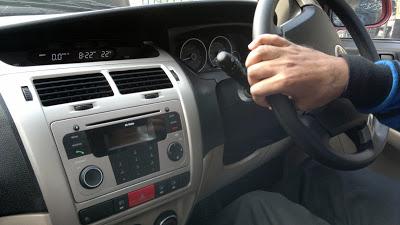 The windows are power operated. The driver console has the entire control of the car. It also sports a child lock. Once the windows are pulled up its pin-drop silence in the car. Given Bombay's traffic and unnecessary honking that's a big getaway. It's like having your own quite world in the middle of the road.  The rear view mirrors are electronically controlled too. The driver can not only set his but also the co-driver's mirror. I say smart. 
The brakes are more of a full stop than anything. A slight pressure on the frontal disc and rear drum brakes stop the car then and there. For a person who has driven a ZEN day in and out getting used to this was difficult. But once you begin to trust it it's a fairly smooth drive then onwards. 
The driver information system available is actually my favorite part. Information such as current mileage, average mileage can be obtained just at the push of a button. What's more it also tells you how many kms it can go before running dry, in other words DTE – Distance To Empty. Now this is some information I wished my ZEN had. Running to the petrol pump just when the needle dips below the 'E' sign is so LS. 
The mileage reading helps understand how the car responses in situations. Take it up in a higher gear; push the clutch down for too long changes the readings. Given today's fuel prices (which is Rs.55/- per liter for diesel in Bombay) this info helps a lot. 
The wipers are a 7-speed and intelligent. Though I haven't used them the thought of 7-speed itself is cool. The reason they're intelligent is because if you're windscreen wipers are on and you wish to take a reverse, the rear wiper automatically kicks off. That's cool.
Another interesting thing is for the music aficionado's. The car stereo that sits pretty in the center panel of the car seems just like another music player. But when you switch the 2 DIN with 4 speaker system on you'll get surprised if not shocked. From USB to discs to auxiliary devices you have it. And if you're not happy with connecting just one, you can connect upto 5 devices via Bluetooth all thanks to the BLUE 5 technology. The devices go along well with each other just like one well knit family. Wish every family could be like this. The sound is pleasant to the ears. Even though I tuned it low (that's how I like my music) I was happy with quality. The speakers are good and nicely blended with the upholstery. All in all if you choose to, you can have a party in it.
The variant I had didn't sport a built in GPS. How I wish it had. But nevertheless I connected my phone and switched on Google Maps. The directions routed through the car's speakers were loud and clear. Moreover while making or receiving calls I didn't have to worry as the controls are all on the steering wheel and the microphone is amazing. No need to shout or repeat sentences.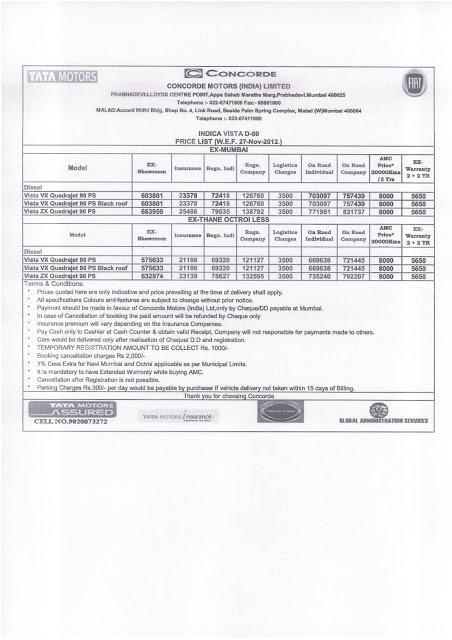 The Last word - The verdict Tata has spent a great deal of time and effort on this car. Going by the detailing it shows. The interiors, the comfort and style have been made in leisure. A lot of safety measures have been taken too with Antilock Braking System (ABS) and dual front SRS airbags which add a whole new dimension. 
The height of the car could have been raised a bit. The safety belts are tight and can get on your nerves at times. But since they're there for your safety you can't complain much. I also wish the car had a phone holder. If you want the GPS on your phone and have to see it regularly it would be nice.  
Other than that I think the car is value for money. Probably a bit cheaper would have appealed to a lot more consumers but nevertheless for the kind of luxury and features it offers you can't complain. A few things like a sun roof, auto climate control, auto vipers and headlights would have made this a cut above the rest.
I've also heard that Tata is working on some more aspects like making it quitter inside and trying to tweak a few things. So that's more goodies on its way.
Overall for me this car stood at a nice 8/10. I was thrilled on driving it and am happy with the experience then and the memories now. I was infact so over the moon with this experience that I did an on-the-road recording of it. You may refer to the links below.
Photo Album
On-the-drive video
My feedback video