I just dusted off my old Optimus 8R Swedish hiking stove and fired it up. Bought it in Edmonton ca. 1972 at the A&N. Just before our hippie trip from Edmonton to the B.C. Coast.  The picture below is a group portrait taken (ca. August 1973) of us just before we left. The little Optimus made an appearance in the lower right. It's next to a can of camping fuel.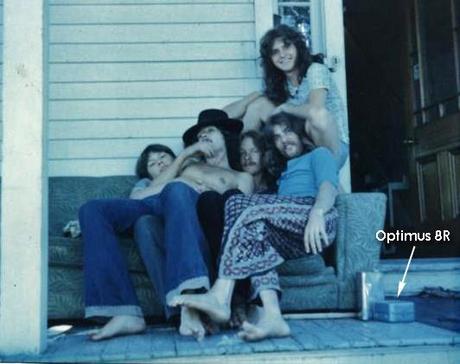 We took our time. It was a caravan of three vehicles and six people. We stopped and camped whenever we felt like it. I remember two stops, one in Banff and another at Okanagan Falls. Took us a week to drive 850 miles. We ended up in Victoria, camping in someone's back yard on Shakespeare Street. Everyone except me decided Vancouver was where it was at, and turned around and moved there. I stayed because I wanted to finish my B.A. in English, then decided to keep on going and did a B.Sc. in Marine Biology.
One of my friends from Vancouver paid me a visit, and we decided to go camping at Mystic Beach, a beautiful spot on the southwest coast of Vancouver Island. We camped among the trees in the old growth forest near the beach, and of course it poured on the first night. All we had was a little pup tent, and I had to curl up so my feet wouldn't stick out. In the morning, we were cold an wet and miserable. There was no dry firewood anywhere. I took out my hatchet and started hacking away at a big chunk of yellow cedar until I hit dry wood. We slivered them into kindling, but no match would light our little pile of shavings. So I decided to cheat, and here's where the Optimus stove saved our bacon. I was loathe to use it because it was our last resort. I poured some of the fuel from its small tank onto the shavings and voila! We had our fire! We carefully added larger and larger pieces to the fire until we were roasting in its warmth. We made sorties farther and farther out until we had a good stockpile of kindling, which we dried out with the fire. We put a pan on the fire and threw in a veggie burger, and added a can of Campbell's mushroom soup. It was the most delicious meal I'd ever had. With a hot meal in our bellies, and our socks dried out by the fire, we walked down to the beach at low and and harvested a couple of armfuls of mussels, which we boiled up with the help of my Optimus stove. They were delicious! I even found a small pearl in one of them. By this time, we were feeling like masters and commanders of the far side of the world. We were visited by a strange, hobbit-like character who called himself "Jam." He invited us to pay him a visit at his place, a ramshackle assembly of driftwood and plastic tarps farther down the beach. There were several such structures made by squatters scattered along the beach, mostly among the shrubs and driftwood above the high water mark, and mostly occupied by mendicants and other hippie types. Jam's place was actually pretty cozy and looked dry. He offered us some "Mu" tea, which we accepted, even though the tea bag had been used a few times. He told us he was an American draft dodger, and that the CIA was on his trail. He hit us up for some hash, and we were on our way. As we were leaving, he told us to watch out for black ice on the highway. It was July. He was a bit crazy.
Anyway, so 35-40 years go by, and while rummaging around in my old back packs, I see my old Optimus 8R. So I decide to see if it still works. The picture tell the story: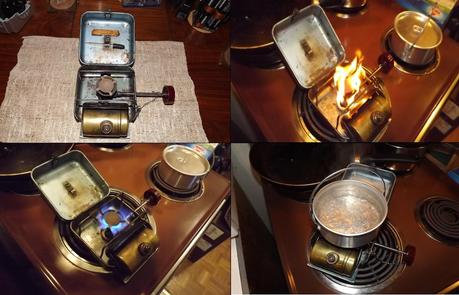 It's completely self-contained. The piece of wood you see in the upper left picture is a flint fire starter. The eyedropper is used to take fuel out of the tank, put it in a little 'reservoir' below the burner and light it. This heats up the the 'plumbing' and increases pressure in the tank. Then you can open up the nozzle and it burns with a clean blue flame, and sounds like a little rocket engine.
Once I got the flame adjusted, I boiled 2 cups of water right out of the fridge in 3 minutes. Then I had a nice cup of tea. The Swedes knew how to build things, and make them last. Nice to know my old Optimus 8R still works after 40 years. Not exactly fringe esoterica stuff, but it holds a lot of memories, of leaving for the coast back in 1973, of coming to our aid on a mystical trip to Mystic Beach, and for showing me it will still come to my aid and cook up some tea or soup in an emergency.