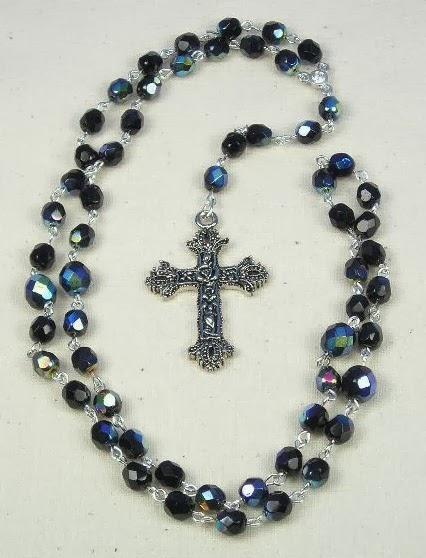 Everybody in the Catholic faith knows what a rosary bead necklace is. In fact, many families at least own one wooden rosary, or even multiple wooden rosaries, or rosary bead necklaces made of other materials (although the wood is extremely popular). There are numerous legends associated with them and some fact that people know regarding what's the rosary bead necklace and how these wooden rosaries evolved throughout the years, that in modern time, just about everyone practicing the faith has at least one wooden rosary.
A rosary is known as a set of prayer beats that are utilized by those in the Catholic faith to count their repeated prayers. "Rosary" comes from "Rosarium," a Latin word that means "crown of roses." A rosary bead necklace is arranged in sets of ten beads, with a larger bead placed between every set of ten. The group of ten is known as a "decade." Most wooden rosaries have given decades, but a wooden rosary can have ten, even 15. A complete rosary is 15 decades because it is 150 beads and there are 150 Psalms in the bible. Pope John Paul II, in 2002, inquired about adding an additional decade, however this has not gained necessary acceptance needed among the Catholic religion.
The rosary is said to have been established by St. Dominic in the year 1214, according to most accounts of Catholic tradition. It is stated that St. Dominic had a vision of the Virgin Mary and she gave him the most basic rosary and encouraged him to spread the use of the rosary through the lands of the Catholic Church to combat heresy, which was well known during the time. However, the truth is that the use of wooden rosaries actually developed over many years and from a number of competing traditions. Hinduism, for example, is also known for using prayer beads and has been doing this since time was first recorded. Christians use knotted prayer ropes in an effort to count all repetitions. For those who were unable to memorize the Psalms, they used a rosary bead necklace to repeat the Lord's Prayer 150 times. In the twelfth century, the practice of saying the Hail Mary over and over again in groups of 50 was established. Pope Pius V, in 1569, created the standard prayers that were to be used with all wooden rosaries, including the well-known Meditation around the Mysteries. Each decade, individuals

say

"Hail Mary" ten times and then "Our Father" on the large bead. As well, every decade is related to a medication regarding one of the Mysteries regarding Jesus and Mary. They're known as the Joyful Mysteries, Sorrowful Mysteries, and Glorious Mysteries.