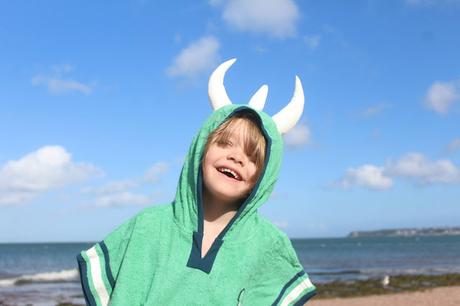 Living in Devon has lots of perks, but I have to say that our favorite is being surrounded by so many beautiful beaches. 
One of our favorite ways to enjoy family time during the summer months is to head down to the beach in the evenings - when the tourists have dispersed in search of fish & chip suppers, and we have the whole place entirely to ourselves. Soaking up the beauty of golden hour and watching the kids play on the sand as the sun sets over the bay.
Of course, beachside life requires a certain amount of prep in order to make these dreamy evenings run smoothly - and after several years of almost-daily beach visits I feel I've become quite the pro at this!
We have our beach supplies permanently stashed in the boot of our car, ready for those spur of the moment evenings. So I thought I'd share what our beach "Must Haves" are to help you out for the summer beach visits ahead!
Entertainment
I learned very quickly that regular trips to the beach can get very expensive with 3 children in tow, particularly if you keep forgetting to bring their buckets and spades! There's only so long that my 3 are happy to run about on the sand, and so having a supply of things to entertain them helps.
We have numerous buckets & spades for sandcastle building as well as shell collecting or crabbing, little fishing nets and a kids magnifying glass for rock pooling as well as a beach ball, football, a sand rake, a mini boogie board and a little velcro paddle catch set. None of which take up much space in the boot, but provide hours of entertainment! 
Towels
You can never have too many towels for a beach trip, can you?! We make sure there are always enough for each of us to lay on, as well as extras for drying off after being in the water.
We recently discovered Dinoski - a brand who produce an award-winning range of eco-conscious clothing and products designed to encourage children to develop a love of the great outdoors.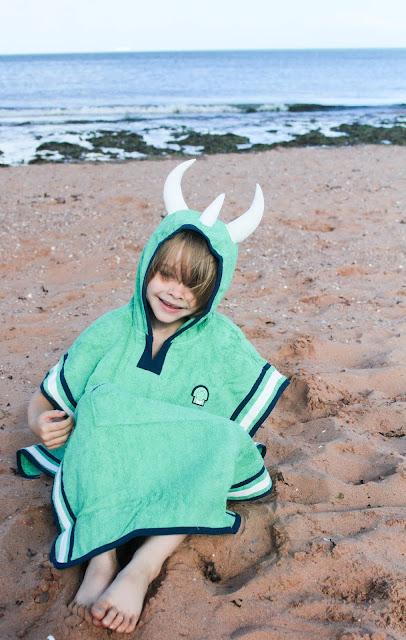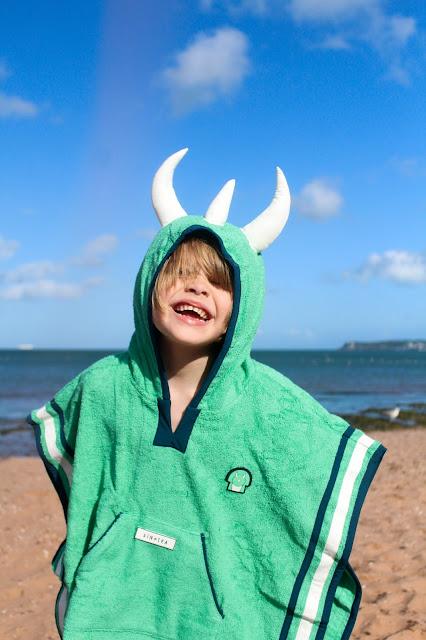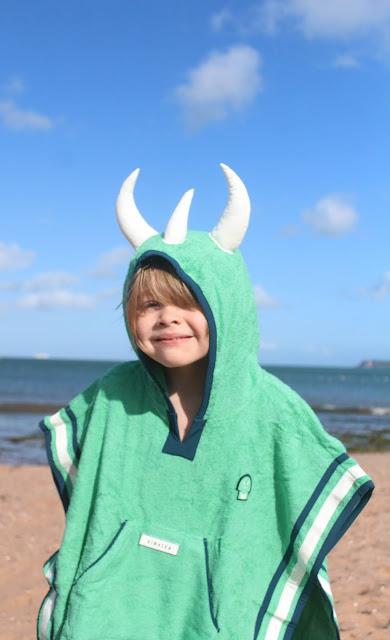 We've been using their eco-friendly kids poncho towel and I've been so impressed by it. Their production process involves recycling plastic bottles into the softest of fabrics, which are then used to create clothing and accessories themed to their 6 animal mascot characters. We chose a towel from the Spike the Dinosaur range as my youngest son Sailor is Dino-obsessed!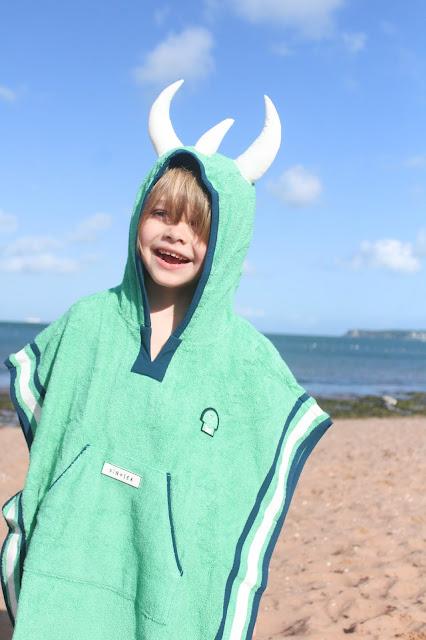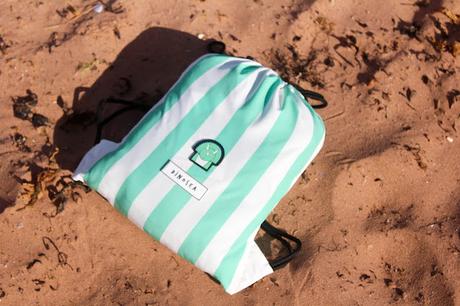 It's super soft, and features a really handy little pouch in the front - ideal for keeping hands warm and cosy (or collecting beach treasures!), and has poppers on the sides too.  All of the detailing and packaging is made from recycled plastic, and it comes in a handy little drawstring pouch too - ideal for keeping wet towels away from dry ones.
And apart from anything else...just look how adorable it is?!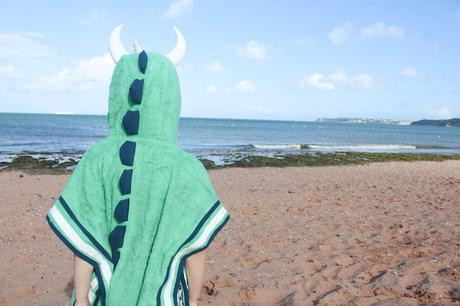 Dinoski have recycled over 150,000 plastic bottles into just 2 years to create their amazing products - how fab is that?! I'll certainly be buying more from their range. 
Baby Powder & Water
I first learned that baby powder is ideal for removing sand from toes when my eldest was a baby, and I've made sure to always have some on hand ever since. You simply apply a sprinkle of powder to feet and then dust off - it not only removes all of the sand but it leaves feet smelling lovely and fresh too!
I also always make sure to take a refillable bottle of water too with a bit of washing up liquid inside, as its ideal for cleaning off sandy items and washing hands.
Sun Screen
This one goes without saying, of course!
First Aid Supplies
You can always guarantee that my children will get a cut or scrape no matter where we go, so having first aid supplies on hand just gives me peace of mind.
Foldable Chairs
This is a new addition for this year...maybe it's to do with getting older but I'm finding it less and less comfortable to sit on the sand these days, so we treated ourselves to some folding camping chairs for our beach trips and it's made them so much more pleasant...my back is definitely thanking me!
What are your must have beach items? I'd love to hear your tips!
If you enjoy my blog, please consider following me on Bloglovin'