We were recently given the opportunity to host a dinner party catered by a private chef courtesy of La Belle Assiette.
This was not something I had ever experienced before and I was both excited and nervous at the prospect, having no idea what to expect.
La Belle Assiette offer private chef services across the UK with new areas being added all the time - their website states that not all chefs available are yet listed on their website so to use their concierge service online if you are interested in booking a chef but cannot see availability in your area - I can confirm this to be very true as when I browsed the availability for my own area it was very limited, however their were many more chefs available who had not yet been listed.
We decided to host the dinner party for my parents and sister - as my Mum & Dad live some distance away we don't all get to enjoy a meal together very often, and I thought it would be a nice pre-Mothers Day treat.
I was quite concerned as to whether the chef would be able to cater for a party of 5 people from my kitchen as it is honestly TINY - I was quite concerned about this but I discussed the matter with La Belle Assiette when booking and with the chef himself when he called to finalise the details, and both assured me this would not be a problem.
When the day of the dinner party rolled around, we were all quite excited to see how the evening would pan out!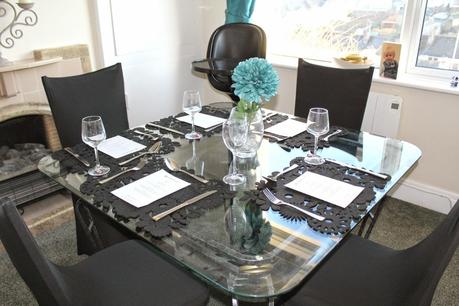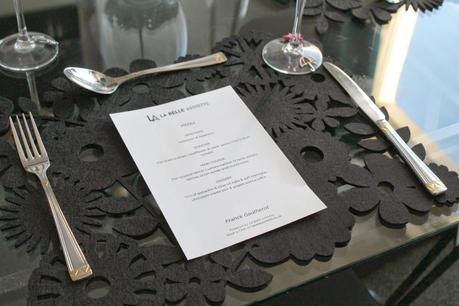 The chef we were given was Franck - who runs his own private catering company here in Devon Franckly Delicious - he called me a few days before the event to finalise his arrival time, and on the evening itself he arrived about an hour and a half prior to my guests.
He was accompanied by his partner who was to assist him and act as a server - I hadn't expected this but it was certainly a lovely touch as it meant that myself as the hostess could simply sit down and enjoy the evening with my guests.
Before their arrival, Peggy asked about our drink options for the evening and made herself familiar with where they were kept - and throughout the course of the meal she ensured that everybodys glass was kept topped up and that everybody had everything they needed - she was both attentive and very friendly - I was certainly so pleased that she was there as it made the whole evening completely relaxing for me!
Franck, meanwhile, performed miracles in my tiny kitchen!
I got myself ready at my leisure for my guests arrival...I took a long shower, spent a full hour doing my hair and makeup and choosing an outfit...all while breathing the most amazing aromas from my kitchen! 
No stress, no hurry - just relaxation! 
A strange but blissful experience!
Once my guests arrived, our canapes were served!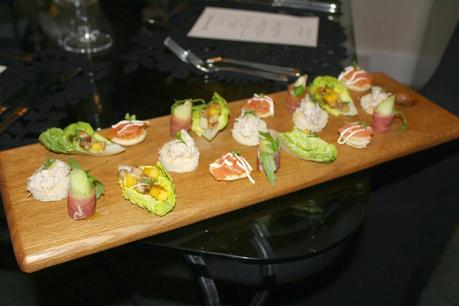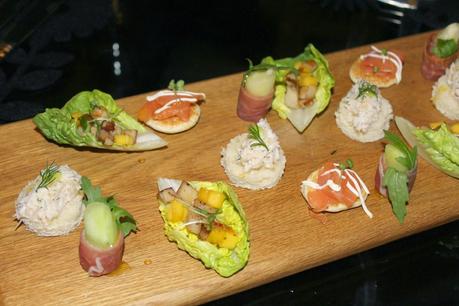 They included:
Honeydew melon wrapped in prosciutto with rocket leaf and rock salt Pork belly and mango in lettuce cup with sweet chilli & lime dressing Smoked salmon blinis with creme fraiche Crab salad on brioche toast with wasabi
The canapes were topped up until my guests had enough, which I thought was a lovely touch - and they were all delicious!
Personally I have never been much of a fan of seafood so I was completely surprised to enjoy the crab salad brioche so much - the white crab meat was delicate and delicious, and the wasabi gave a lovely touch of warmth that worked so perfectly.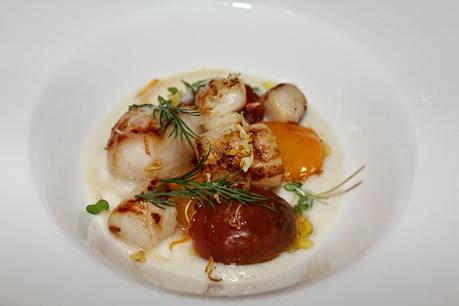 Our starter was Pan Fried Scallops with cherry plum tomatoes in cauliflower and caper sauce.
This was so light and fresh, a perfect start to the meal - the cauliflower and caper sauce was unlike anything I've tasted before and absolutely to die for.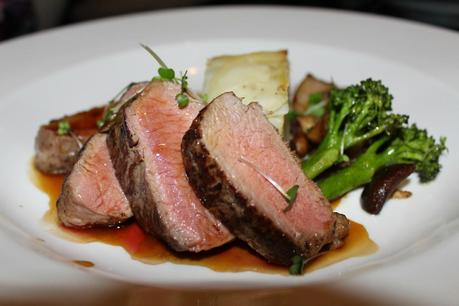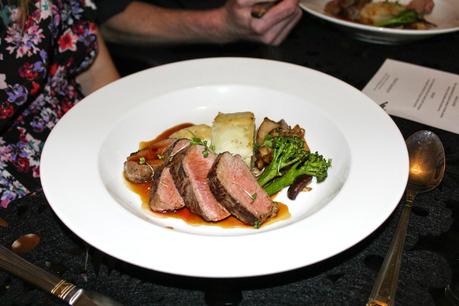 The main course was Pan roasted farmer Luxtons Cannon of Lamb, with potato terrine, onion puree, wild mushrooms and tenderstem broccoli.
OH MY GOODNESS...this was quite simply the best lamb I have ever eaten.
Lamb is never my first choice and I always worry that it will be quite fatty, but I did once have some amazing lamb at high end restaurant in Amsterdam which completely changed my mind - unfortunately I've never been able to replicate that experience here at home but this took the crown! 
Every bite melted in the mouth, and the accompanying potato terrine and mushrooms were perfect. 
I could not fault this dish in any way, and each and every one of us (despite our tastes in food usually being quite different) fell completely silent as we ate and all agreed afterwards that it was one of the best meals we have ever had.
My sister & I both enjoy cruise holidays regularly and the food on board is one of the main enjoyments for us - both of us agreed after this meal that this was on a par if not beyond the quality of food we would expect to find on board the finest cruise ship restaurants.
Another lovely touch in my opinion was that the server asked if I would prefer my lamb to be cooked a little longer due to my pregnancy - I took her up on the offer and was very grateful that she had been thoughtful enough to ask.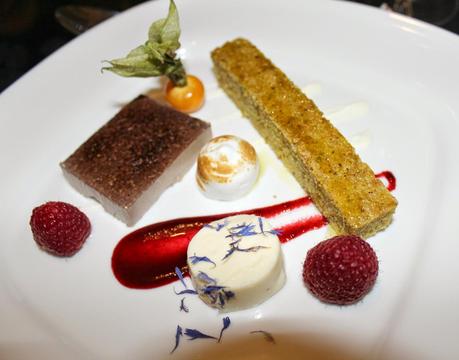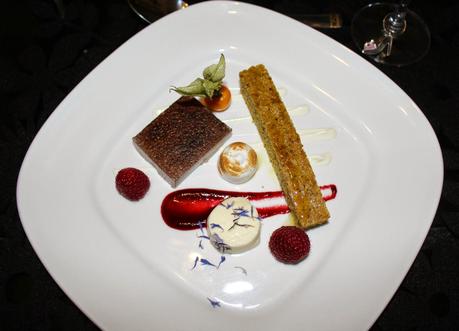 And just when we thought that the meal could never surpass the main course - dessert arrived!
This was a trio of pistachio and olive oil cake, soft meringue, chocolate creme blur and yogurt wanna cotta with raspberries.
Every bite was to be savoured, and it was one of those occasions were you simply don't want to finish the last bite because you don't want the meal to end!
Personally, my favorite parts were the wanna cotta and meringue as the flavours were so delicately delicious but others raved about the cake and the chocolate creme blur - in truth any one of these elements would have been perfect even on their own, but combined they were an absolutely divine end to an absolutely perfect dinner.
After our meal, the chef and server chatted with us a little and said their goodbyes - I have to admit I had been concerned that it may feel a little awkward having a chef in our home as it's not something we're at all used to but both Franck and Peggy were true professionals and very friendly people who made us feel at ease right away.
I simply cannot express how wonderful an experience it is to eat a 5 star quality meal in the comfort of your own home, without having to lift a finger, and to go back into your kitchen to find it completely spotless - as though nobody had so much as warmed up a bowl of soup in there, let alone cooked an amazing 4 course meal!
There was not a dish left in sight!
Franck provided all of the food, plates, pans, etc so we didn't need to worry about anything other than laying the table and providing the drinks.
It was a stress-free and fantastically enjoyable evening.
The meal that we had was priced at £59 per person, which when you consider how much you would pay for such a high quality meal at a restaurant and then factor in the costs of transport and a babysitter - it is actually a very reasonable price and certainly a more enjoyable and relaxing experience in my opinion!
Each chef with La Belle Assiette sets their own prices so there are options to suit most budgets.
I would not hesitate to book a private chef dinner for a special occasion in the future, and cannot recommend the experience highly enough.
La Belle Assiette took all the strain out of the experience.
Some great features of the website include being able to add your guest list and invite your guests via La Belle Assiette who will then e-mail your final menu to them, and allow them to leave their own reviews for the chef following on from the dinner party.
To find out more, please visit www.labelleassiette.co.uk
If you enjoy my blog, please consider following me on Bloglovin'