What a time it has been! It's been hard, draining and mentally and physically exhausting. Having our loft converted whilst our babies were 3 years and 10 months old was always going to be tough - we knew that. We'd prepared ourselves for a tough time, but we knew that it would be worth it and that we needed to do it for the extra room.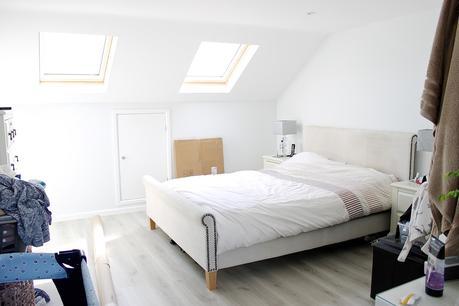 Our new bedroom and conversion. Whilst it's not yet fully furnished, we absolutely love this space, it's so light and peaceful - it's become our favorite room in the house.
What we didn't prepare for was the extras - the chicken pox that both of our babies would catch, the car breaking down, the boiler playing up, us all being ill for what felt like weeks and weeks and the extras that would come up with not only having our loft converted but also having our whole upstairs redecorated too - three bedrooms and a bathroom. One of the bedrooms being our office, full to the brim of stock for Adam's business. We discovered whilst having old wallpaper ripped off of the walls that two of the rooms required re-plastering. But the plasterer got delayed by a week. It's felt like we've lived in chaos for weeks and weeks now. Our kitchen is full to the brim with stock, our kitchen table is now our office. Nothing is in it's place and I've got piles of random clothing in every single room. 
It's been a bit chaotic. It's been hard to have to spent most of our time locked up in our living room with two young children who can't leave the house because of their chicken pox. We've fallen behind with work and had no down time in nearly five weeks, but we're starting to see that our chaos is actually going to be really rather lovely. The walls are all painted, the floors have been laid and we love them. The house looks bright and fresh despite the mess. We are nearly free of workmen, with only the carpets on the stairs to go in now and a job outside on our garage that the carpenter is doing for us. 
Though we've missed our routine so much and it's all felt really difficult with two children with chicken pox and us being unwell, we absolutely love our new bedroom and en-suite in what was our loft. I can't quite believe that the bright space that brings in so much light and feels so calming and peaceful already even without the decorative touches was once a dark dingy attic. It doesn't all feel real yet, we need time to calm down from it all and put our touches in and decorate the rooms in the styles we want. We haven't yet processed that we now have a 4 bedroom house instead of a 3 bed. But now that it's all coming to an end and it's our turn to jump in and start adding the final layer, we're hoping that things will start going back to normal and that we'll really get to finally enjoy what feels like a totally new home to us. 
We still have work to do after we've finished decorating the rooms, we would like to do our garden next and also our kitchen. But we're going to slow down and enjoy life again for a little while before we jump in and starts another project.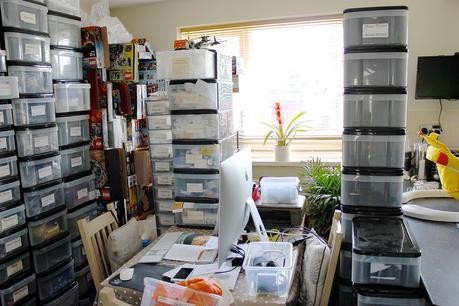 What our kitchen currently looks like!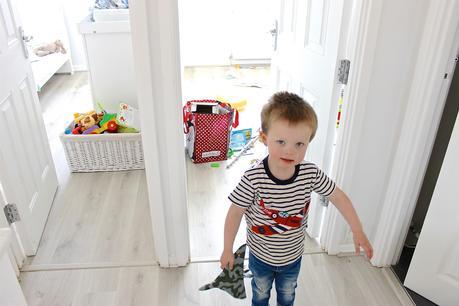 Our landing to our existing bedrooms. (Ethan insisted on being in the photos - he wanted to show off his Vulcan plane, haha).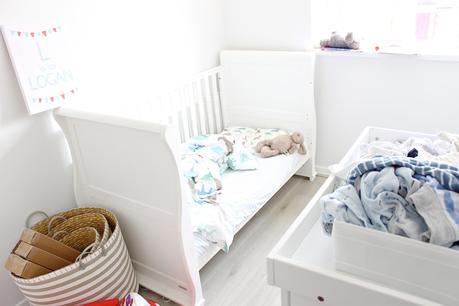 This will be Logan's room when it's finished. Ethan is currently sleeping in here whilst we way for Ethan's new bed to arrive.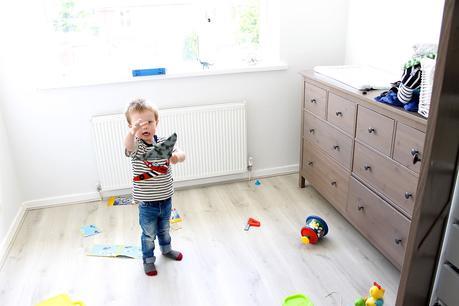 Ethan's room, we've been undecided on what sort of theme and colours we want in here. We're thinking it'll have a sort of airplane theme whatever we do. We're thinking of selling his big hemnes chest of drawers, we love them, but we think something smaller would give us extra space for a Lego table/desk or something similar.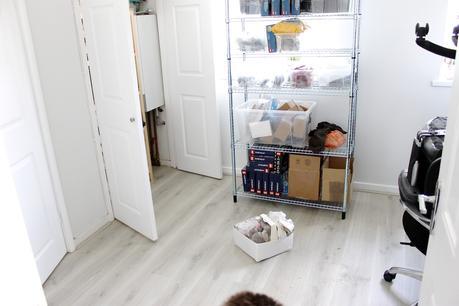 Our old bedroom is going to be our new office. The other side of the room is currently just full with all of our things.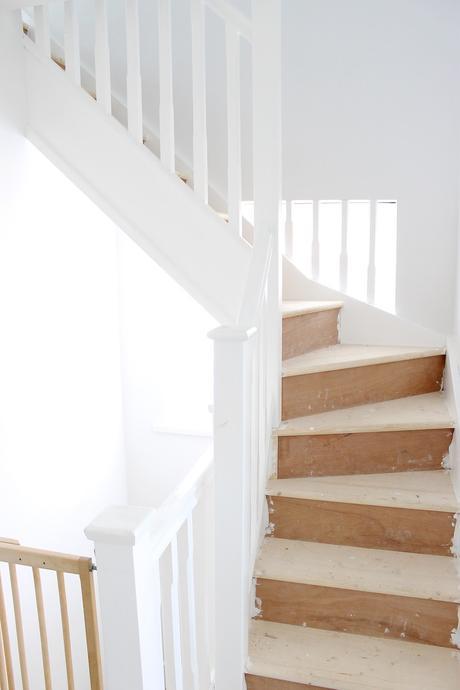 Our stair banisters and spindles have been painted and the carpet on both flights of stairs goes in tomorrow.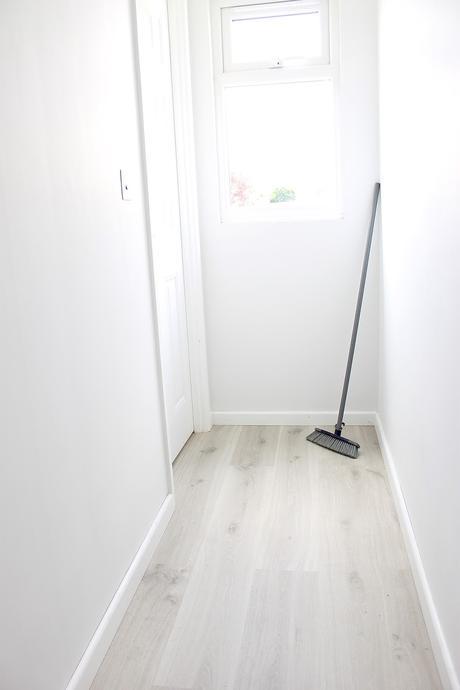 Our  hallway as we come up the stairs towards our new bedroom.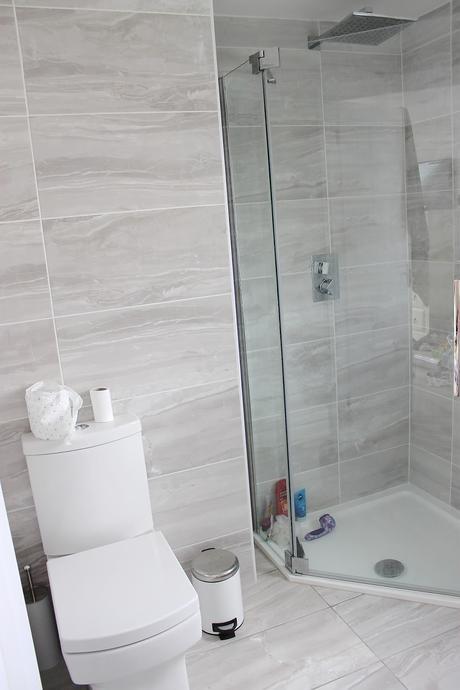 Our new en-suite bathroom also needs to be finished off with the little fixtures and fittings.
We're so pleased with everything so far - we really just can't wait until it's all done and organised and the rooms look the way we'd like them to. :)
Alex x
Follow Me:  Facebook  | Twitter | Instagram