Paryatan Parv is starting tomorrow and will happen until October 25. It is an initiative by Ministry of Tourism in association with other central ministries. Also, the complete ecosystem involves state governments and various relevant stakeholders like hospitality sector, tourist companies, transport operators, etc. In fact, it is a nationwide initiative to sync all the energies in this regard. The event aims to enhance tourism by focusing light on various factors. There are many benefits of tourism that this event plans to highlight. Showcasing the cultural diversity is one of the best ways, in fact, to highlight the versatility and power Indian contains. As a matter of fact, the festival has three main components that will act as three strong pillars for the promotion of Tourism in India. It is important to work in a collaborative manner in this regard in order to create an overall spectrum of confidence.

The three main components of Paryatan Parv include Dekho Apna Desh, Tourism for All, and Tourism & Governance. Dekho Apna Desh is to focus on promoting domestic travel. It is to motivate Indian residents to visit various parts of the country. In fact, social media is playing a major role in this. In addition, the 20-day long festival will include very interesting programs in this regard. These programs will include Video shows, Photography competitions, blog competitions, storytelling by travelers, quizzes, essay competitions, debates, discussions, and painting competitions for travel enthusiasts. There will be special TV promotions for encouraging tourism to Jammu & Kashmir and North East states of India. India is a beautiful country comprising of contrasting seasons and cultures. Diversity is the key to unity in our versatile country. Each culture has its own story and history. In fact, there is a lot to explore in our country.
Paryatan Parv running Tourism Events Across The Country
The second pillar or Paryatan Parv is Tourism for All. It will include cultural programs, folk dance, music, theatre, exhibitions, cultural art galleries, local cuisines, handicraft, handloom, heritage walks including audio-visual shows and so on. In fact, the focus here is to engage public at a large scale. The third pillar, Tourism & Governance will have a number of interactive workshops and discussions on different themes. The sessions focusing on tourism sector will include innovative initiatives, skill development, engaging ex-servicemen, rural tourism, homestay, etc. Another pillar that I find missing and having no mention under governance is safety and security. We need to focus a lot on this particular area because this is of an utmost importance in tourism ecosystem.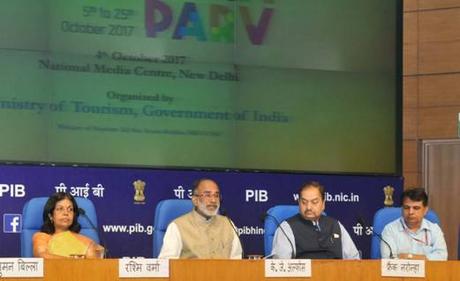 Humayun Tomb is the venue for the inauguration of Paryatan Parv. Heritage walks will follow the inauguration at the monument. Painting competition for students will be another attraction point.