Growing up, my favorite vacation and the one I still have the most memories from were two trips our family took to
Petit Jean State Park
. We lived in Western Kentucky and my extended family was in Dallas, so Arkansas was a great place to explore to break up a longer trip to Texas or find a meeting spot for family. I loved
this recent article
on how kids typically remember vacations more than anything else, and it's encouraged me to use this chapter of having more free time to take some more accessible and old fashioned fun adventures together. 
Since Markus and I started dating, I've brought up Petit Jean as something I wanted to do with my new family. I can't even consider how many times I've pulled up their website in the past 10 years. It seemed so magical and preserved in time! The stars finally aligned and we took our family family vacation there this past week. 
There was a small sense of reserve that my childhood memories might have made it more grand in my mind or that the time may have taken some of the beauty from the park and facilities. I was so happy to see Petit Jean State Park thriving, and the scenery was more awe-inducing to this city dweller than ever. It was truly a trip that changed our family for the better!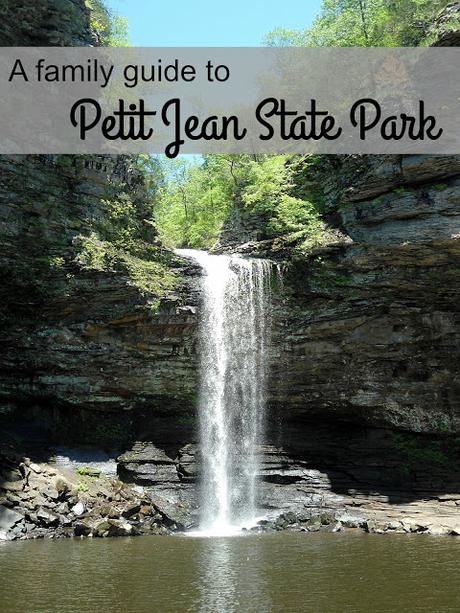 The best part of a Petit Jean trip, is it is all so easy! It's a very manageable six hour drive from Dallas, making it long weekend material and a breeze compared to some of our other favorites like
Telluride
or
Seaside
. There's a ton of different options for accommodations, from very nice campgrounds and RV spots to multiple cabin types (ours, Number 13, had a hot tub in the back and was down in a creek bottom for great privacy!) and even yurts on their beautiful lake!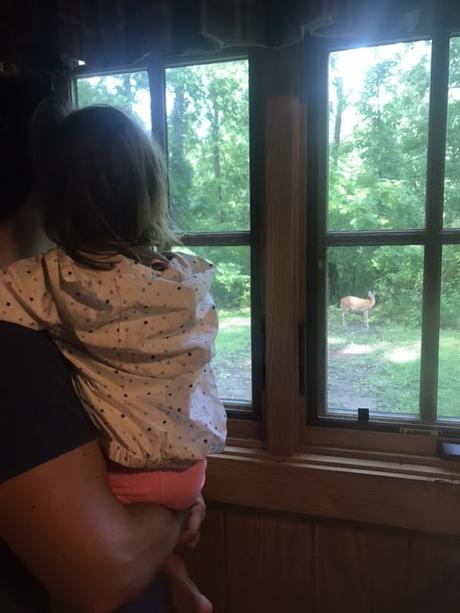 Such special moments seeing deer and foxes from our cabin windows.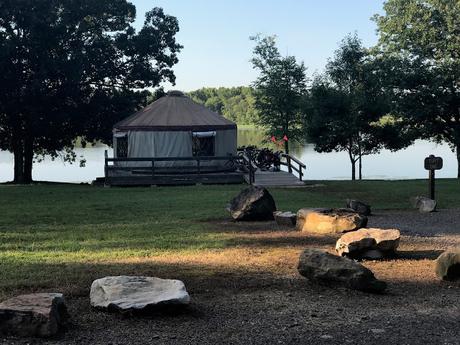 Yurts on the water!
Another great asset to all park goers and where we would stay growing up is Mather Lodge. The big lodge was built by the CCC during the Depression and has been updated to keep it nice for visiting families. It's all of the comforts of a small hotel - housekeeping, nice common areas and even hearty meals in the lodge dining room. Some of the best trails start right behind the lodge.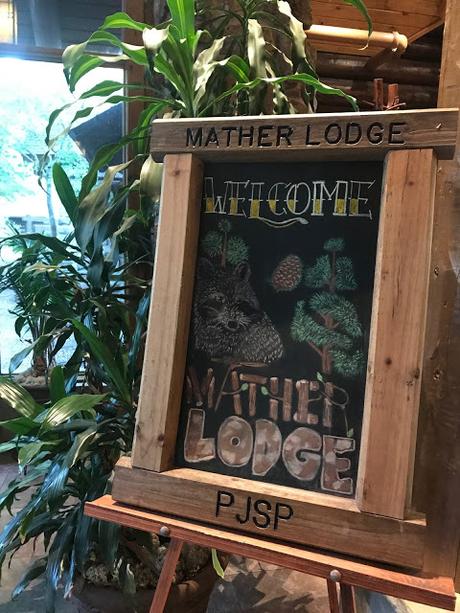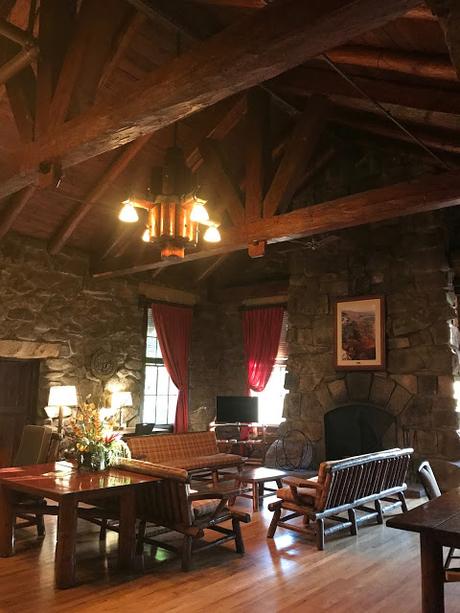 This common room at Mather Lodge is where I learned to play Uno growing up and first watched my favorite childhood show - Dr. Quinn Medicine Woman! #nerdstatus
Another thing that comes easily at Petit Jean are the incredible views. Before my childhood trip, my mom bought my sister and I art kits and we "mastered" sunset renditions of two mountains coming together with lines of bold color in the clouds. It was so nice to take in the last moments of the day in the same spot with my daughter and see there really is something unique about a Petit Jean sunset! The best part is this is right behind the beautifully maintained Mather Lodge. We look so outdoorsy but we had just finished big plates of French fries! #aboutthatlife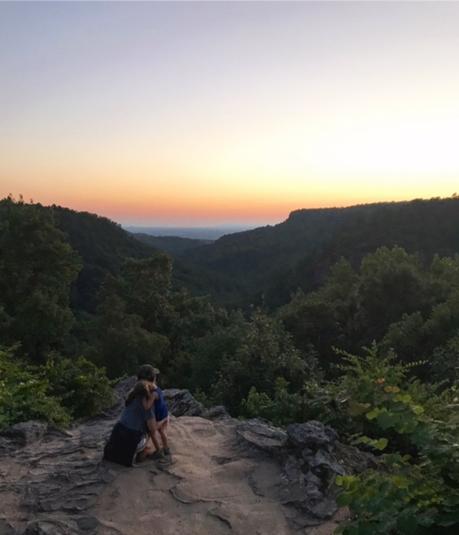 We did do some amazing hiking on this trip! Two and a half days really allowed us the chance to try all of the trails. They range from extremely easy .25 miles to a pretty strenuous 4.5 miles. It was a perfect fit for us, with a toddler who wants chances to walk on her own and adults that like to feel challenged.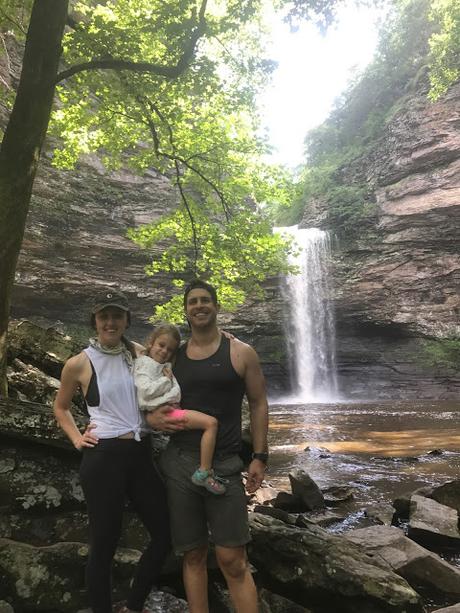 Proud moment at the falls of Cedar Falls Trail!
I love that the scenery is different with each hike, but even some of the easiest hikes offer the most interesting views! Bear Cave trail is really just walking around the eye of the needle rock formations close to the lodge, and something Heidi really enjoyed doing without needing to hitch a ride with us. Rock House Cave Trail is very short and features Native American cave paintings!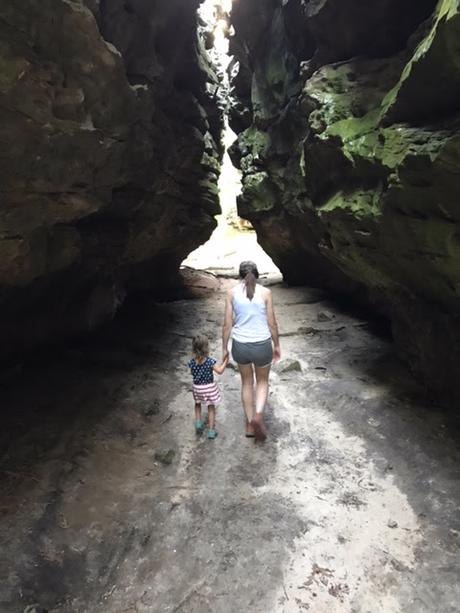 A stroll through Bear Cave Trail. 
Even on the longest hike, Seven Hollows Trail, there were good spots for Heidi to get out of her backpack and take on the trail. We were amazed that she conquered more than 1.5 miles! She loved splashing through the creek waters to cool off as we went.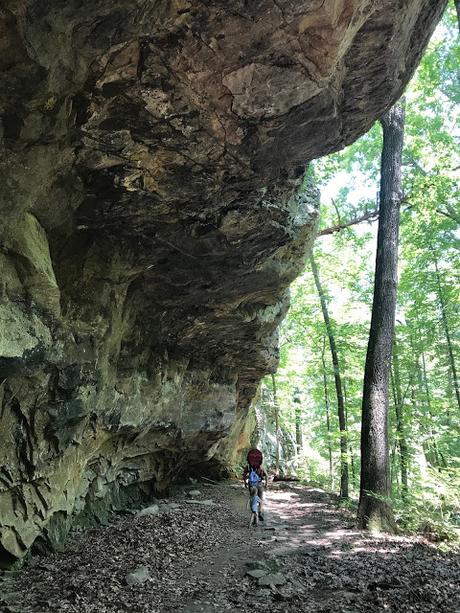 If you look closely, that's Heidi's Frozen backpack filled with provisions attached to the backpack she rides in! Dad life.
One thing I remembered from childhood trips that I was excited was still around is the
Park Ranger events program
. There's a few fun demonstrations or experiences led by park rangers every day, and we worked a few into our stay. The Owl Prowl evening owl calling was really fun, and we went with a park ranger to Bear Cave Trail and found a few more interesting parts of the trail we hadn't seen on our own. Like I was when I was little, Heidi was so drawn in by the rangers' friendliness and expertise. She liked to check and make sure her mom and dad were staying on the trail and following good park goer etiquette from everything she learned from the rangers. :)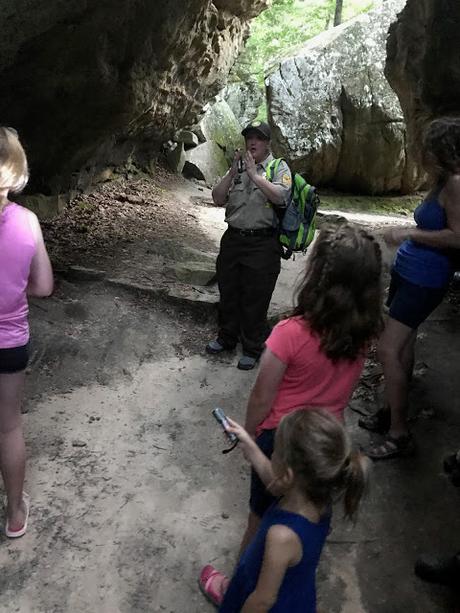 Serious little Heids in the blue dress! 
A few more things are not actually inside the park but worth knowing about. First is Stout's Point. This overlook is above the Arkansas River and really beautiful!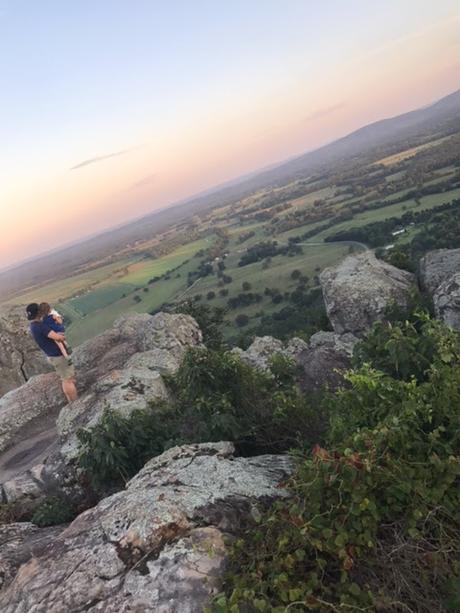 Also, The Outpost came into my mind on the second half of most of our hikes. :) Great homemade fudge, ice cream, classic cane sugar sodas and a nice front porch to enjoy it all on!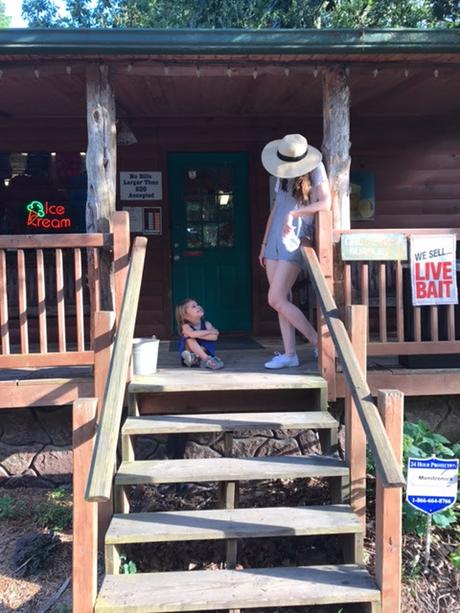 The only thing we needed to bring with us besides a few basic clothing changes was our hiking shoes*! Soapbox moment, but it made me so nervous to see adults and kiddos scaling wet surfaces and taking rocky descents in their sneakers. Hiking shoes are an investment but better money spent than an ER visit and really allowed Heidi to explore her surroundings more easily and comfortably! Better still, though, was packing the car knowing the only things we were bringing home were hearts full of memories and a bug bite or two. :) This simple trip was the best! 
Have you enjoyed a no-fuss getaway lately? I'm on the hunt for more!
*Here's the links to each of our favorite hiking shoes and our backpack if you're planning an outdoor trip soon. Affiliate links here, but they're all available for purchase through most outdoor retailers! :)
Men's
- Markus says he would wear these as his every day shoes if he could! (He cannot.)
Women's
- Love the look of them, but actually went for these after Merrell was too heavy for me. These are like a good suit - you can hardly tell you're wearing them.
Kids'
- Prefer an open style for her since we are fair weather hikers and she can experience more from splashing and river walking in these.