I have this obsession with hair styles on pinterest. I ALWAYS wear my hair down and straight. I used to wear my hair up every day in high school, and I just think that it was always ugly since I usually just threw it up. So after I graduated and had more time to get ready, since I was waking up at 5:30am to catch a bus or make it to school anymore. BUT I never have known how to actually do my hair, so it is always down and straight. This year I made a goal to try out new styles. My hair is getting really long and it's fun to play with now. OVer the past couple months I will try styles out, but usually it ends up down and straight or down and wavy, because those are my go to styles. Do you guys have a go to style, or am I a freak? Probably a freak, oh well. =) Last night I decided I would try this hair style:(click on the photo for the link)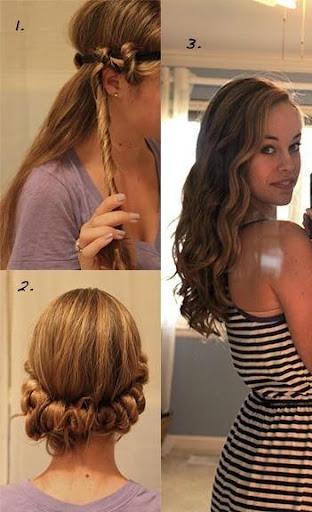 I thought that this would work, because I have actually seen quite a few people in blog land who have tried this style, and they raved about how easy it was and how well it worked. So of course before bed, I twisted, tugged and eventually got my hair to wrap around a head band. It really is incredibly hard to do this, or maybe I am incredibly stupid. But I had to retwist the hair after each time around the head band, and I was having a hard time finding enough space on the band for all my hair. Eventually I finish and looked like a troll.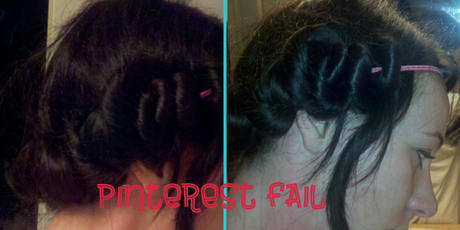 I slept uncomfortably on this disaster all night. The elastic wasn't comfy on my head and there were like little strands of hair pulling. Plus I woke up at about 4am and could feel some of the hair had fallen out. The above photos I took this morning, that's why it looks so frizzy and unmanaged. So I take the twists out… my hair looks like this. I even tried to brush it out after since the curls looks HORRID and my hair just looked awful. Like a poodle who got stuck in the dryer or like little dog poops that got stuck in the dogs rear end coming out. It really was not pretty at all.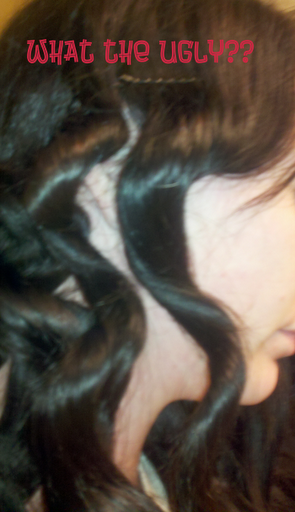 So at this point I have to leave for work in about 20 minutes. I didn't have any make up on or anything, so now I was in a rush! I hurried and grabbed my iPad and pulled up pinterest in a desperate attempt to find a new hair style. I have tried the top knot. Totally does not work for me. I have so much hair that the knot is ginormous and just starts to fall out and make me look like a ninja. So I came across this photo that I had pinned (once again click the photo for the link).

I decided to go for it. It was time to wear my hair up. I was actually pretty pleased with the braided bun. I think it looks casual, but it still looks like you did your hair. Plus how she has her bow under the bun is kinda different and fun. I didn't have time to find a bow or make one, so I just grabbed a small flower.


What do you guys think? Should I just wear my hood all day? =))If you want to check out the rest of my hair board, check it out here.