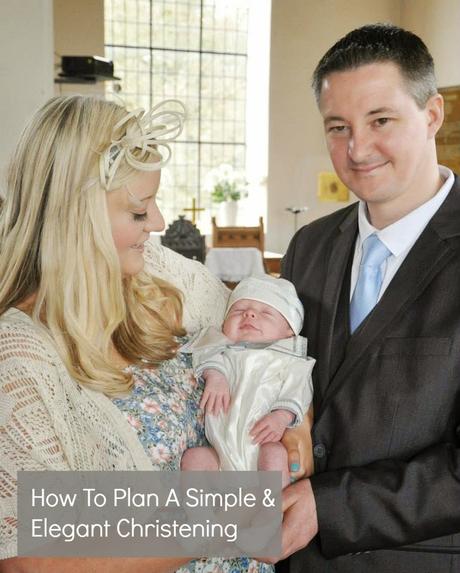 With Noah already 1 month old, we're far further behind on planning his Christening than I had hoped to be by this point - infact we had intended to have him Christened at 4 weeks old which is the age that Tyne was when he was Christened.
The Service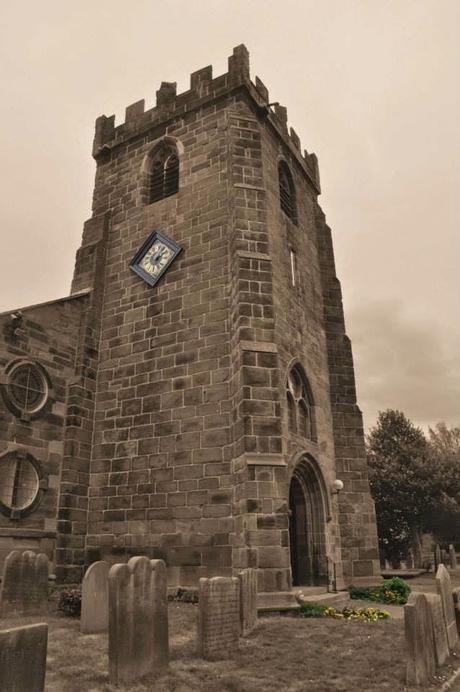 Christenings can be celebrated however you choose - the service itself is usually carried out as part of or following on from the Church's usual Sunday service, and it must be booked in advanced and organised with your vicar or parish leader.
All Churches have different protocol to follow when it comes to Christenings, our Vicar made an appointment to come out and visit us at home a couple of weeks prior to the Christening to chat with us about what would happen on the day, what the Christening meant to us, etc.
The Christening services are usually kept quite short at around 15-20 minutes, and sometimes there will be another family joining you to have their Christened alongside - there was a baby girl Christened with Tyne, her family sat on the other side of the church to ours and her service was carried out first so each child gets their own special time.
You will usually have the Christening service at the local church, however it is possible to choose another church.
My family have a tradition of holding all Christenings in our local village church - it's the church that both my sister & I were Christened in as babies and all 3 of her children were also Christened there, as was Tyne - so although it's tempting to do it all here in Devon for ease it would be breaking with a nice tradition and so I would prefer to travel to Liverpool to have it.
Once your date is booked, you will need to formally invite your guests with simple Christening invitations - you can pick these up in most card shops or order more personal ones online!
What Will Baby Wear?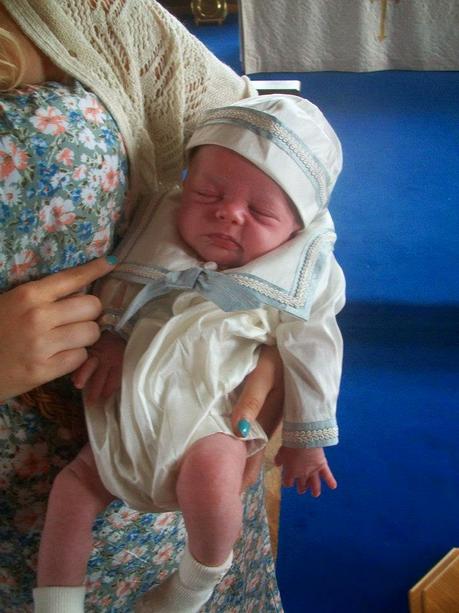 I like to stick with tradition as much as possible and so I loved the idea of Noah wearing the same gorgeous Sarah Louise sailor style Christening outfit that Tyne wore - but as Tyne was such a small baby and only 4 weeks old at the time, I'm now worrying that the outfit is going to be too small for Noah so I really need to get planning!
The traditional Christening attire is a silk gown which can be worn for either girls or boys - these usually come with a bonnet to match.
I love Christening gowns for girls but I wanted something a bit more traditionally boy-ish personally for Tyne, so I chose a sailor style silk suit - sailor outfits are popular styles to choose for boys Christening and also usually come with a matching hat.
Accessories can be purchased to compliment a Christening outfit, such as silk bibs and matching socks but obviously the amount you choose to buy is up to you and none of it is compulsory.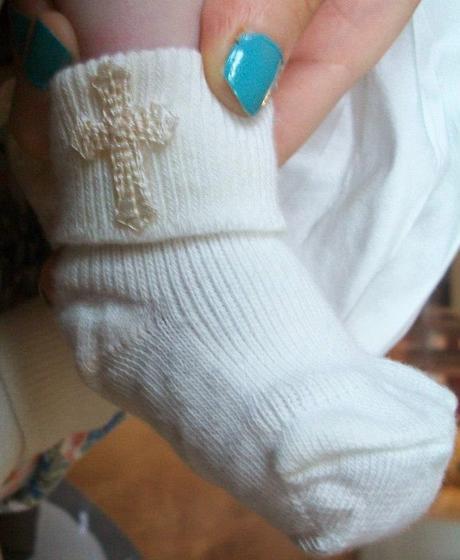 After The Service

Following on from the service, most people like to have a celebration of some sort.
Many people choose to have guests back to their home for a simple gathering - tea & cake may be offered or you might choose to organize a buffet lunch.
Alternatively you may opt to have a sit down meal at a restaurant with your guests, or you may prefer to have a full-blown party with a DJ and entertainment.
I can't believe that we managed to plan Tyne's Christening in just 4 weeks after his birth - we hired a small local hall for afterwards where we had a bit of a vintage style tea party to celebrate with an old fashioned sweet trolley and a hot dog stand, I even attempted to make baby blue candy floss for the kids (until the Candy Floss machine died halfway through the line of waiting children...whoops!)
Noah's Christening will be kept nice & simple - another little tea party to celebrate afterwards as personally I don't like to mix childrens celebrations with big parties or lots of alcohol.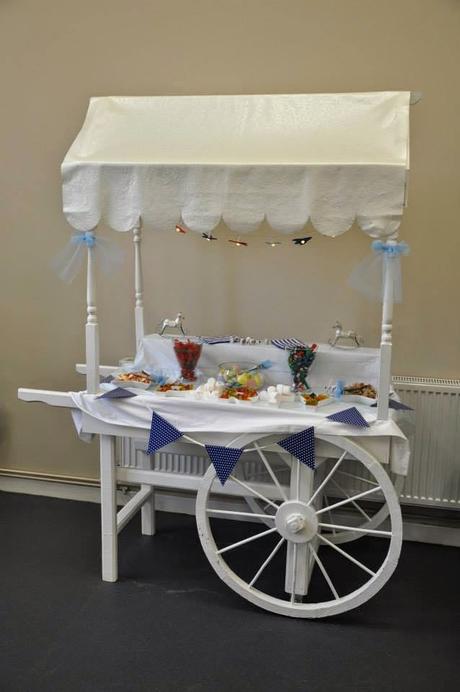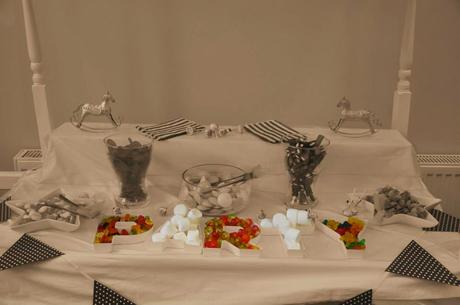 The Christening Cake
Many people like to have a Christening Cake to celebrate the occasion which is then cut and given out to guests.
Tyne's cake was ordered from a local store in Liverpool and I loved it, especially with the letters we were given as a gift from my cousin which are now on his bedroom wall!
The traditional Christening Cake theme is usually done in the style of a bible, or a simple round cake with a Holy cross - I wanted something a bit different and fell in love with the castle design.
For Noah's Christening I have my heart set on a Noah's Ark themed cake!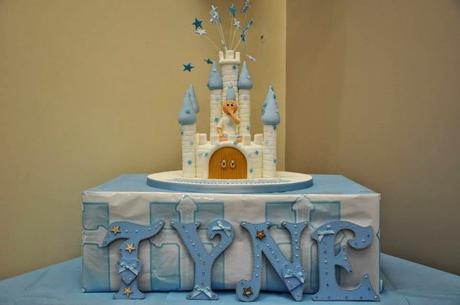 Godparents, Gifts, Etc
When your child is Christened you will need to appoint some Godparents - traditionally these were seen as people who would look after the child in the event that something may happen to you but this is quite an outdated view now and the actual role of a Godparent is simply someone to assist in the spiritual guidance of your child as they grow up.
Therefore the people you choose should be people that you respect and feel would be a suitable role model.
You can choose pretty much any number of Godparents - in my own family it was tradition for a boy to have 2 godfathers and 1 godmother, and vice versa for girls.
I couldn't narrow my choices down and so Tyne has 3 Godfathers (My uncle, my cousin and Jon's close friend from childhood) and 2 Godmothers (My sister and my good friend Sarah).
This time around I'm finding it much harder to know who to ask!
When you've decided who you would like to be Godparent, its tradition to formally ask if they would like to take on the role. 
Following on from the Christening, it is traditional to give a small gift of thanks to your chosen Godparents - just something simple will suffice, we gave a Godparent photo frame to each of ours.
All of this really shows how much easier things are with just one baby to look after as there's no way we'd have had chance to organize something like Tyne's christening so quickly this time around!
Now I just need to actually plan and book a date and, of course, sort out an outfit for myself!
The one I have my eye on is this: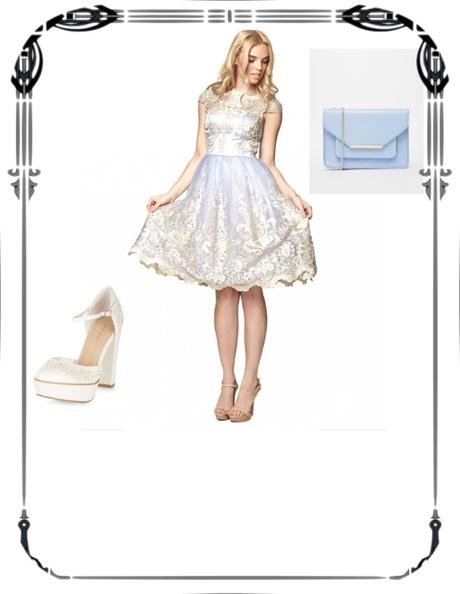 I absolutely love this beautiful dress  from Chi Chi Clothing which I first saw reviewed on the gorgeous Dolly Dowsie's blog - I love that its based around Disney's Elsa and I think it's just beautiful and ideal for the occasion paired up with this gorgeous Ted Baker bag from Asos and cream shoes from New Look
Now I just need to start saving and get a date booked!
Did you have your child Christened? How old were they at the time? As always, I'd love to hear from you!
If you enjoy my blog, please consider following me on Bloglovin'