Disclaimer: Was suppose to publish this a week ago but was missing a photo, hence the odd perspective from the post.
Technically Chinese New Year is still on going cause it goes on for a span of 15 days. But I'm gonna do my post CNY now cause I'm leaving for Bangkok next week and will be back in campus the following week. And the main parts of my CNY celebrations are also done.
---
CNY Day 1 / 大年初一
At 12 midnight, we did some prayers and headed to bed. In the morning, I boiled some oyster porridge and got ready for the new year! One of my family tradition is to have oyster porridge for breakfast on the first day of Chinese New Year. I'm not too clear on the historical meaning of it but I believe it's something the monks do, and that oysters are considered vegetarian in some context.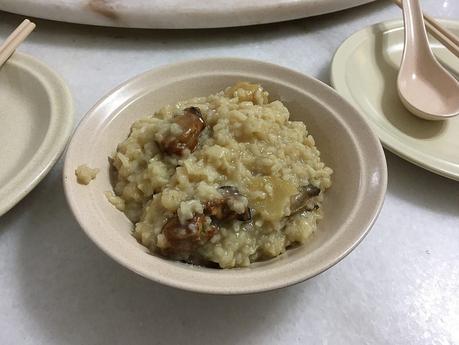 I used the leftover chicken soup from the reunion dinner to cook this so technically it isn't a vegetarian dish anymore. We also finished up the leftovers from the reunion dinner for brunch. Since everyone woke up pretty late, we had the oyster porridge for brunch instead.
Another tradition of my family during the first day of CNY is the tea ceremony where the kids serve tea to the parents and the parents will give us angpao (red packet). A fun thing that my parents liked to do during the angpao giving session / tea ceremony is that they packed different amounts in the red packets.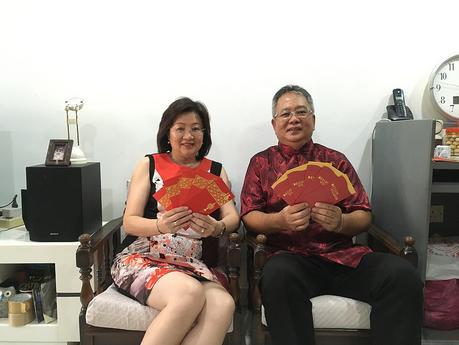 This is my mom and dad before the tea ceremony. In each red packets, are different amount of CNY money, usually just a few ringgit difference. So each kid will end up with a different amount, the lucky one would get a bigger amount. Previous years, my elder sister is always the first to pick her angpao and my younger sister the last. But this year, there were only Jon and I. It was still fun but not as exciting as previous years.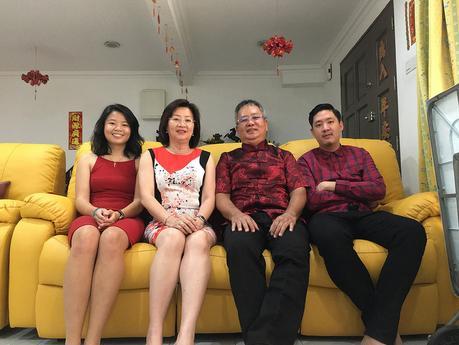 I guess it's pretty much like a lucky draw. And this year, since there wasn't much atmosphere at home due to the small amount of family members, we only took one family photo. Haha. In previous years, we used to take tons! Maybe because also that the house wasn't very well decorated for the festive season so there wasn't much hype to take photos.
Once we done and packed, we headed of to my Dad's hometown, Malacca, which is south of Kuala Lumpur. I volunteered to drive, and boy was the traffic terrible! We left home about 1.30 pm and only reached Malacca after 4.30 pm! Normally, it would only take us at most 2 hours to get to Malacca from home.
We visited my Uncle Henry first, dad's eldest brother somewhere at Bukit Katil if I'm not mistaken. Then we went to our final destination at my aunt Susan's canteen in Ujong Pasir. I took a nap when I reached there. Haha cause I was pretty tired from the drive. I played some Gin Rummy this year, and won like RM 7. Haha.
We play Gin Rummy in Malacca every Chinese New Year. Usually the aunties play it but this year I decided to join in (plus also my mom was taking a nap too). I also realised that this year I wasn't all about gambling luck games, I leaned towards luck + strategic games if I do gamble. I avoided centrepool this year.
It was great catching up with my relatives in Malacca, I haven't been back to Malacca for more than a year! My little nieces and nephew have all grown up, time just flies. I kinda look forward to going back to Malacca again. We left Malacca slightly after midnight and arrived back home about 2 am.
---
CNY Day 2 – 4
Mom, dad and I headed back to Ipoh the following day. Jon didn't follow cause he had work. There wasn't much going on in Ipoh, we basically ate slept ate slept.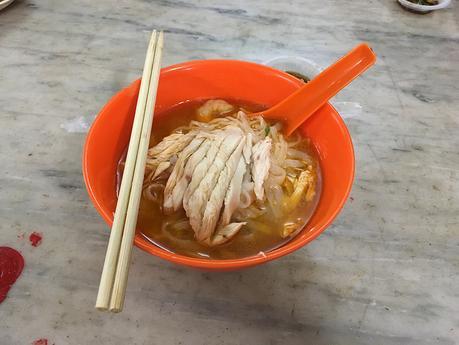 Here's the famous Ipoh Kong Heng Gai Si Hor Fun (Chicken Slice Rice Noodles). It was crazy packed when we went on CNY Day 4. It costs RM 6.50 a bowl now and they've ditched the plastic chopsticks and now serves them with disposable chopsticks. It still tastes good and classic though.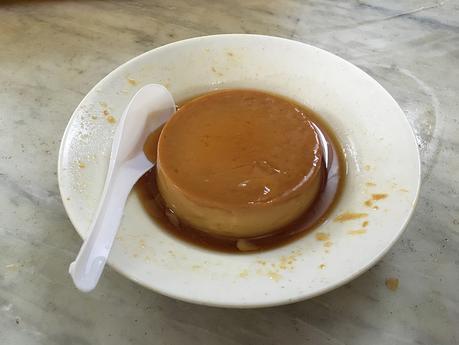 I also had the egg custard when I was at Kong Heng.
On CNY Day 3, we had dinner at Citrus Wine & Dine, which is just a stone's throw away from my relatives' house. My aunt Har Ying treated this scrumptious meal. I had the pumpkin soup, the scallop pasta and also pandan & ginger crème brûlée.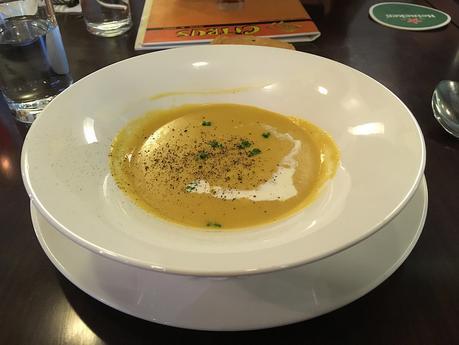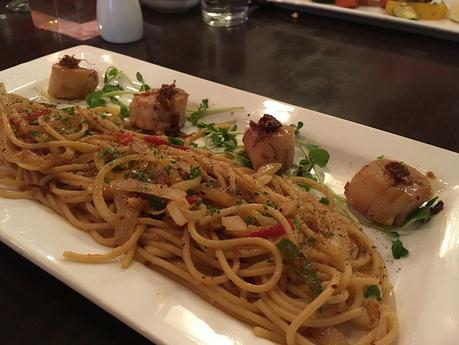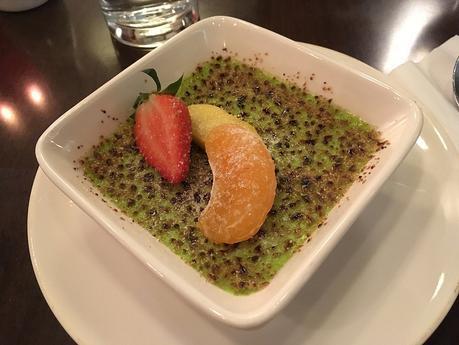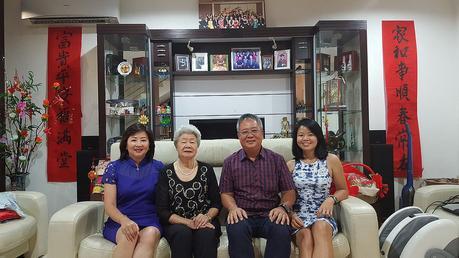 3/6 family photo in Ipoh.
---
CNY Day 5
Today I get to meet WC after almost a week! We had lunch with some of WC's friends from high school. After going rounds for a while, we settled at Bubba Gump Shrimp Co. for lunch. WC and I have been wanting to try this place for a while now. I thought that the food was just okay, for the price I paid, I could have gotten a larger portion at Tony Roman's or TGIF.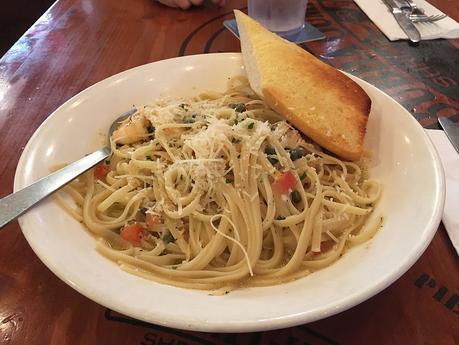 I had the pasta dish, there was only one pasta dish in the whole menu. It was good, but I was really expecting a bigger portion, the kind I can't finish on my own. Haha.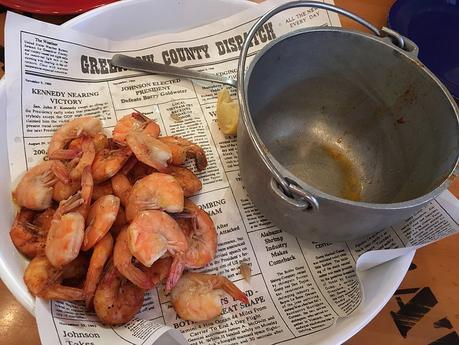 They also ordered these shrimps to share. I liked these!
Then we went to the apartment for dessert. I had an affogato, cause I saw Kenn having it the other day at Citrus and I've been wanting to try it ever since. Loved it too! After dessert, we spontaneously went for one round of Escape Room! It was RM 38.20 per person since it was a public holiday.
We went for the Space Voyager room, which apparently is the toughest room. There were 5 rooms to clear before the escape. I thought it was pretty fun, in addition to WC's super expressive friends. Haha. We only have 45 minutes to figure out how to escape and we manage to escape in 44 minutes and 49 seconds! So close!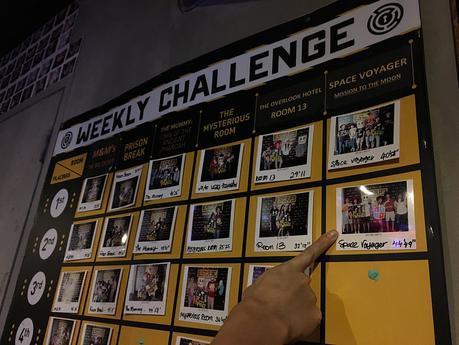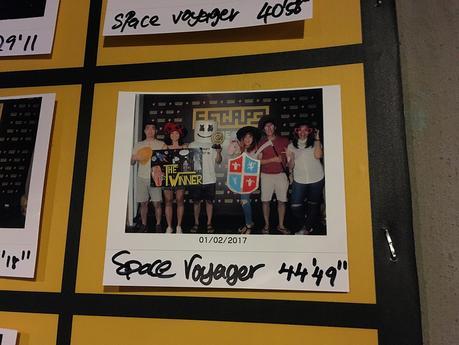 We even earned a spot on the weekly challenge board! I didn't really contribute much but I had tons of fun. I think WC contributed the most, that smart ass. After Escape Room, WC and I headed back to his place to have dinner with his family. We had mee suah for dinner. I like his mom's mee suah, somehow to me it kinda tastes like ramen instead of mee suah. Maybe it's cause of the tasty soup.
---
CNY Day 6 – 7
I didn't do much on day 6, mainly stayed home. On day 7, I went to the gym with WC in the morning, we met his mom there. I didn't do any running today. Previously I've only done running and I don't feel much ache the next day. So I told WC I wanted to do something else today.
WC has always wanted me to do more cardio to activate my metabolism. Haha. But that day I did arms and legs and abs. It was a great workout, I didn't sweat much though but I knew I was going to be sore af the next day. We had prawn noodles for lunch at Xan Ling Cafe Segambut. It's pretty much our go-to food after gym most of the time.
Then we headed back to my place to wait for dinner time lol. Guess what, Soo called and said he was coming over. And when he came over, he asked Yen Fang if he was able to come over. So yeah I had impromptu CNY guest. It was great catching up with them. I haven't seen Yen Fang in over a year.
After they left, WC helped me with the dogs and we got ready for dinner. Since it was the 7th day of CNY, it is also known as 人日 (birth of human beings). So sometimes in simple terms we call the 7th day of CNY as everyone's birthday. So on this day my uncle organised this get together dinner at Pantai Seafood, his go to restaurant.
Dinner was alright. WC was kinda awkward at first. Haha. Best part of the dinner was the yee sang! To date I had 5 times of yee sang! This CNY is the best so far cause I get to stuff myself with them yee sang. I especially hate it when people waste them.
---
That's pretty much the highlight of my CNY. I went on a trip to Thailand during the second week of CNY, will update on it soon!
Best