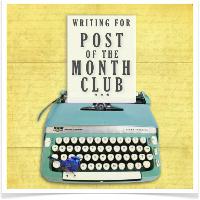 Well hello, lovely Planetarians. It'sPost of the Month Club
 time! 
We had a 
fabulous 36 entries last month. The topics 
covered
 were diverse, as always. Amanda shared her first holiday to pretty 
Denmark
 in Western Australia as a family of four with us. Romy showed us how she did her morning school run wearing her bathrobe and ugg boots! Penny shared some fabulous old sailing pennants won by her dad years ago. And Laura took us to see Norway with her. All fabulous. Let's see what kind of a bumper edition we can publish this month!
Right, so the regulars know the drill but for any newbies, here's how we play it:
Become a Planetarian (a follower of this blog) by becoming a Google Friend Connect follower (see my sidebar), by RSS or by email subscription (click on the icons under 'Want to find me?');
Look through your posts for September 2012;
Find the one you're most proud of; 
Edit it to add the POTMC button at the post's end (you can copy the HTML from my sidebar) to let everyone know that you write for the Club;
Add your post to the linky at the bottom of this post; and
Visit a few other (or as many as take your fancy!) Club members' posts to share the bloggy love with comments. 

Don't forget 

Operation blog love!
Let's see if we can top 36 entries this month. This edition will close publication on 14 October 2012.
Okay, time to crank up the presses - let's go!