Next week a group of us are tackling
the Yorkshire 3 Peaks
.  This challenge involves about 24 miles of walking - and three mountains.  Where I live we have next to nothing in the way of mountains, but I wanted to least have a go at the distance to see if it was achievable, so ahead of then I took Friday off to have a practice walk.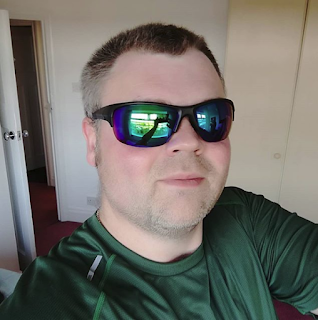 All prepared with genuine sunglasses and some kind of sports top, I think it possibly has isotonic qualities.  Most sporty things are advertised as having ISO something or other.
I started off around 6.30am in Beverley, with the intention of making it to Driffield for around lunch, and then depending on how I got on hopefully walking back in the afternoon.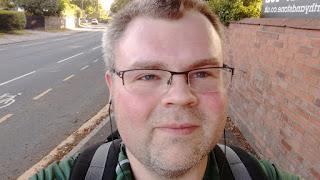 Accompanying for the walk was a backpack filled with water, power bank for my phone, snacks, sun cream, blister plasters and other ephemera.  I always struggle when packing a bag, I have to try to not spend too much time on it because the longer I have to pack the bag the more things I'll take "just in case".
In preparation for the day I loaded up my phone with podcasts, mostly episodes of the hilarious "My Dad Wrote A Porno" which if you haven't heard is an absolute must.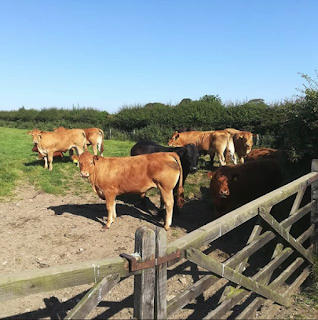 About 2 seconds after I took this photo I held my hand out towards the cows and they collectively lost their minds.
The morning walk went very well, with only a few aches from my feet the last mile or so into Driffield.  After getting a bite to eat I was contemplating getting the train back to Beverley, and decided that I would check the train station on the way back.
First, though, I got a hat.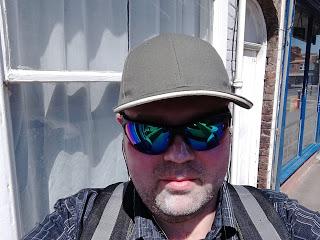 Not a stylish one
Hats don't suit me, I would love to be the sort of man who looks good wearing a hat, but inevitably they end up lop-sided, too big, the wrong colour, or just weird. But with the day being clear and sunny, and high temperatures expected in the afternoon, I got one anyway.
As a result, I missed the train back to Beverley by about 30 seconds, and wasn't going to be seeing another one for an hour. So, I decided to head back on foot, with the possible option of getting a train part of the way back from the village of Hutton Cranswick.
While most of the walk was along the main road, between Hutton Cranswick and Driffield I was taking a diversion down country lanes and through the picturesque hamlet of Skerne, and typically it was around Skerne that I started having some foot trouble.  I took a couple of breaks, changing my socks, but they still didn't feel right.
Now, at this point (or ideally back in Driffield) if I had put blister plasters on, all would probably have been well.
I didn't.
So it was when I was a couple of miles away from Hutton Cranswick, and its train station, that my foot exploded.
Of course it didn't explode, it was merely a blister popping, but that's what I convinced myself it felt like.  I began toying with the idea of ordering a taxi, but getting a taxi for the remainder of the walk seemed excessive.  I continued to hobble on towards the train station (not at any point stopping to put blister plasters on, somehow in my mind I was of the thought that it would be worse to get my feet out of my boots, remove socks, install the plasters, and then dress again, as opposed to pushing on for the rest of the walk).
Part of the way along, and making slow progress, I checked the train times and found, about a mile and a half out, that there was a train in half an hour, and another in an hour, and then no more trains for at least another hour after that. There was no way I could make the first one, and I would have to speed up to make the second.
In short - I did make the second by with 4 minutes to spare.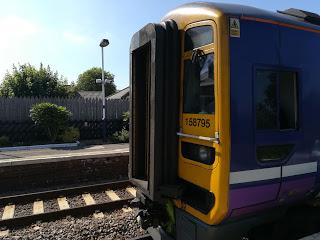 Once back to Beverley I got to my car and drove home.  My son decided to take on the role of doctor and assess my feet.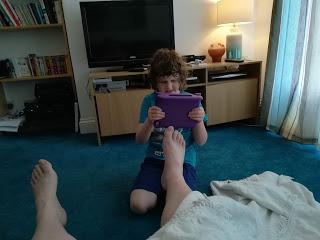 Here they are being x-rayed, with the aid of an iPad with no x-ray capability.
It's now 2 days after the walk, and although I'm still limping a little, I'm walking a lot better than I have been since Friday.  Fingers crossed my blisters should all be healed by next Saturday and adding all of the walking up I did on the Friday it was comparable to the distance I'll be tackling next week (just without the ascents and descents!) so I'm hoping that I'll be able to get on reasonably well. Wish me luck!