HOLLYWOOD—It's all about image in Hollywood. We live in an image-driven society. Our opinions of people are based on their intelligence, talents, looks and personality, though usually not in that order. Incredibly so, the reality is that within seconds of meeting someone for the first time, we form our opinions based on what we see. We have to look a certain way, wear a certain size and we continually look at the fashion magazines to compare ourselves with the rest of the thin, fashion world.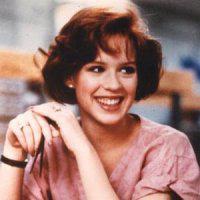 Photo courtesy of: Facebook
So when we bumped into actress Molly Ringwald on April 26, on tour with her book titled "Getting the Pretty Back: Friendship, Family and Finding the Perfect Lipstick," we listened attentively as she read excerpts from her book. She spoke about prettiness being a state of mind. She must have read about six pages while wearing her big, black reading glasses when we noticed a few people wondering if she was going to read us her entire book. This self-help book covers everything from fashion to creating the perfect cheese plate. She surely covered a lot of topics in her book, which some people will either love or hate. She wrote the book while pregnant with her twins, between naps.
Molly decided to do some Q&As, which was very informative for her fans.
Q: When did you move to Paris, France?
A: "When I was 22 years old."
Q: What is your schedule like when you are filming "The Secret Life of the American Teenager"?
A: "My schedule is, uh, I have the best job in Hollywood. I go in every 10 days to shoot my scenes. Then I have my 7-year-old and my twins that are 21 months old. I'm also writing my second book."
The book delivered what it promised and that was advice on how to handle just about anything. If you enjoy reading books on traveling, cooking, beauty and wine, you will love it. Her candor about her pregnancy, beauty and fame was fascinating. She especially enjoyed seeing a picture of herself on my BlackBerry, which I had taken of her about five years ago at the Princess Grace Foundation Gala. Molly is currently on "The Secret Life of the American Teenager," a series based on American teenagers and their journey of growing up, pregnancies and personal discovery. Ringwald was considered the greatest teen star of all time, having starred in a few John Hughes movies in the 1980s such as "Sixteen Candles," "The Breakfast Club" and my all-time favorite "Pretty in Pink."
In the '80s film "Pretty in Pink," Molly portrayed a working-class girl (Andie) who had a crush on a rich, preppy boy (Blane) in her school played by Andrew McCarthy. When they tried to make it work and planned on attending prom together, they encountered resistance from the social circles who thought they didn't belong together. Finally, Blane at the end came to his senses and realized that love conquers all.
Love does conquer all resistance. Perhaps that's why millions of people tuned in to watch the wedding of Prince William and Kate on April 29 across the pond. The fairytale wedding of commoner Kate Middleton to Prince William brings hope to many young girls who dream of someday marrying a prince. Her elegance and fashion style is so often compared to the late Princess Diana, who I'm sure was smiling down from heaven.
Rose's Scoop: Mark your calendars, Academy Awards President, Tom Sherak, announced that the 84th annual ceremony will take place on February 26, 2012.