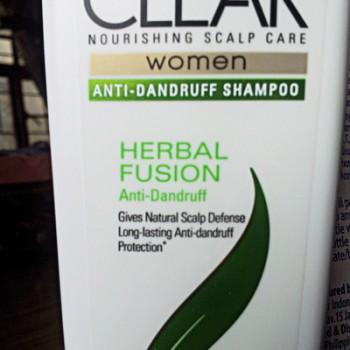 CLEAR is one of the famous anti-dandruff shampoo here in the Philippines from Unilever, and Herbal Fusion for women is one of their newest product.
It has a Nutrium 10 formula that treats the root cause and approach scalp defense to eliminate and clear dandruff from the scalp; fused with Asian herbs, ginseng, and tea tree extract, for a healthy nourished scalp and beautiful hair.
I've been using this product for more than a month now, and all I can say is that I love the smell of this shampoo. It has a strong herbal smell combined with mint — At first I thought it has the same smell as the Doublemint flavor chewing gum made by Wrigley. It's unique smell makes it stand out from the typical fruity and floral fragrance that's frequently used in the market. I found out about this product when it was given to me as a free sample by a demo sampler in the mall, and on that same day I decided to buy 1 bottle of Clear Herbal Fusion for women because I wanted change my old shampoo.
It does prevent dandruff and itchiness, and refreshes the scalp. It foams well (unlike my other anti-dandruff shampoo) and the herbal scent leaves my hair feeling clean and fresh. But there are some instances in which the weather is humid, my scalp feels itchy and dandruff flakes come off when I scratch it.
I also tried CLEAR Anti-dandruff Shampoo with menthol for Women before, but it gave me a mild bacne (Back Acne) and my scalp itched a lot so I immediately stopped using it and never tried using Clear products until I found out about Herbal Fusion. The demo sampler lady told me that Herbal Fusion has milder ingredients than the others — maybe because of the Asian herbs — that's when I decided to give it a try one more time.
Dandruff
is a flake of dead skin that are shed off from the scalp. It may be caused by
;
but is not limited to: An oily scalp; Sweating; Weather (hot & humid or cold & dry); Infrequent shampooing or washing; Poor immune system; Chronic illness; Emotional and mental stress; Genetic predisposition;
Although dandruff may not be permanently cured, it can be treated by different ways like changing your diet or a use of proper hair product. There are many anti-dandruff shampoos in the market, but there are only few that is good — So find the one that suits you best and stick with it.
Your anti-dandruff shampoo should be containing anti-microbials like zinc, sulfur, selenium sulfide or ketoconazole; and should be left in your scalp for 5 minutes while you gently massage it.
Summary
Packaging





Prevents Dandruff





Prevents Itchiness





Scent





Value





Overall





Pros: Prevents Dandruff and Itchiness. Refreshes Scalp. Herbal & Mint Fragrance.
Cons: Fragrance might be too strong for some.
Where to buy: Your local store
Price: P199 (200mL) P209 (375mL) -  Robinsons Supermarket