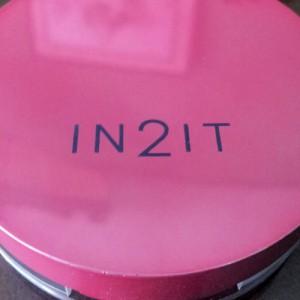 It's been a while since my last entry. I've been MIA for two months and during that time I've been also testing 5 cosmetic products. First up is IN2IT Oil Control Face Powder.
IN2IT is a drugstore brand from Japan, although the product label says it's made from Thailand. IN2IT Oil Control Face Powder has four shades: Soft Beige, Warm Beige, Harvest, and Chaste. I bought mine at the Department Store of Robinsons Place Manila. The sales associate attended to my queries and recommended Soft Beige for my skin tone.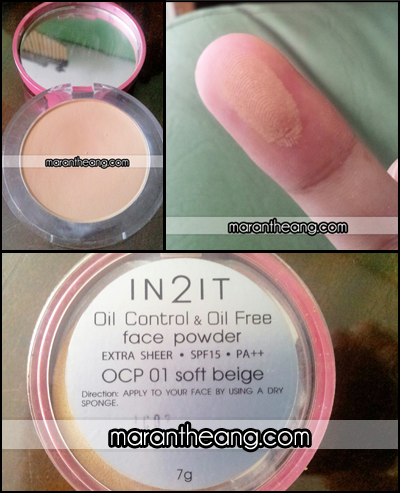 The packaging is simple and the powder comes in a neat pink case with a washable sponge. The powder is very fine and is good for touch ups, though it gives a sheer coverage. Although the powder contains Vitamin E for extra moisture, control oil is pretty good. No need to touch up every now and then. It has SPF15 and PA++ to protect the skin from harmful rays. The case is pretty tough — I've dropped it several times and the powder is still intact, and the case is still good as new.
Sadly, I had to stop using it, as I've noticed one or two small bumps appearing on my face whenever I use it. I also feel that it's somewhat heavy for me. But what I do like about this product is that it gives you a natural look.
I won't buy this again, but I do recommend it to those who have non-acne prone skin.
Remember, what works for me might not work for you, and what doesn't work for me might work for you.

Summary
Packaging





Oil Control





Coverage





Staying Power





Value





Overall





Pros: Great oil control. SPF15 and PA++. Vitamin E. Contains 90% natural ingredients. Natural Finish. Affordable. Cute and tough case.
Cons: Sheer coverage (it's a con for me). It gives me few small bumps in my face whenever I use it.
Suitable for: All skin types.
Where to buy: Department Stores. PCX. Watsons.
Price: P300+