रंगो का त्यौहार - होली !
Holi is celebrated as festival of communal harmony in which Muslim friends are also invited in 'Holi Milan Samarohs' (Holi festival gatherings) and all enjoyed collectively. The practice has not vanished but is limited to few people and in few areas from last four to five years when animosity among the communities has increased due to 'Us' vs 'Them' politics. In this poem I wish the festival of color and joy bring happiness to all equally again.
Happy Holi.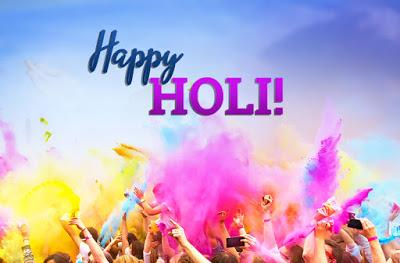 रंगो का ये त्यौहार,इस बार,दुःख-दर्द सारे ले कर जाये,नफ़रतें जो बढ़ रही हैं,उन्हें मिटाए। 
Rango Ka Ye Tyohar,Iss Baar,Dukh-Dard Sare Le Kar Jaye,Nafratein Jo Bad Rahi Hain,Unhe Mitaye.
गुंजियों की मिठास इस बार,करें चमतकार,देश के होते हुए भी जो हैं गद्दार,उनके सवालों के जवाब मिल जाएं,आये करार। 
Gunjiyon Ki Mithas Iss Baar,Karein Chamatkaar,Desh Ke Hote Hue Bhi Jo Hain Gaddar,Unke Sawalon Ke Jawab Mil Jayein, Aaye Karaar.
The Festival of color Holi, destroy all animosity,fill each heart with love,care,compassion and curiosity.
त्यौहार
(
Tyohar
) - Festival ;
नफ़रतें
(
Nafratein
) - Hate ;
गुंजियां
(
Gunjiyan
) - A sweet made during Holi ;
गद्दार
(
Gaddar
) - Traitor ;
करार
(
Karaar
) - Relaxation.