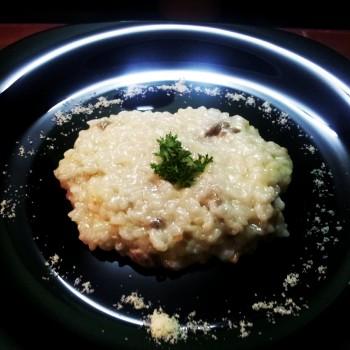 The other day, I decided to cook Beef and Mushroom Risotto for dinner. Cooking Risotto needs patience, as it takes about 25-30  minutes of constant stirring, so you might want to have someone help you stir.
The key ingredient to an amazing Risotto is Arborio rice. But I opted to use Japanese rice because the supermarket didn't have any Arborio rice. Risotto gets its creamy texture from the starch released by the short-grained Arborio rice. Arborio has shorter and fatter kernels than other short-grained rice. You can substitute in Japanese rice as it also has a sticky property when cooked.

To achieve that desired creaminess, I opted not to wash my Japanese rice. Washing the grains will remove all the excess starch, resulting in a much less creamy texture to your dish.
You can mix any ingredient you like in your Risotto. For this one, I chose beef and mushroom because my boyfriend and I simply  loves beef and mushroom.
Beef and Mushroom Risotto using Japanese Rice
Ingredients:
3 C Japanese rice
1 lbs. beef (sirlion), cut into strips
2 Qts. beef stock (1 Chicken Knorr cube is equal to 2 Liters of water)
1 C white Wine (I bought Pinot Grigio — you can opt for Sauvignon Blanc)
2 medium shallot or 1 small onion, chopped
1 can (850g) Jolly Mushroom — You can opt for Shitake mushrooms for more flavor.
6 Tbsp. Unsalted Butter
2 Tbsp. Vegetable Oil
1/2 C grated Parmesan cheese
2 Tbsp. chopped parsley
Salt to taste
Procedure:
In a medium saucepan, heat the stock to a simmer, and lower the heat so that the stock stays hot.
Heat the oil in a large, heavy-bottomed saucepan, then add the Sirloin and cook until slightly browned. Add 1 Tbsp of the butter over medium heat. Once the butter has melted, add the chopped shallots or onion and sautč for 2 minutes or until slightly translucent.
Add the rice and mushrooms to the pot and stir vigorously so that the grains are coated with the oil and melted butter. Sautč for another minute or so. But don't let the rice turn brown.
Add the wine and cook while stirring, until the liquid is fully absorbed.
Add a ladle (or 1/3 Cups) of beef stock to the rice and stir again until the liquid is fully absorbed by the rice. When the rice appears almost dry, add another ladle of beef stock and repeat the process.
* Stir continuously to prevent scorching, and add the ladle of stock as soon as the rice is almost dry.
As the rice cooks, you'll see that the rice will take on a creamy consistency as it begins to release its starches. Continue adding stock until the rice becomes tender, without being crunchy. If you're out of stock and your rice isn't still cooked, you can use hot water instead.
Once cooked, stir in the remaining butter, Parmesan cheese and parsley. Season to taste with salt. Serve immediately. Enjoy!
Makes 10 servings