I have been a bit off my 'baking game' lately. A few weeks ago, I adapted a recipe so I could make hot cross buns in the bread maker machine. They looked the part coming out of the oven but upon tasting them, we renamed them hot crossed scones. They were dry and hard. Into the bin they went which was tough after the time I put into making them.
Today I thought I'd give it another go and adapted another recipe and had great success. They look and taste great!
See what you think:
Bread Machine Hot Cross Buns
Makes 12
Dough:
1 1/2 cups warm milk
2 teaspoons (7g/1 sachet) dried yeast
1/4 cup caster sugar
60g butter, melted
1 egg, lightly whisked
4 cups plain flour
1 teaspoon salt
3 teaspoons mixed spice
1 tsp ground cinnamon
1/2 tsp ground nutmeg
1 cup sultanas
1/2 cup currants
1/4 cup mixed peel (optional – I didn't use it)
- you could also skip the dried fruit and a cup of choc-chips
Crosses:
1/2 plain flour
4 – 5 tbs water (to a smooth paste like consistency)
Glaze:
1/4 cup water
1/2 cup sugar
1. Combine the milk, yeast and 1 tablespoon of sugar in a small bowl. Set aside for 10 minutes or until frothy.
2. Put wet ingredients for the dough into the bread maker first, then add dry ingredients.
3. Turn machine onto 'dough' setting and let it work its magic. My machine takes an hour and a half from start to finish.
4. Line two baking trays with baking paper.
5. When the machine has finished its program, roll the dough into balls (flour your board as the dough is sticky) and place the next to each other on the tray.
6. Make the cross mixture by combining the flour and water to make a thick paste. Put it into a snap lock bag and snip a corner off. Use it like a piping bag to pipe the crosses over the uncooked buns.
7. Put buns into a moderate oven (I baked them at 180˚c) for 15-20 minutes.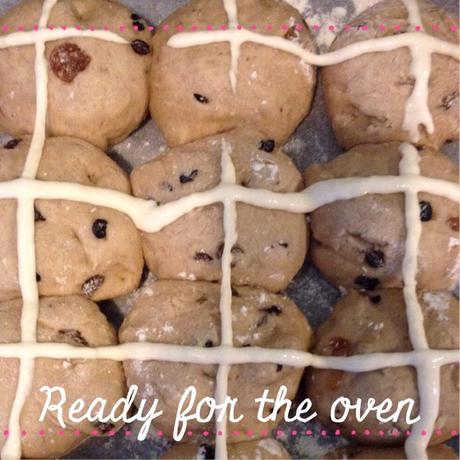 8. While they are cooking, put the glaze ingredients into a small saucepan and bring to the boil over a medium heat. Mix continuously to dissolve the sugar. Take off the heat as soon as it starts to boil.
9. Glaze buns with a pastry/basting brush while hot.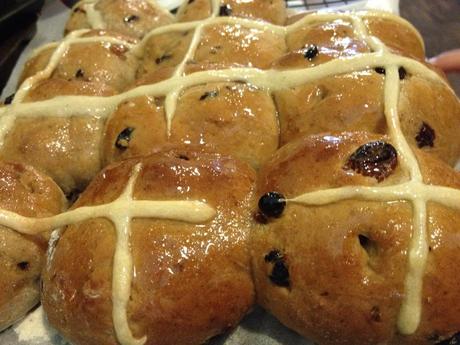 Yum!
Linking Up with the iBOT Team from Essentially Jess: