This recipe couldn't have been easier to throw together out of items I had on hand. I made the fritters toddler sized and Dora scoffed down four of them as quickly as I could cook them.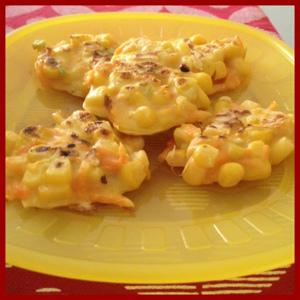 1 420g tin no added salt corn kernels
½ cup plain flour
2 eggs lightly beaten
1 medium carrot, grated
2 spring onions, finely chopped
Spray olive oil
In a large mixing bowl combine all of the ingredients.
Heat a large frying pan on medium heat and spray with olive oil.
Dollop five tablespoon sized circles of mixture around the pan.
Flip after a few minutes or when the base is starting to go golden.
This mix made 24 deliciously imperfect little fritters.
(They can be frozen).
Adult sized ones would be nice with a bit more seasoning and served with a tomato and avocado salsa.