As of 7:02 this morning, I am officially closer to 50 than 0.
Birthday's are a big deal in my family.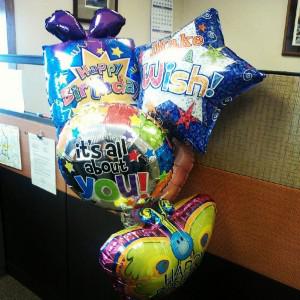 Birthday balloons from my parents
Jordan made me my favorite breakfast – my late grandma's caramel rolls.
I had lunch with him and my parents, where my mom gave me some awesome balloons.
My co-workers surprised me with a little party, complete with an ice cream cake. Not just any ice cream cake, but an Oreo one. Delicious!
And the day will be finished with a romantic evening with Jordan.
I think about all I've accomplished in these 26 years.
My school activities and awards.
My college undergraduate and graduate degrees.
My job opportunities and experiences.
My marriage and family.
My friendships.
My worship team.
My blog.
My speaking.
My faith.
When I look at everything, I am truly most thankful for my faith. This is the one thing that gets me through the day. It provides me peace when I'm upset, grace when I get angry or mess up, and passion for all I do during the day. And although I didn't always rely on my faith, the great thing about God is He will join you wherever you are at. And when you get off track, He'll patiently wait for you to return.
And I also need to give a big thanks to my parents for raising me in a home where we expressed our Christianity. I have been blessed in so many ways, and having awesome parents is one of them.
So to everyone else having a birthday, HAPPY BIRTHDAY! Although it is a day that is all about us, we have to say thanks to the One who made us. And who allowed us to be here this long.
How do you celebrate your birthday? Leave a comment below!