It's the height of summer and if the blazing sunshine and soaring temperatures are anything to go by, then it is most certainly BBQ weather.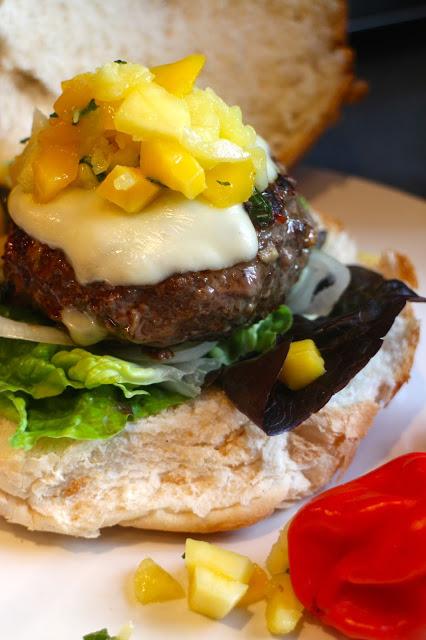 The Nottinghill Carnival is next month and if, like me, you really wish you could be there but can't, then I think that these are the perfect substitute to add a little Jamaican flare into your summer parties!

These succulent burgers have a wonderfully warmth to them, nothing too overwhelming and the distinctive combination of heat and sweet that Jamaican food is so famed for.  Add some sweet potato chips and you have a Caribbean feast.

Burgers (makes 4 good sized patties)
500g good quality minced beef
1 scotch bonnet, de-seeded and minced.  Leave the seeds in if you want more of a heat hit.  If you can't get hold of scotch bonnets, use habanero's instead although the flavor profile won't be exactly the same.  Don't substitute with birds eye chilli's - the taste will be completely different.
1 clove garlic, minced
2 teaspoons cider vinegar (white wine or rice vinegar would also work, not malt)
1 tablespoon water
1 teaspoons ground thyme
1 teaspoon runny honey
1 teaspoon allspice
1 1/2 teaspoons Jamaican Jerk seasoning
1 teaspoon ground ginger
1/2 teaspoon cinnamon
1/2 teaspoon nutmeg
1 tablespoon reggae reggae sauce (I used Levi Roots).
Good sprinkle of freshly ground salt and pepper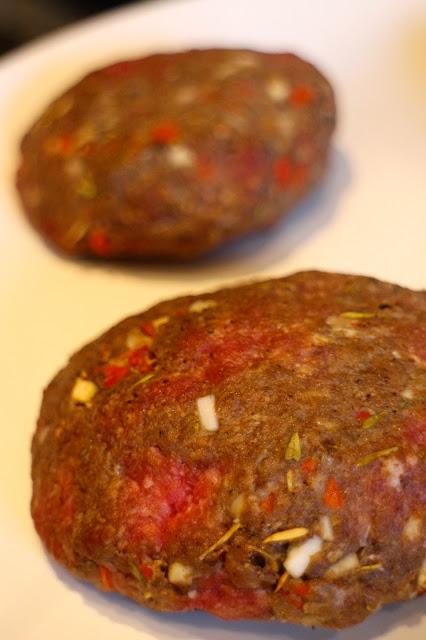 Salsa
50g mango, finely chopped
50g pineapple, finely chopped
Juice of 1 lime
4 fresh mint leaves, finely chopped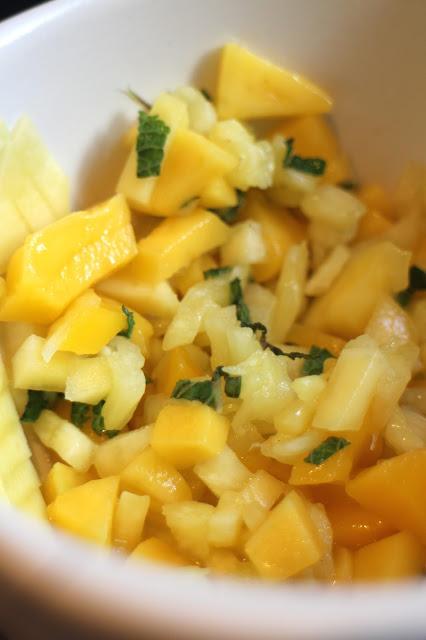 Mix all the ingredients for the beef together, apart from the mince.
In a large bowl break the mince up and form into 4 patties
Split the seasoning evenly over each pattie and work in, smushing it around and moulding it back into a patty shape.  You can just pour the seasoning over the mince in the bowl first if you want, but I find that the split and then pour method ensures a much more even distribution of flavor.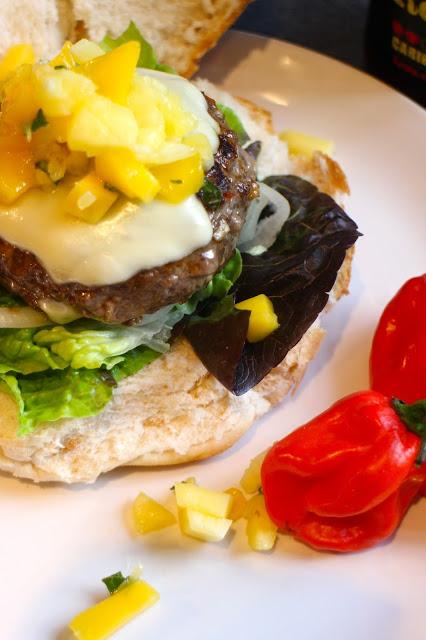 Put the patties on a plate and rest in the fridge for at least an hour before cooking.  This is important as if you don't let them rest you will find that your burgers simply fall apart when you try and cook them.  You can grill, BBQ or fry these - up to you!
Mix all the salsa ingredients together and leave to rest, covered, in the fridge for at least an hour to allow the flavours to develop.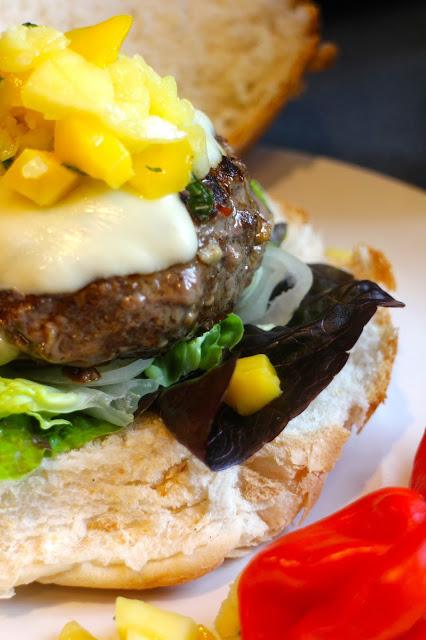 When you are ready, griddle, BBQ or fry the burgers until just cooked all the way through, melting some cheese on the top if you are that way inclined.
Layer up your buns with salad and the burger, top with the salsa and add a little extra Reggae Reggae sauce to really make it sizzle.
Steel band playing as you eat optional.