I wrote a post on Friday about my momma freaking out about my brother's farewell We had a party on Sunday with all my extended family, and all our friends. It was a pretty big gathering. I was in charge of decorating. I am pretty sure that in my next life I want to be a party planner. I like my life right now, so I am not going to up and change and commit to being a party gal. The other thing is that I have a really hard time being crafty and enjoying crafts unless I have like a dead line and a purpose. I can't just craft. Some girls can sit down, and do these adorable things. Not me folks. The craftiest time of my life was when I was getting married. I am one of those people who firmly believes the old saying "if you want it done right, do it yourself." I did everything for our wedding, all the decor, the bridesmaids bouquets, the boutonnieres, center pieces, frames, stands… I mean I went nuts. The best man mentioned in his toast, that he was surprised that I was able to clean the spray paint off myself for the wedding, since he'd seen me the morning of walking around with my tool belt full of different spray paints, glue guns, and all my touch up gear. ha ha. 
So for this family gathering I knew I wanted it to be simple. My mom was setting up a candy bar, with all the candy jars we used for my wedding. She had a few tables outside with table cloths and white pumpkins for the centerpieces. It already looked cute, and I was just going to spice the place up. I walked into hobby lobby with a few ideas. The problem with this place is that you walk in and your few ideas turn into a few more ideas, and soon you've practically bought the whole store and have plans to redecorate your entire house. The awesome part about hob lob (my nickname - patent pending) is that you can make the things available, or you can buy them and it looks like you made them. It's a store for all stages of crafters.
I knew I wanted a banner, so I headed in that general direction. I found these perfect thick cardboard pieces, that already had the holes. They were cute into triangles, and ready to be strung across an entry way. I spray painted them blue and gold and then stenciled patterns on them. They looked gorgeous! However, this is a project that I thought would take maybe an hour. You don't count for all the dry time, multiple coats and spray painting accidents. After a few hours of working on it, and getting the string through, I actually decided not to do any words, or messaging on them so that I could reuse them at some point in the future. It's funny because you can buy these banners, but when you're at hob lob, you see so many options to customize, and you can make design your own. That's the curse of the place! I could have bought one OR like I did, buy all the pieces, string, spray paint and stencils.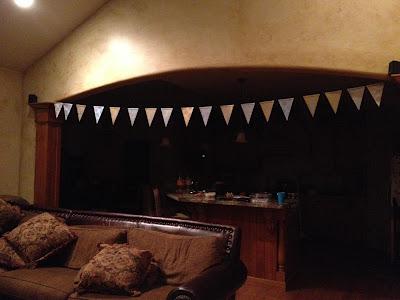 My next project was to have a "photo booth". I wanted to get a chalk board where peeps could write a message and we'd take photos, and compile them for him to take on his mission. The chalkboard was easy to find. Now onto the chalk… I had to buy those awesome chalk markers instead of chalk, because they look so much cooler, and aren't gritty like chalk, but still have the vintage affect of a chalkboard. Then deciding the colors of the markers was another half hour process. Hob lob is a bad place for Jared and I. He was so sweet to come with me, but he is so undeceive, that when I ask his opinion he makes me think through what I thought I had wanted. It makes the process like 13 times longer. It really turned out pretty cute. However, I am extremely stupid, and totally spaced bringing my camera and tripod. So people just signed it like a big card, instead of writing messages. FAIL! Maybe I shouldn't be a party planner, who forgets the camera in their own "photo booth"?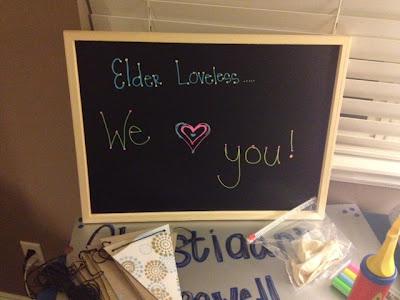 (note the cute banner)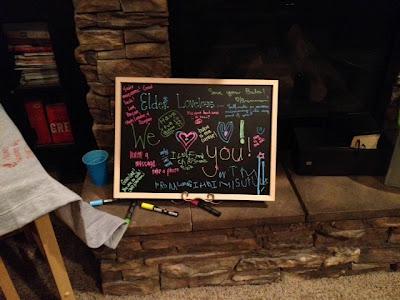 We bought a nice fleece "stadium blanket" too. I wanted him to have something he could take with him easily and use. I was thinking pillow case, but Jared convinced me a blanket is a better idea. I totally agree, because with how many people ended up coming, I don't think they would have fit on the pillow case. Also, Jared and I had a hay day with this. We signed it 200 different times. We wrote messages from people who don't exist, and started to write funny things and sign my older brothers name. It really was a fun idea. I think it will be good for him to have, especially if he's anything like me and gets homesick.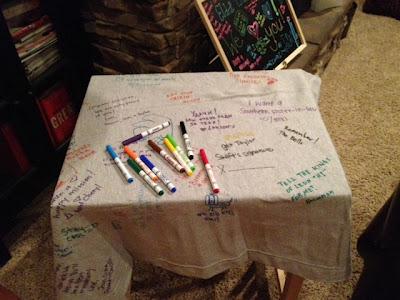 The very last piece that might have been my favorite was a string of balloons. We bought bunches of balloons, and then tied them on a string and strung them across where everyone was eating. It added this really cute charm to my parents back yard. Unfortunately I don't think anyone got a photo. I think this is going to be my new go-to decoration. It added so much character, and it was so simple. I may have walked out of hobby lobby with a balloon blower upper. It's just hand held, but it's still a thousand times easier than blowing it up with your mouth. I hate that feeling after blowing up tons of balloons where your cheeks just ache.
All in all the party turned out really well. My parents home looked super cute, and it was a good decor turn out. Hob lob is a great store, and I love it, but I really have to start making a list when I go in there, it's way to easy to get distracted and buy lots of randoms. Like this cup: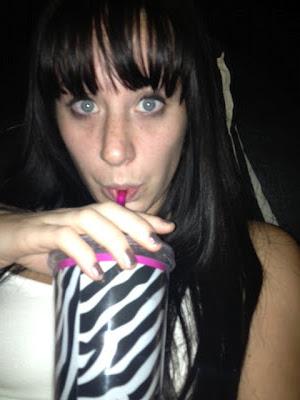 What do you guys think? When I am reincarnated should I be a party planner?HAPPY MONDAY!