I took a bit of a break from blogging to have my baby who was born in October but now things are settled and she is sleeping through the night (please don't let me have jinxed that), I have got my evenings back and I finally have time to get back into reviewing! If you are an old reader and are still checking out my blog then many thanks for sticking with me despite the break and if you are new reader, then hello!
So anyway, last night I met up with one of my brothers. Being a new mom means I don't get to go out to eat as often as I did before but as Mr Review Addict was in charge of Mini Review Addict, I demanded that bro and I go and get some cheap (having a baby is expensive) and cheerful food.
We opted for Brewers Fayre and to my delight discovered that the Chef's Counter on a Wednesday was burgers and hotdogs! This was just what I needed...despite still having a fair amount of baby weight to lose!
The Chef's Counter is basically a themed buffet and on a Wednesday you can help yourself to beef burgers (without or without cheese), chicken burgers, hot dogs and corn dogs. On top of this there is numerous toppings to choose from and then a choice of normal or spicy chips, onion rings and beans.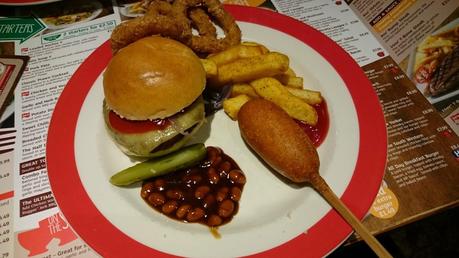 It's £6.99 for all you can eat and that can mean multiple trips to the counter if you feel you need to. There was no veggie option which is a shame as even though I'm not a vegetarian, I've always been a fan of veggie burgers, especially bean burgers which would have made a nice addition. The Chef's Counter is however in addition to the normal Brewers menu so there is veggie food available.
The burgers were the patty sort and were quite small, not as small as sliders but smaller than say a McDonald's cheeseburger. Mind you, if you were going to have a chicken burger, or hot dog as well then this is probably a good thing and of course you can always go and get another one! The chips were pretty standard pub chips and the onion rings were the breadcrumb coated kind which I prefer to battered ones.
Verdict
You don't go to an all you can burger and hot dog night expecting the finest cuts of meat, but for £6.99 if you need a junk food hit like I did last night and you don't want to sit in a cold fast food restaurant then the Burger and Hotdog Chef's Counter should hit the spot.