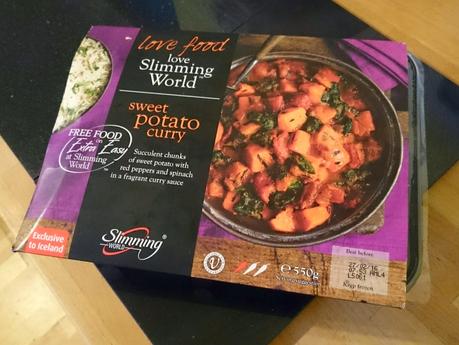 I've mentioned a few times before that despite being a big fan of junk food and all things sweet, I do like to eat healthy the rest of the time and to do this I follow Slimming World as it keeps my treats under control. I've lost weight before on Slimming World and managed to keep it off for almost 2 years before I got pregnant and now I am using it again to lose the rest of my baby weight!
I have to admit that it has been hard as Slimming World is all about preparing food from scratch and with a small baby that is not always easy so I was mega excited to find out about the new range of Slimming World ready meals that are sold in Iceland. There are 8 dishes in the range, plus syn-free meatballs and sausages. Being a lover of veggie food (but not vegetarian), I was most excited about this Sweet Potato Curry.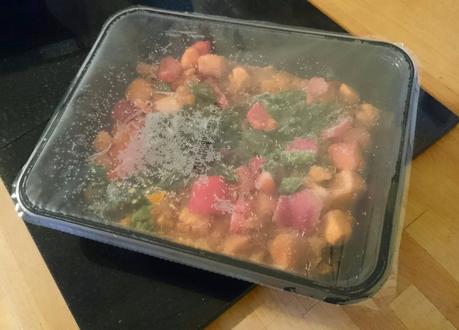 The ready meals cost £3 each which isn't cheap but then convenience comes at a price and when you see the size of these things then you will understand; they are huge portions! Another brand of ready meal that I had in my freezer was 320g and these bad boys are 550g! The Sweet Potato Curry contains 51 calories per 100g so you are looking at around 255 calories for the whole thing but then if you are familiar with Slimming World you will know that calories don't matter, it's all about the filling foods and this meal is a free food on the Extra Easy plan.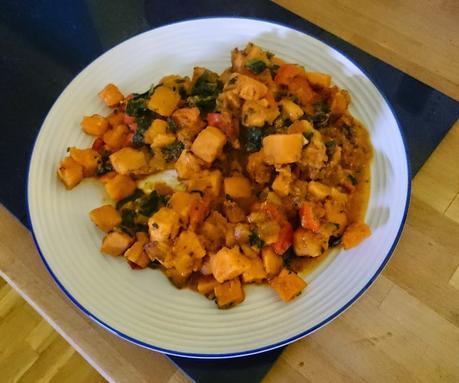 The list of ingredients on the back of the cardboard sleeve is very simple and what I also like is that they give you the actual recipe so that you can create it yourself when you have time! This is a really nice touch and it was a really lovely dinner so I will definitely be having a go.
The flavours were nice and strong, there was a nice spiciness without much heat and sweet potato is so filling, I certainly did not feel hungry afterwards.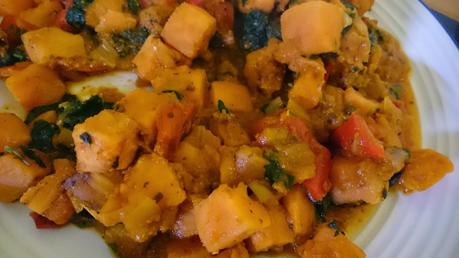 I was thinking that you could also split this meal between 2 of you to make it go a bit further and serve with some boiled rice or a salad, or you could even serve it as a side dish with another curry!
VerdictI love that Slimming World has taken on board feedback from their members and created a range of meals that are quick and easy to prepare but they've stayed true to the Slimming World principles. What's more is that this curry was so tasty and tasted fresh! I will certainly be making sure that my freezer is stocked with this these meals and I can't wait to try the other dishes!