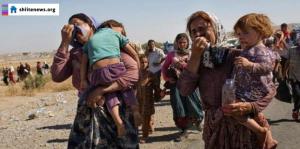 "revisionist history"
we sit in silence
thinking of her.
so many others
woman not read
about but have
gone missing
found dead.
what will they say years from now?
will they know
the countless stories
that soak into earth quickly
seep and go missing into
smoke and chaos?
the stories of war
not in the headlines
but caked in the fingernails
of those passed
burrowed in wounds
and glazed eyes closed?
will they remember
moments not caught on camera?
immediate
urgent moments
laced with fear
her will to live
pulsating rapidly
in and out of breath
sweaty heart beats
gone cold?
will they remember this history?
Written by a person identified as S. N.,  a thirtysomething  South Asian poet and writer. The poem comes from the book Voices of Resistance: Muslim Women on War, Faith & Sexuality, edited by Sarah Husain.  The copyright is 2006. Published by Seal Press.
Advertisements