Is it true? Mashed Chickpeas tasted like tuna? Hmmmn... I remember one of my girl from the pre-blogging group who hates tuna, when I first read about this mocked tuna. I got curious and tried it right away :)  Is it yum? Will she be able to eat this even if there's no tuna, only it taste like it?
Well, let's all find out!!! :D
I only have 1 photo for this post ( I've accidentally deleted the file and only have my final pic from my instagram account downloaded... btw please follow me @ljs_haven01) and here it is!
TADA!!!!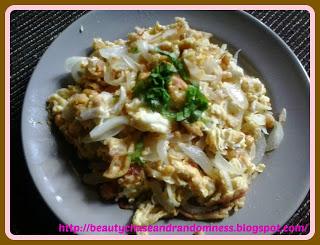 Looks delish right? :D
Here's the how to's of this über yummy dish I've concocted.
Ingredients:
1 large bulb of white onion
3 eggs 
1/2 ts of cumin
pinch of salt and pepper to taste
1/2 can chickpeas (peeled and mashed)
1 tbsp of vegetable oil or olive oil
(2) 1/2 cm slice of white cheese (goat cheese)
a bit of parsley or celery to garnish (optional)
Procedure:
Beat the 3 eggs in a bowl then add cumin, salt and pepper. Set aside.
Put the oil into a pan and sauté the onions. Add the chickpeas stir fry for a minute.
Then add the egg mixture. When the omelet is almost done put the cheese on top and let it cooked for at least 30 seconds more.
Serve while it's hot 
Sooooo Eeeaasssyyyy Right?Now It's your turn to try it and let me know if it is justifiable to call the chickpeas mocked tuna :D
Happy Tummy Me once again :D
xoxo,