Seven Sisters of East Sussex, England, are a famous series of hills and cliffs the march along the coast between Seaford and Eastbourne within the Seven Sisters Country Park.
These cliffs offer dramatic views over the English Channel and surrounding countryside and often stand in for the White Cliffs of Dover for films.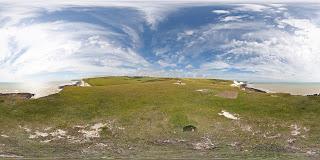 Seven Sisters 360 Panorama
© Peter Watts 2012
On a good, sunny day (which are in short supply at present), the Seven Sisters are a popular walking route, offering a hiking challenge as the terrain is almost never flat and totally exposed to the elements. The onshore winds here are quite strong, as evidenced by trees bent over under its force.  Most people walk east with the prevailing wind behind them, resting their legs at either Cuckemere Haven or Birling Gap. The walk also takes you up the highest sea-cliff in Britain to stand atop Beachy Head with unparalleled views over Eastbourne. More information about this walk can be found in detail on the WalkingClub website.
Panorama of Birling Gap Beach supplied by Panoramic Earth
The area can be explored on this interactive Seven Sisters Map which shows 360 panoramas and virtual tours from most of the hills as well as other significant points on this route.