I have a confession to make. Once upon a time, I loved Sex and the City.
I bought the DVDs and wondered at the ridiculous clothes and endlessly questioned whether the behavior of Samantha, as HBO seemed to suggest, really was the optimum way to live life as an adult female.
And then I grew up just slightly and realised that a programme where women, despite being intelligent and successful, are only allowed to talk about men is probably not a very good feminist concept. Despite what certain magazines might say about empowerment being reached by a woman being able to buy her own shoes.
Also the 'independence' message was more than slightly undermined by the fact that all the series was geared towards was finding a suitable man. It was like a bastardised version of Pride and Prejudice set 200 years later, without the beauty and with added lashings of gratuitous nudity.
There were good points, obviously. SATC was of a time (late 90s, early 00s) when women talking openly about all things sex had never been seen before and was probably needed. It seems superfluous (and borderline patronising) now – the films highlighting this especially.
Still, I was 13 and I definitely shouldn't have been watching it – and it was a guilty pleasure.
Which is all a preamble to my point in this post, which I am almost ashamed to commit to blog.
I've been reading the biography of Sylvia Plath (see below post). It's heavy going. Sylv is in Mytholmroyd (so, so close to home for me), getting laughed at by straight-talking, slightly bemused relatives of Ted Hughes, and reacting by tramping off across the moors in that melodramatic way that would eventually be her undoing,
So, I was getting annoyed with Sylvia and her non-problems. I wanted to read some trash. I felt the overwhelming need to feed my brain with the literary equivalent of candy floss. I went into our lounge, where my flatmate had left a pile of books that will probably, although I doubt any time soon, make their way to the local branch of Oxfam. I selected The Carrie Diaries.
For those lucky enough to not be enlightened, The Carrie Diaries is Candace Bushnell's telling of 'the girl before she became an icon', and it recounts Carrie Bradshaw's last year of high school. 17-year-old Carrie races around her tiny backwater town (this is a tale of a small town girl done good, of course), wearing 'genuine 1970s go-go boots', sorting out the dramas of temperamental friends and sisters and of course having man trouble.
It's utter bollocks. I'm apologising to my brain and the people who awarded me with my English degree every time I pick it up; I'm trying to push out of my mind the fact that I'm reading a book with an embossed gold cover and scrawly pink writing across the front that starts with the earth shattering lines "They say a lot can happen in a summer. Or not. It's the first day of senior year, and as far as I can tell I'm exactly the same as last year. And so is my best friend."
Carrie and her 'best friend' then go on to discuss the fact that they really, really need to get boyfriends. So clearly, nothing does change in the life of Carrie Bradshaw.
I'm still taking Sylvia on the train; I can't have people thinking I'm reading this shit out of anything other than desire for perpetual brain-ache.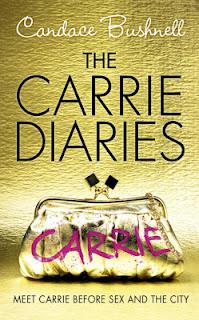 The Carrie Diaries, Candace Bushnell, HarperCollins, 2010