I have been very privileged since 2013 to be a a member of the Global Shapers Community - which is an initiative of the
World Economic Forum
. Last year I traveled to Geneva to attend the Annual Curators Meeting, and
wrote about the experience
which literally changed my life.
This year - in lieu of the Forum's flagship event - the
Annual Meeting In Davos
- forty Hubs of the Global Shapers Community across the world were selected to host local events under varying themes, through an initiative called
'Shaping Davos'
.
The Colombo Hub
was one, under the theme #ShapingConflict.
In this regard I was invited to contribute to the Forum Blog with my thoughts on the role of youth in rebuilding trust in conflict, and penned the follow piece - '
Why Youth are Our Best Chance for Peace
'.
It has just been published and I thought I would share!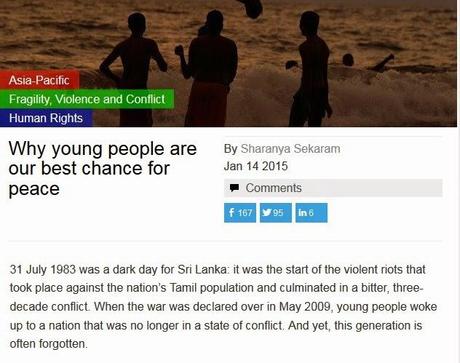 https://agenda.weforum.org/2015/01/why-young-people-are-our-best-chance-for-peace/?utm_content=bufferbe80a&utm_medium=social&utm_source=facebook.com&utm_campaign=buffer