Attending Sheroes Summit every year is a great experience. And Sheroes Summit 2016 is no exception. Every year it goes in a very professional manner. And every year its attendance is increasing. I remember two years back the participation was just half of what it was this year. I know the force behind this drive for more than a decade. Sairee Chahal is now a global celebrity. She is a strong thrust behind women power. In fact, she builds and creates power in women. As a matter of fact, she has now a very strong and large task force behind her. She is probably the first lady in the country who came out strongly in favor of working women. Sairee has been the force behind all this.
Like every year, this year also there were prominent speakers from various aspects of life. Moreover, there were practical talks about various issues women face at home and work front. I will talk about the fantastic speakers and well absorbing agenda. In between there are podcasts of complete talks of the speakers that you can enjoy and feel the power behind them.
Soon after registration there was a keynote address from a very prominent spiritual leader. His words travel in your mind like ringing bells of a temple. And his words touch your heart like chants. His name is Nithya Shanti. And after listening to him there will be only two words coming from your heart – How Wonderful. Nithya's talk was mesmerizing. In fact, how time flew was amazing. Consequently, when he was concluding his talks, everybody was just lost in his words. He is a fabulous combination of flow and stillness. Rather, in a very rhythmic manner.
Sheroes Summit Is A Symbol Of Women Strength
Next, there was CXO Panel Discussion. The participants were Nipun Sehgal, Pankaj Bansal, Shilpa Sharma, and Radhika Ghai Agarwal. Nipun is Director, Lloyd Electric & Engineering Ltd. Pankaj is Co-founder & CEO of PeopleStrong. Shilpa is Co-founder of Jaypore. And Radhika is Co-founder & Chief Business Officer of Shopclues. The discussion moderator was Syna Dehnugara. There were quite amazing points that came out during the discussion. Learning, Adopting, and Doing are the key drivers of work life. Rather learning and adopting goes waste if it is not converting to the action that is DOING. As Nipun pointed out whatever you know and whatever you learn goes waste if at the end of the day you don't deliver. In fact, your learning and knowing is fruitful only when you deliver your best. While the former two create a strong base, it is action that speaks louder of all.
After the tea break during which a lot of networking was happening, there was another interesting discussion. The title of this discussion is "Future of Work". While the participants were Prukalpa Sankar, Kashyap Deorah, Bee Rowlatt, and Varun khaitan, the moderator was Rituparna Chatterjee. Rituparna is a TV anchor and media analyst. Varun owns urbanClap. Prukalpa is Co-founder of SocialCops. Kashyap is an entrepreneur & investor. And last but not the least, Bee is a prominent writer, blogger & journalist. Here are the audio clips of the discussion.
It was quite amazing listening to these young CXOs talking about Future of Work. Almost everyone was in favor of flexible hours for work force, paternity leave, extended maternity leave, work from home, and so on.  In fact, listening their talks in these podcasts will take you to another world of work environment.
Sheroes Summit is a must for every women
After Lunch, there was a Yoga session by Ruchi Phool. She is Founder of Aikya Yoga. A wonderful thing you will remember after her session is –
"Very Good

Very Good

Yay!"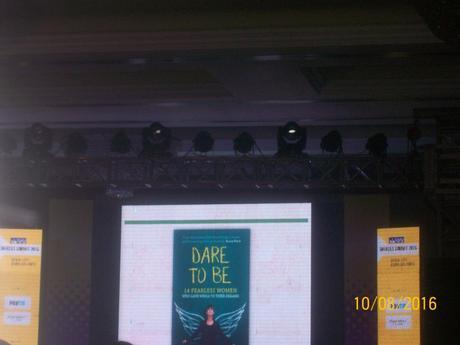 The next session was quite daring and motivating. Firstly, Rinku Pal, Author, talked about her book "Dare to Be". This book is a compilation of 14 stories of women of India who broke all the barriers and crossed all their potential to achieve what they wanted in life. Here is the recording of what she was talking about.
The next speaker was a surprise for me. Not in terms of appearance but the way she speaks. what a confidence she has when she talks. And what a great level of clarity when she conveys her ideas and thoughts in public. Her sole mantra is "Move On". She was clear about her goals quite early in her life. And she was daring enough to make it true. Here is the recording of her thoughts and ideas on Women Power. We are talking about Anjum Chopra, Ex-cricketer of India national women cricket team.
And here is Anjum Chopra's concluding part including her answers to the questions from participants.
Next to these two "Dare To Be" speakers was another fabulous media personality. She came out of her routine high-salaried media job. In fact, She was clear about the launch of her unique online TV channel, probably a first of its kind in India. She is Shaili Chopra, Founder, SheThePeople.TV. Shaili is also a fabulous speaker. She is a firm self-believer. Here is what she says.
Sheroes Summit 2016
Although the Sheroes Summit 2016 is about to end but there is still a lot more to come. 'Lightning Pitches' was the next session where two emerging entrepreneurial women had a talk about their unique business. As a matter of fact, it comes out that more women are having interest in their own entrepreneurial ventures than going for a job.
Finally, it was "Good Girls Show". Firstly, it was Anu S Chaudhary. She is the Co-founder of Dopamine Media & Entertainment. Here is what she was talking about. In fact, you must listen to this bit also.
Lastly, the most interesting part. It was Sanjay Rajoura. Stand-up Comedian. He is also among those who left a steady corporate journey. As a matter of fact, i salute these people who drop a secure path and adopt a risky path. Because these people listen to their heart and decide to live their dreams.